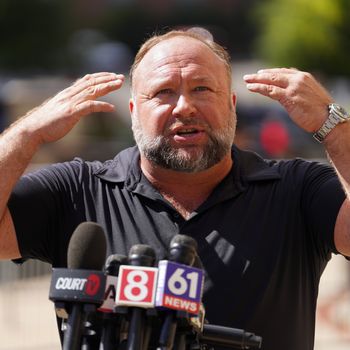 Photo: Joe Buglewicz/Getty Images
Wealthy conspiracy theorist and Infowars owner Alex Jones apparently racked up nearly $93,000 in personal expenses in July, none of which went toward the $1.5 billion he owes Sandy Hook families. Instead, the Associated Press reports that court documents show he used the money for "excessive household expenditures and his extravagant lifestyle," Christopher Mattei, a Connecticut lawyer for the families, said.
On his radio show, Jones repeatedly called the 2012 elementary-school shooting a government hoax perpetrated by "crisis actors," when in reality a gunman killed 20 young children and six adults. As a result of Jones's claims, the victims' parents say they weathered years of relentless harassment and violent threats. In November 2022, a judge ruled that Jones had to pay the families $473 million in punitive damages for defaming them, on top of the $965 million in compensatory damages a jury had previously awarded them. Ostensibly to dodge paying the victims, Jones filed for personal bankruptcy (his company had filed months earlier). Since then, he hasn't made a single payment to the families, making his current spending a source of frustration for them.
In July alone, Jones reportedly spent $7,900 on housekeeping, $6,300 on dining and entertainment, and $3,400 on groceries (about $850 per week), according to court documents. He is said to have used $5,600 for the upkeep of his cars and boats, while his Texas lake house reportedly cost $6,700 to maintain. The AP also notes that he has been paying his wife, Erika Wulff Jones, $15,000 a month, a transaction he calls part of a prenup but attorneys for the victims' families call "fraudulent transfers" intended to hide cash from the court.
"That money rightfully belongs to the families he spent years tormenting," Mattei said, per the AP. He also called Jones's spending "disturbing," adding that "the families are increasingly concerned and will continue to contest these matters in court." The families said if Jones doesn't get his finances in check, they will ask the judge to appoint a trustee to supervise his budget or dismiss his bankruptcy case.
The AP also reports that on Tuesday, Jones told his Infowars listeners that he's $1 million in debt and asked his audience to contribute to the payment of his legal fees. He further argued that he hasn't done anything wrong. "I like to go to nice restaurants. That is my deal," he said. "I like to go on a couple of nice vacations a year, but I think I pretty much have earned that in this fight." Never mind that the "fight" was started by his own lies and conspiracy theories about a very real and very painful event.