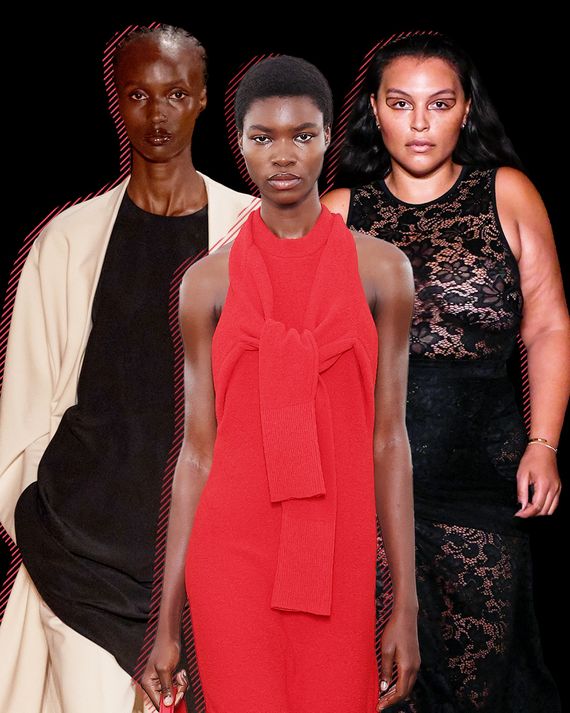 From left: Fforme, Proenza Schouler, Eckhaus Latta.
Photo: Courtesy of Proenza/Madison Voelkel/Go Runway
Almost anything on the Prada runways becomes high concept, even a white cotton shirt dress that looks like a nurse's uniform or a crewneck sweater worn with classic slacks. That's because Miuccia Prada and Raf Simons, her co-creative director, have authority. You trust them to do something new and interesting. Last season, they drew inspiration from different kinds of uniforms. "Mainly what I care about most now is to give importance to what is modest, to value modest jobs, simple jobs," Prada explained to journalists.
Although nobody said so at the time, those shirt dresses and crewnecks are sportswear. And who does sportswear better than America? We didn't invent it, but it's the style that Americans increasingly turned to European fashion, during the 1930s and 1940s — thanks to such innovators as Claire McCardell and Tina Leser.
Sometimes in fashion, as with rock 'n' roll, you don't appreciate a style until another designer puts it out there. On Saturday, Jack McCollough and Lazaro Hernandez of Proenza Schouler showed a cropped crewneck sweater with a dark pair of boyfriend-cut jeans that rode a little low on the hips. They also had a plain, zip-up jacket in white cotton that could have functioned as a shirt, and their pantsuits were mismatched — that is, a white jacket with, say, a pair of bleached jeans. The designers also did dresses in an ultralightweight technical nylon that has no more than a few seams and which you pop over your head and tie up, obi-style, in the back.
"We've never made clothes like this before," Hernandez said. Those clothes are the essence of sportswear. And Proenza Schouler has made clothes like that in the past, but the designers have jumped around so much over their 21-year careers, as they tried to please editors, that those styles got buried. In the process, as McCollough admitted, "You can lose touch with the woman."
This is the second season in a row that McCollough and Hernandez have embraced the classic elements of sportswear, and it's why their designs suddenly have a real charge, belated or not. The style also relates to how most women dress — choosing separates over a total look and being attracted to something because of the attitude it projects. Hernandez and McCollough generally set their proportions a bit below the waist, for a more relaxed vibe. Low-healed shoes and a natural shoulder line help that effect. For the first time, Proenza will produce jeans, a nicely cut boyfriend style that will come in several washes including a bleached-out version that leaves a few indigo blotches. And they've developed a monogram: two Ps that together form an S. It took the designers ten years of false starts to create the perfect low-key symbol, which was done in-house by the brand's print designer and will eventually be used for hardware on accessories — and anything else that might inspire the designers. In terms of their fashion, if they keep mining this rich vein of style, they will become designers that people will confidently turn to every season to say something new and interesting.
As it happens, Mike Eckhaus and Zoe Latta of Eckhaus Latta, which is based in Los Angeles and New York, were also thinking of American sportswear. "We want to make wearable clothes," Zoe Latta said after their wonderful, hard-driving show in the lobby of 630 Fifth Avenue, the Rockefeller Center building designed in 1935 by Raymond Hood and which features a monumental pair of escalators and a 54-feet-high ceiling. "Year 13 of our brand, and we're tired of making things that don't have a shelf life."
Of course, Latta and Eckhaus did sportswear their way, playing hard materials like dead-stock leather against soft elements like transparent T-shirts and minimally sculptured dresses in what looked like nylon. They focused on "quiet investigations in fabrics," as Latta put it, including some crazy wide-leg trousers whose texture resembled tree bark. They were made by an L.A. company from twine. Most of the looks, though, were far more direct and simple than that, and the fact that they were shown in a temple of American capitalism gave them an extra lick of audacity. When the male and female models, in their tree-bark rodeo pants, plain crewnecks with trousers, and near-naked dresses, had finished their finale turn around the lobby, they went straight out the front door into the Saturday night throngs of tourists as the audience inside clapped even louder.
Paul Helbers, a designer with years of experience — the studios of Maison Margiela, Marc Jacobs during his early period at Louis Vuitton, and The Row — started Fforme a little more than a year ago, and he put on the brand's first runway show on Sunday. Helber's minimalism obviously connects him to Halston and Zoran, whose simple, unstructured forms were in defiance of the stuffy, high-tone fashion coming out of European and Seventh-Avenue houses in the 1970s and '80s. But at a time when other designers are embracing minimalism, Helbers does it with greater assurance and know-how.
His new collection introduced softer elements and more color — subdued rose and amber, along with silver for a blouson jacket and shorts — to the brand, which started out mostly in black and navy. But, ultimately, his work expresses one of the truest beliefs. "All art — symphonies, architecture, novels — it's all puzzles," Stephen Sondheim once said. "The fitting together of notes, the fitting together of words have by their very nature a puzzle aspect. It's the creation of form out of chaos." And when it's plotted out well, in the correct time, Sondheim said, you get surprises. That, in his own way, is what Helbers has done in three seasons at Fforme.
That's not at all what you get from Khaite, the much-hyped label by Catherine Holstein. You get overly designed clothes — power-shoulder leather coats, silk blouses, and dresses with ridiculously enlarged bell-shaped sleeves, fancy daytime styles accessorized with handbags the size of a cat carrier — that seem aimed at Instagram. In other words, her clothes never truly surprise because you're always ahead of her.
The weekend's other big shows included Area, by Piotrek Panszczyk, who can normally be counted on for a jolt of originality and fun. This time, he explored "the idea of the primal instinct and its evolution through fashion history," as his show notes said, beginning with cave dwellers. That meant resin bones worked into outfits, some clever renditions of fur, and a really creepy soundtrack that included the droning buzz of a fly and someone coughing.
We're all dying. Heavens! Alas, Panzszczyk's theme proved too heavy for him, and us.