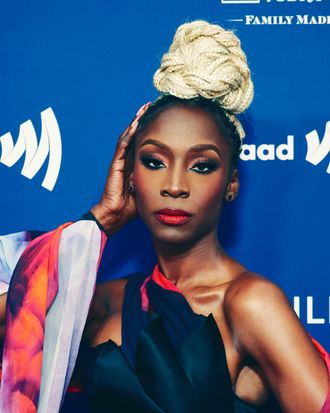 Photo: Frazer Harrison/Getty Images for GLAAD
Actress Angelica Ross has accused her former co-star Emma Roberts of transphobic behavior on the set of American Horror Story. Ahead of the upcoming premiere of the show's 12th installment — "Delicate," a pregnancy-pegged story with Roberts as the lead — Ross, who is a trans woman, alleged on Instagram Live that Roberts deliberately misgendered her when the two were working on the show's ninth season, "1984."
In the video, Ross recalled an interaction between herself, Roberts, and fellow co-star John Carroll Lynch that she says took place on set in 2018. According to Ross, she and Roberts were having a conversation in front of a mirror when Roberts jokingly complained to Lynch that Ross was being mean. "I know she's not being for real for real, she's just being whatever," Ross said. "And John is like, okay, ladies, that's enough, let's get back to work." At that point, Ross claims Roberts looked at her and said: "Don't you mean lady?" before covering her mouth and turning her back to Ross. "[She] can't see I'm looking at her dead ass in the camera like, what the fuck did you just say?" said Ross, who says Roberts then walked away. "And my blood is boiling. Boiling. Because I'm like, if I say something, it's going to be me that's the problem."
Ross further detailed her allegations on X, suggesting that Roberts once mocked her voice. In Ross's telling, she had imitated co-star Cody Fern's Australian accent with a group of cast members. "Emma then copies my voice & laugh and drops it several octaves," Ross wrote. "I was SHOOK … Of course I was self-conscious about my voice on set after that." The actress said she didn't speak to Roberts for the rest of their time on set together.
Shortly after Ross came forward, it appears Roberts called the actress and privately apologized: On X, Ross thanked Roberts directly for recognizing her behavior "was not that of an ally," adding that she would "leave the line open" for Roberts to follow up on her "desire to do better and support social justice causes"on her platform. The Cut has reached out to representatives for Ross and Roberts for comment and will update this post when we hear back.
The alleged incident with Roberts is just one of the AHS experiences Ross has discussed online this week: Also on X, she posted screenshots of emails exchanged between her and the series producer, Ryan Murphy, whom she accused of leaving her "on read" after the pair discussed plans for a potential season of the franchise starring Black women. Ross says she missed out on work as a result because she didn't know if she was under contract with AHS or not and struggled to get an answer.
In an interview with The Hollywood Reporter published September 22, Ross further alleged that a crew member she had to work with on AHS routinely wore offensive T-shirts — emblazoned with slogans including "BUILD THAT WALL" and "I DON'T KNEEL," she recalled — and that she "started speaking up about it." Though she noted that Murphy wasn't typically on set for the series, she said she eventually stopped a day's production and refused to work until the man removed his shirt. She claims that after the director told her the shirts were "a freedom of speech issue" they "couldn't do anything about," she tweeted, "It's a shame that I do all this work out in the world on anti-Blackness and racism and have to come to a set and do the same work."
After she posted, Ross says she received a call from the show's co–executive producer, Tanase Popa, asking her to take down her tweet — a request Ross felt to be at odds to her own right to free speech — and then from Murphy himself. She told THR that the conversation went something like this:
He starts off not, "Are you OK?" Not, "What's going on?" He starts off: "What's your fucking problem?! Are you serious?!" He goes, "You think that I would fucking silence you after all I've done and I've been an advocate and done nothing but uplift trans Black women?"
Ross says she ultimately told Murphy, "I feel unsafe on your set. I feel like I'm just here trying to do a job, and now I got to do a second job of being the adult in the room and handling the situation that you should be handling." After that, she claims he apologized and conceded her point. In a statement to THR, Popa refuted Ross's version of events, saying she had witnessed Murphy's call and had no memory of him shouting or swearing at Ross. "He basically said, 'I don't understand why you would go to Twitter instead of coming to us,'" Popa claimed.
Ross now says she's quitting acting and moving back to Georgia, where she plans to run for office. "I'm fully walking away from Hollywood," she told THR. "But I'm always going to be who I am. You don't have to be on TV to be a creative person, to live a creative life."
This article has been updated.