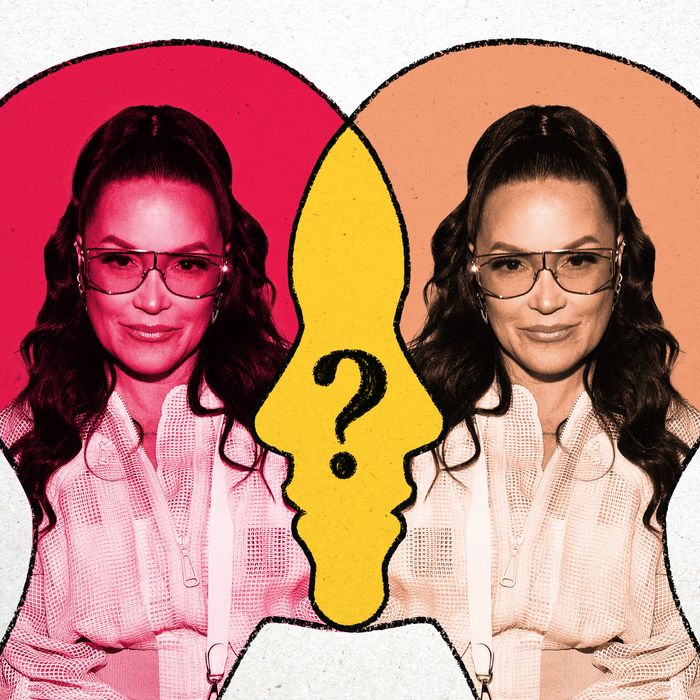 Photo-Illustration: by The Cut; Photo: Getty Images
Living up to a title like "The Voice of New York" is hard work, but Angie Martinez welcomes the challenge. She gained the hefty nickname after putting in more than two decades at the local hip-hop-centric radio station HOT 97, where her afternoon show was the one to listen to — everyone from Jay-Z to Biggie to Mariah Carey was interviewed by Martinez over the years. Her departure from the station in June 2014 sent shock waves through hip-hop culture and the music industry at large, but Martinez's career was never going to be limited to the inside of a radio station's studio. By then, she had already clinched two Grammy nominations because of her verse on the "Ladies Night" remix of Lil' Kim's "Not Tonight," alongside Missy Elliott, Lisa "Left Eye" Lopes, and Da Brat; she had her own top-20 Billboard song with "If I Could Go" from her second album, Animal House; and she had appeared in cult-classic movies including Brown Sugar and Paid in Full.
Since then, she's moved to iHeartMedia's Power 105.1, where she has her own afternoon show; she's a two-time author with My Voice: A Memoir and cookbook Healthy Latin Eating: Our Favorite Family Recipes; and she's launched her podcast In Real Life With Angie Martinez. Most recently, Martinez executive-produced the ABC News special Hip-Hop @ 50: Rhythms, Rhymes & Reflections. Hip-hop is Martinez's first love, so she's deeply grateful and reflective in a year where the culture is celebrating its 50th anniversary. "Looking at how far we've come and at the impact we've made on the world is an amazing thing to be able to do," she says. "It's a culture worth honoring more than every 50 years."
The opportunities keep coming for Martinez, along with the flowers. Next month, she'll be inducted into the New York State Broadcasters Association Hall of Fame and she'll receive her own star on the Hollywood Walk of Fame next year. "The best part of it is really the representation," she says of her recent accolades. "It's cool, I appreciate it, and I'm grateful for the acknowledgment, but it's really about having this Puerto Rican girl who represents hip-hop culture on the wall with some of these other legends and icons who have done incredible work." Martinez knows she's accomplished so much, but with so many possibilities for using her gift of storytelling on the horizon, she still feels like she's just getting started.
You have your own production company now — which was behind that ABC News special you produced and In Real Life With Angie Martinez — I'd love to hear about what you sought out to create with this next era of your career.
I made my podcast based on conversations I was having in real life, stories I wanted to tell, conversations I wanted to have that were a bit more evolved. I think that reflects the space where I am in my life. I think of myself as someone who represents hip-hop culture and storytelling, so it was a natural evolution of what I've been doing for a long time. To help build it out and help other people tell stories, produce things, write things — it was a perfect first project and a great way to launch. Not that everything I do will be solely hip-hop, but hip-hop is rooted in storytelling, it's a big part of who I am, and it will always be there.
I'm from New York, so I grew up listening to your voice every day on the radio. What motivated you to want to start a podcast when so many are out right now?
I know, that's why I hadn't done it in so long. All these years, people have been saying, "Why don't you do a podcast?" I didn't really have anything I felt was important. I didn't feel pressed or inspired because I felt like everyone was talking about everything. It wasn't until I had a really bad car accident about three years ago that forced me to sit down for a couple of months and reflect.
I had done a lot of things, learned a lot of lessons, and I'd been through a lot of trauma. I think when you get to the other side of a life change like that, you want to share that. Especially when you have people that listen to you. I just felt like I had a platform where I wanted to share some deeper conversations about things I had been experiencing over the last few years. Clicks are good and success is great, but at this point in my life, I'm looking to be inspired and make a difference for people. I'm looking to use my platform in ways that actually mean something to someone. It's a beautiful place to be where I can actually do that. I have my radio show where I get to talk about music, current events, and trending topics. And I have my podcast where I can really talk about life experiences, how we've learned, how we're coping, and how we're thriving. I can create that and it's mine. I fund it and do it myself, so there's no pressure to create anything that's not meaningful and from my original intention.
With that creative freedom, what's your No. 1 rule around choosing who you want to have on and who you want to talk to? 
If I feel like my guests have something to teach my audience, then that's it. We can ask people about their careers until we're blue in the face, and I do that a lot on my radio show because I ask about their success. On the pod, it's more about what I can learn from your life. My guests have to be willing to go there and have that conversation and they have to have experienced enough to be able to share something meaningful.
You've interviewed pretty much everyone, including some bona fide legends. What's your No. 1 rule for preparing to talk with these big stars?
It's changed over the years. It used to be what my listeners wanted to know. Now, I'm collaborative in telling people's stories. My No. 1 rule is to approach it with respect and make sure everyone feels protected and seen. I never want someone to walk out of an interview feeling like they're so mad they did it or that they regret sharing. These stories can be inspiring to other people, so I want it to be collaborative and insightful. I ask myself, "What can I learn from this person?" every time. Sometimes it's new or unexpected, but that's always the beginning of where we start.
It's safe to say you're a multi-hyphenate — what's your No. 1 rule in business?
Constant evolution and challenging myself. I love to surprise myself and find out I can do something I didn't know I could do. Whether that's editing, writing, or creating something I had never done before. All of us live this one life. You can master something and that's cool, but then what? How do you challenge yourself and keep growing? How do you stay inspired? That for me is really important at all times and especially with being on the radio for so long. Luckily, my radio career has also allowed me to evolve in so many other areas, so it has never felt stale. I've written books and started a podcast and I do other outside projects. That's the ultimate goal: to constantly evolve. That's all we could ask for, right? And to do meaningful work that makes you feel good.
You're also an author. What's your top rule around writing?
Writing is a really challenging thing for me, but I absolutely love it. It has become one of the most fulfilling things, and I've been writing more. Back in the '90s when I was doing music, I was writing some of that. I have been playing with scripts lately and I'm on my third: The first one was a short. I've been exploring that medium, but I haven't dove all the way in. It'll be interesting to see where that lands in the next couple of years. But it's hard! It's really hard, but fulfilling when you get it. It's just using a creative piece of my brain that I haven't tapped all the way into until now. So it's exciting.
You've had hit songs yourself, and you talk about music all the time. What's a major rule for you when it comes to creating a great track?
I'm just now at this point in my life where I'm having a little love affair with my music career. I always shied away from it because it was short. It was a blip. It was cool. I always equate it with someone going to their high-school prom and everyone shows you that picture for the next 30 years. Something has turned a corner for me, though, and I appreciate it now. I appreciate that time and we did create some great things. I had a top record on Billboard with "If I Could Go." "Ladies Night" got me a Grammy nomination. While it was short-lived, it was impactful. I think whether you're making music, writing, interviewing, or whatever you're creating to put into the universe and the world, it just starts with intention and honesty. With music, if you write and create from a place of honesty and it's something you're really feeling and really going through, that is always the best place to start, no matter what. I do different things, but all of it starts with integrity and a desire to want to impact other people.
Throughout your career, you've undoubtedly seen artists and creators come into the industry and then leave. What's your biggest piece of advice for young women looking to get into journalism, hip-hop culture, and the music industry?
Well, first, you have to ask yourself why. Why do you want to get into the industry and what is your intention? For me, as a kid, I loved hip-hop, so my "why" was my love for the culture and the music. But then it evolved and I started having a platform and realized the things I did could have an impact on other people. Then, my "why" became how do I best use my platform and do the best work I can do while I'm here. Figure out your "why" and make sure you're serving that all the time. That's how you really touch people. You notice everyone's trying to create something someone else has already done or follow in someone's footsteps. They try to take the shortcut to that because they want fame or money. And that's all cool — there's no judgment there. But the longevity and the important work comes from something deeper.
You've had some great, long-standing friendships, especially with some of music's biggest artists. What's your No. 1 rule for friendship?
Honesty, transparency, intention, and trust. I would never sell a friend out because it might get me farther in life. I'm very particular about my friends and I have a very small group of core friends that I've had for a very long time. I value my friends so much, so I prioritize that in life. Thank God, I'm a pretty good judge of character. The key is to value your friendships. Some people have 1,000 friends, and it's really hard to value 1,000 friends. I'm from the school of a handful of solid, great friendships, and you're like a rock to those handful. Another thing I'll say is you have to let people be who they are. Just because someone is your friend doesn't mean they should see things the way you see them or do things the way you do. And you have to show up as who you really are. Those are the greatest friendships: when you both can be 100 percent who you are and still appreciate each other.
Your annual BBQ is the place to be. What's your No. 1 rule for throwing an epic party? 
Quality time with your guests is key to being a host of a party. At my BBQ, sometimes I'm on the stage, and at other times, I'm having a drink or playing a game. But I spend most of the time with my guests. People came there to see you, hang out with you, and have fun with you. I love to walk the crowd and say hello, to meet as many people as possible. And then I get energy from them, which usually turns into the best time ever.
You're always working on the next big project, but downtime is crucial to keep showing up as your best self. What's your No. 1 rule for self-care?
I've said "no" a lot this month. It used to come with a lot of guilt for me, like I was missing an opportunity and I feared I would disappoint someone. But I have finally turned a corner where I rarely regret saying no to something that doesn't serve me. Sometimes I say no simply because I need rest or I'm feeling uninspired and need some "me" time. And I'm always better for it.