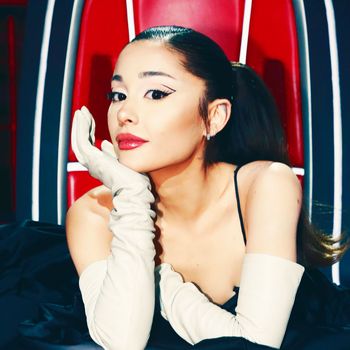 Photo: Trae Patton/NBCU Photo Bank via Getty Images
After being separated for months, Ariana Grande and her real-estate husband, Dalton Gomez, reportedly filed for divorce simultaneously on Monday. Their papers cite the date of separation as February 20, 2023.
Grande and Gomez got married in 2021, a year and a half after TMZ spied them making out at a bar. (As a luxury real-estate agent, he is more celebrity-adjacent than a celebrity himself, which might explain why the outlet called him a "rando.") In July, Grande attended Wimbledon without her wedding ring, prompting speculation that she and Gomez had split up, followed shortly by rumors that she'd had an affair with her Wicked co-star, Ethan Slater. Slater also filed for divorce from his wife, Lilly Jay, adding fuel to the fire.
Now, after two years of marriage, Gomez and Grande are officially onto the divorce-papers stage. They cited "irreconcilable differences" in their filings, and TMZ claims the divorce is expected to be minimally messy. I sure hope so.