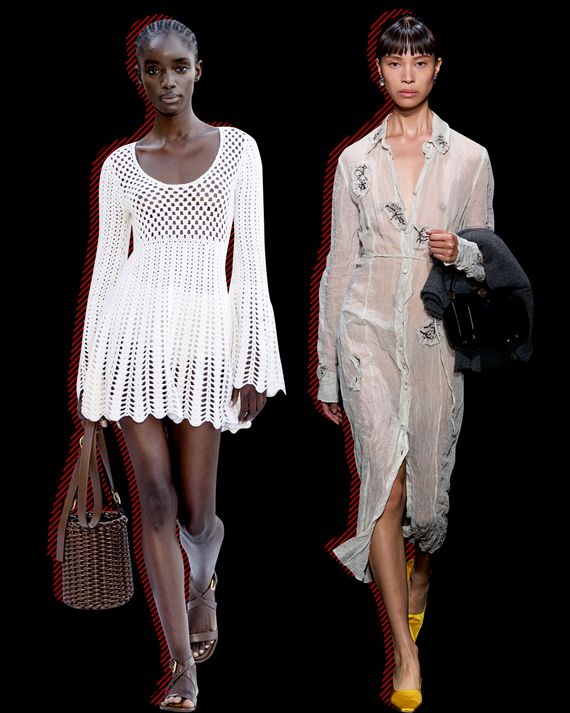 Photo-Illustration: by The Cut; Photos: Getty Images, Altuzarra
Considering how fast everything enters mass culture, it's not surprising that the New York runways feel slower and more repetitive than usual. On Monday, both Michael Kors and LaQuan Smith showed sheer stretch tops. Exposing the body in vampish ways has been Smith's turf, but it no longer seems as personal and special if a mainstream designer like Kors, with an image of tastefulness, can claim even a tiny morsel for himself. But, then, who owns anything anymore?
Kors staged his show along the Williamsburg waterfront, on a specially built semi-covered runway that allowed the guests to stay sheltered from rain or sun and at the same time offered an opulent view of Manhattan's skyline, and on the anniversary of 9/11. The white-painted boards and garland-laced railing of the long runway could have been the waterside porch of a multimillion-dollar Hamptons house. You can't beat Kors for creating a mood that jibes with mass aspirations of luxury. Crucial to that is nostalgia, especially for that seemingly golden period of the late 1960s and early '70s. Looking at the opening sportswear looks in white lace — slacks, a caftan, a mini with a little matching top, all worn with flat sandals — I couldn't help seeing Jane Birkin and Michelle Phillips, or, at any rate, their inescapable images.
Better than usual, Kors covered his commercial waterfront, which meant plenty of knits, casual separates, a trench coat, an oversize V-neck sweater in purple, and a few classic pantsuits that hit the right beat because they looked relaxed rather than highly polished. But for me the collection got its contemporary feeling from the clingy, semi-transparent styles and one or two ultrashort mini dresses — they were practically rompers or bathing suits — that he dropped in. With those, Kors could push his style a bit further.
"This collection is much closer to the street, to what I saw people wearing in my community," Joseph Altuzarra said, explaining the shift from fall's free-form fantasies. "I noticed very casual clothes with things that are very dressed up." Of course, that look has been in circulation for a while. Altuzarra's best efforts were the many slip dresses or slim skirts made in lining fabric and shown with bandeau tops or simple, fragile-looking blouses. Some looks were embroidered with broken traces of flowers to deliberately suggest wear, while skirts often had the exposed hem of an off-white slip. Altuzarra used a metal-based fabric for the slip bits that create a perm-wrinkle.
But while many of the dresses and coats looked fine, and were clearly well-made, with thoughtful details, the collection suffered from old-lady-ish styling, with pocketbooks and actually long gloves hooked over the models' arms. I thought of the elegant old ladies you used to see batting up Madison Avenue or toward Sutton Place in their good black coats. And somehow I don't think that's the image that Altuzarra had in mind. No doubt the women he sees on the streets will know how to take those stilted looks apart.
I didn't make it to Rio Uribe's Gypsy Sport show that evening. Well, I made it as far as Governors Island, the show's site, but a downpour and general disorganization caused me to turn back to Manhattan. I'm a huge fan of Uribe's. His shows in New York and Paris in the late 2010s were more like confrontational explosions, with gender and brown and Black identity at the core; and there was no scrap of fabric, particularly denim, Uribe couldn't do wonders with. I continued to follow him online when he'd do shows in Los Angeles, where he's based. But foul weather wasn't the only thing working against Uribe and his Barbie-pink fishnet-and-crochet tube dresses, fetish cheerleader skirts, and embellished and slashed jeans. You see elements of these styles not only on runways but in the streets. I trust Uribe's powers of expression, his originality, but given the costs of bringing a show here and the general drippiness of the collections, he might be better served staying in L.A.