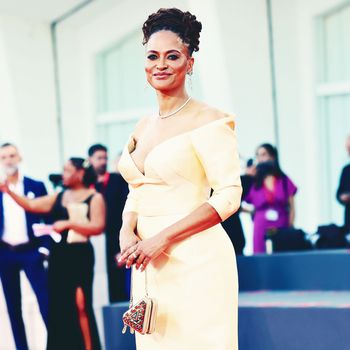 Ava DuVernay
Photo: Franco Origlia/Getty Images
Ava DuVernay is making history this week as the first African American woman with a movie in competition at the Venice Film Festival. Her film, Origin, premiered on Wednesday, and was acquired by Neon for U.S. distribution the day before its debut. Already, it has been described as "dazzling," "monumental," and "fascinating and vital," but in a press conference, DuVernay said she was advised countless times not to enter the festival at all.
"For Black filmmakers, we're told that people who love films in other parts of the world don't care about our stories and don't care about our films. This is something that we are often told: 'You cannot play international film festivals, no one will come,'" DuVernay said. "'People will not come to the press conferences, people won't come to the P&I screenings. They will not be interested in selling tickets. You might not even get into this festival, don't apply.'"
Origin is an adaptation of Isabel Wilkerson's Pulitzer Prize–winning book Caste: The Origins of Our Discontents, a moving look at how the division of people by class, race, and other groups around the world keeps racism alive in the United States. The film also explores how Wilkerson ended up writing the book, according to Reuters, and it stars Aunjanue Ellis as Wilkerson, along with Jon Bernthal, Vera Farmiga, Audra McDonald, Niecy Nash-Betts, Nick Offerman, Blair Underwood, and Victoria Pedretti. DuVernay said the cast likely wouldn't have been what it is if the film hadn't moved from Netflix to become an independent production. "The studio system is a place where I worked and made projects that I'm proud of, but there is really an aspect of control over who plays what," she told reporters. "And there is an idea about who makes money, attracts attention, and sometimes that sits at odds with who might be the best person for the part. Aunjanue Ellis-Taylor was the best person for this part."
DuVernay has made history several times. With her 2014 movie Selma, a biopic about Martin Luther King Jr., she became the first African American woman nominated for a Golden Globe Award for Best Director and for the Academy Award for Best Picture. On Wednesday in Venice, she said she hopes her entry means that others will follow in her footsteps.
"This year, something happened that hadn't happened in eight decades before: an African American woman in competition," she said. "So now that's a door open that I trust and hope the festival will keep open."