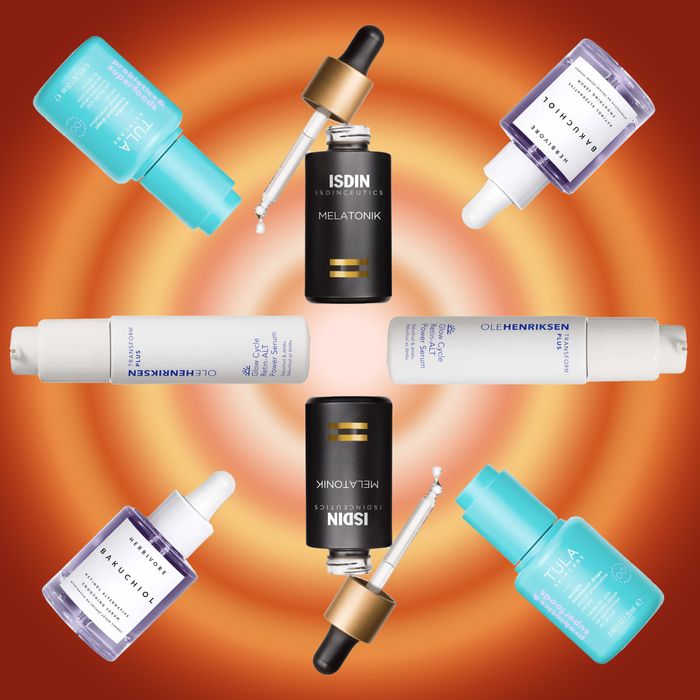 Photo-Illustration: by The Cut; Photos: Retailers
For more of the Cut's favorite fashion, beauty, and home finds, sign up for the weekly Cut Shop Newsletter.
It's never a good idea to label something nature's answer to some other thing. Like wellness influencers calling berries "nature's candy." Berries are literally among the top ten foods you can put in your mouth, but saying they're nature's candy is just setting everyone up for disappointment.
I couldn't help but bring that kind of negative thinking to the table when I cracked open my first bottle of bakuchiol, a.k.a. #naturesretinol. But as I sit here a month later with my skin glowing, I'm mildly irked to admit that my annoyance at this dorky hashtag was unfounded.
Bakuchiol is a "natural" ingredient that has been popping up in loads of exciting new formulations, and the good news is that both clinical studies and anecdotal evidence support the claim that it's a dupe for retinol, the wonder drug for smooth and bouncy skin.
"Bakuchiol is just as effective as retinol in stimulating collagen production," says Dr. Dendy Engelman, a board-certified dermatologic surgeon and New York-based celebrity dermatologist. Bakuchiol was formulated into a finished skin-care product and was tested in a clinical case study by twice-a-day facial application, according to Dr. Engelman. "The results showed that, after 12 weeks of treatment, significant improvement in lines and wrinkles, pigmentation, elasticity, firmness and overall reduction in photo-damage was observed."
Is bakuchiol better than retinol?
What truly makes bakuchiol worth its weight in gold is the fact that it comes with none of the baggage that retinol does. "I've created skin-care product prototypes using bakuchiol and I personally think it is a great natural alternative to retinol, especially for those with sensitive or dry skin prone to retinol irritation," says Rhonda M. Davis, cosmetic chemist for Alquemie Product Development Group.
Retinol has been used for decades as one of the few reliable over-the-counter ingredients with solid anti-aging credentials (not to be confused with Retin-A or tretinoin, its turbo-charged version, which is available by prescription only). It's the Swiss Army knife of beauty — it promotes collagen production, encourages cell turnover, reduces wrinkles and dark spots, and even fights acne. But all that comes at a cost. Retinol is irritating to the skin, causing major side effects like irritation, peeling, redness, dryness, and sun sensitivity. Pregnant women can't use it for fear of causing birth defects in the fetus, and it's most often a no-go for people with sensitive skin.
What are the benefits of bakuchiol?
My results after using bakuchiol
After a month, I found my skin smoother and firmer, with improved clarity and tone. The texture of my eye area is nearing baby's bottom territory, though some darkness remains. And since I wasn't restricted to night-only use (often the case with most retinol products), I could easily fit bakuchiol into my daily routine.
Which brings me to another plus in the bakuchiol versus retinol showdown: Bakuchiol can be used safely during the day without fear of causing sun sensitivity. Who am I even, I wondered, as I dripped bakuchiol oil on my legs in 90-degree weather and dabbed the cream around my eyes. The audacity of being out in the sun with a retinol-adjacent substance slathered all over me was breathtaking; I'm too cowardly to ever have tried messing with retinol like this. (Full disclosure: I did sunscreen my face; the body I wasn't that fussed about).
In my limited anecdotal experience, there was one area I didn't see an improvement in: Bakuchiol doesn't seem to mimic retinol's deeply satisfying pore-unplugging action. To be fair, none of the studies I read claim this to be the case. According to Dr. Engelman, bakuchiol's antibacterial properties mean that it's great for those with acne and oily skin, and that the acne-prone should take advantage of its gentleness. "There are instances where you should avoid specific products when using a retinol, such as exfoliators, toners, benzoyl peroxide, as they can cause irritation. However, due to bakuchiol's natural composition it's safe to use with other products in your skin-care regimen," she says. Davis agrees, pointing to salicylic acid as a great add-on to combat acne and comedones. In other words, it's helpful when used with another acne-clearing aid.
Where does bakuchiol come from?
If you're wondering where this beauty unicorn has been your whole life, it turns out that the East has known about it all along. Bakuchiol is derived from the seeds of the Psoralea corylifolia or babchi plant, and has been used in Ayurveda and Traditional Chinese Medicine for centuries. "Bakuchi (as it's known in Ayurveda) has been used to treat leukoderma or vitiligo, hyperpigmentation, skin rashes and a host of other skin conditions," says Michelle Ranavat, the founder of Ayurveda-inspired beauty brand Ranavat Botanics. Ranavat, who is based in Los Angeles, learned about this ingredient in 2016 at an Ayurvedic conference in Kolkata, India, while researching ingredients. "I was working on a brightening mask and I was looking for ingredients that helped create an even complexion. Bakuchi really stood out." Ranavat says since hyperpigmentation is such a huge area of focus especially for the South Asian community, learning about this ingredient was very exciting.
To know if you're getting a bakuchiol product with enough of the hero ingredient to make a difference, Davis advises you to read the fine print of the ingredient list. Bakuchiol should be listed before the preservatives (which most often show up as phenoxyethanol, potassium sorbate, or ethylhexylglycerin). If it comes after those ingredients, you're only getting a small percentage, which won't do much for the skin.
Davis thinks as chemists become more aware of bakuchiol's benefits and see more studies that back its clinical claims, it will become a major retinol contender and will be widely used in formulas. You might not have to wait that long — here are 14 of the best bakuchiol skin-care products on the market.
The Overall Best Bakuchiol Product
Safe and nontoxic yet highly effective, this serum has a combination of exfoliating polyhydroxy acids and natural botanicals for your smoothest skin ever. The jellylike formula is cooling, refreshing, gentle, and hydrating … what's not to love?
Pros: Lightweight and fast-absorbing; layers well with most moisturizers; visibly helps reduce signs of aging
Cons: Some reviewers say the texture is a bit too sticky
The Best Bakuchiol Serum
With AHAs thrown into the mix, this serum is an effective resurfacing and brightening glow-maker.
Pros: Ideal for all skin types; clean formula that smells heavenly
Cons: Tends to pill on the skin
The Best Bakuchiol Overnight Mask
Along with bakuchiol, this overnight mask features ingredients to lock in moisture and hydration, like calming beta-glucan (derived from oats) and skin-barrier supporting squalane. With a texture that falls somewhere between a moisturizer and a serum, reviewers love that this lightweight mask softens skin overnight.
Pros: Hydrating; pillowy texture that feels so luxurious; helps soothe acne-prone and sensitive skin
Cons: Some reviewers say the jar applicator is messy and inconvenient
The Bakuchiol Moisturizer That Melts Into Your Skin
Ceramides, squalane, vitamin C and loads of hydrating oils go into this indulgent bakuchiol-enriched moisturizer.
Pros: Fast-absorbing and weightless formula; comes in recyclable packaging; works well under makeup
Cons: The smell is a bit off-putting
The Best Bakuchiol for All Skin Types
Dr. Dendy Engelman recommends this serum as perfect for all skin types. It has bakuchiol, melatonin, and Vitamin C, which acts like a triple-threat to oxidative stress, free radical damage, and collagen degradation.
Pros: Lightweight; helps restore skin elasticity
Cons: Expensive
The Best Bakuchiol Serum for Hyperpigmentation
Your fine lines and dry skin are no match for this serum, which is packed with plant peptides and Schisandra-berry extract, which helps tighten your skin. Reviewers say it targets hyperpigmentation, and they noticed a more even skin tone in about two weeks.
Pros: Layers well with makeup; 100 percent plant-based formula; comes in recyclable packaging
Cons: Might be too harsh for sensitive skin
The Best Affordable Bakuchiol Moisturizer
Each product from this cult-favorite British beauty brand contains one star ingredient, and this lightweight moisturizer celebrates — you guessed it — bakuchiol.
Pros: Gentle and lightweight; good for acne-prone skin because it won't clog pores; affordable
Cons: Some reviewers say it doesn't contain very much product
The Best Brightening Bakuchiol Serum
This award-winning daily serum is gentle enough to use both day and night. Along with 1.25 percent pure bakuchiol, the formula is infused with brightening peptides and healing cica extract. It targets fine lines and wrinkles while also helping to moisturize, soften, and brighten the skin.
Pros: Many reviewers saw results in as little as two weeks; pairs well with other skin-care products; soothes sensitive skin and helps reduce redness
Cons: The formula is pretty oily
The Best Bakuchiol Face Oil
You get the best of both worlds with this "miracle" product: It has the restorative properties of a rich cream but it applies like a lightweight serum. The vegan and cruelty-free formula instantly hydrates and helps reduce the appearance of fine lines and wrinkles over time.
Pros: It can be mixed in with your moisturizer for an easy daytime application or lathered on at night for a more luxurious treatment
Cons: Expensive
The Best Firming Bakuchiol Serum
Made with mature skin in mind, this dry oil serum puts the focus on firming skin. Along with the skin-firming (and balancing) pre- and probiotics, you'll find stevia and alfalfa sprouts that give the bakuchiol a boost. While this is a dry oil, this really is a "before your moisturizer" serum-slash-oil.
Pros: Ideal for mature skin; dropper applicator makes it easy to apply
Cons: Might be too greasy for people with oily skin
The Best Bakuchiol-and-Retinol Mix
If you're new to the retinol game but want to dip your toes in, you might want to try this serum. It has less than one percent of retinol, which will get your skin acclimated to the ingredient without irritation, and contains 2 percent bakuchiol, which simply enhances the effects of the retinol. Reviewers said their skin looked more glowing and felt smoother after using it and noted that it's a great stepping stone before working your way up to more potent formulas.
Pros: More potent than some of the other formulas on this list; oil-free; helps improve skin texture
Cons: Might be too harsh for people with sensitive skin
The Best Bakuchiol Eye Cream
The skin under your eyes is one of the most delicate parts of your whole body, so it's important to seek out products specifically formulated for this area. This cream is gentle enough for your under eyes while still delivering on firmness and hydration with ingredients such as ceramides and hyaluronic acid. Reviewers note that it visibly lightens dark circles and reduces puffiness too.
Pros: Affordable; can be used day and night
Cons: It can feel sticky if you apply too much
The Best Bakuchiol Face Pads
Quickly swipe these face pads across your skin after cleansing for an easy-to-use application. They are unscented for those who are more sensitive to fragrance and work well on acne-prone skin, according to reviewers. In addition to the bakuchiol, it's also formulated with niacinamide, which helps stimulate cell production and protect your skin barrier.
Pros: Easy to apply; fragrance-free; ideal for sensitive and acne-prone skin
Cons: Some reviewers say the pads are overly saturated with product
The Best Bakuchiol Skin-Care Kit
This six-piece bakuchiol bacchanalia provides multiproduct support with a cleansing oil, hydrating essence, serum, and eye cream as well as light and rich moisturizers. They all contain bakuchiol and an antioxidant alpine-rose extract.
Pros: Feels luxurious and super-soft on the skin; helps visibly reduce the appearance of pores
Cons: Expensive