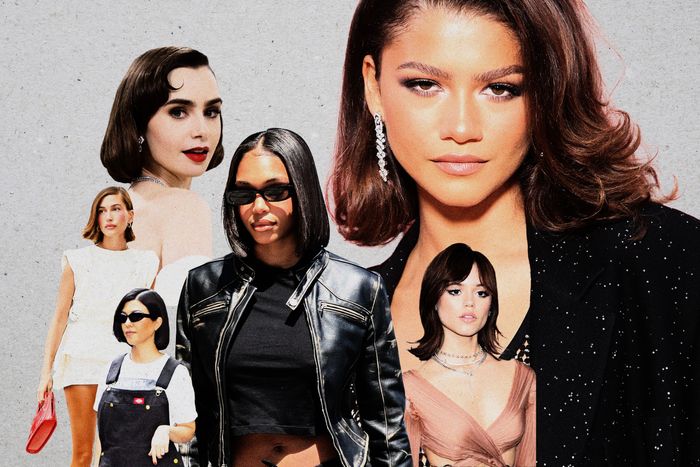 Photo-Illustration: The Cut; Photos: Getty Images
Beauty writers will always remember where they were on December 18, 2022, the day that Zendaya premiered a surprise haircut. Her locks were chopped short, into a tousled-yet-smooth 'do that stopped inches above her shoulders, and in that instant she transformed from a superstar into something even more uncommon: a woman who understands and wields the power of the bob. In 2023, other beloved characters (both real and not) seemed to understand as well. Jenna Ortega's '90s chop at the Golden Globes, Eva Longoria's shoulder-length trim at Cannes, Shiv Roy's "Do not fuck with me" hair in Succession. And, at the end of August, Hailey Bieber was spotted running around New York with her "cinnamon-cookie-butter"-colored hair clipped short. But as suddenly as the bob pendulum can swing into the divine, it can just as easily hurtle into distressing territory. In August, Kim Kardashian released a promo for Skims in which her bob is too coiffed for comfort, a cut that carpeted her head so closely that it almost seemed to be wearing her.
This descent into bobmania has solidified the haircut as a polarizing cultural touchpoint, so much so that the internet (mostly, Twitter) has come up with names for the types of bobs that may be spotted in the wild. There's simply the Bob, which sits on the head prominently but not overzealously and adapts to the personality of its wearer. There's the Fuck-Ass Bob, which is a bob that's just working too hard — it's too blunt, it's too business casual. (People believe the term originated from a random Instagram Story that circulated on Twitter: It was a picture of the character Kat from Euphoria, captioned with something along the lines of "I hate her because of her fuck Ass bob.") Finally, there's the Fuck-Ass Robert — and yes, that's Bob's legal government name. The Fuck-Ass Robert is a bob that's especially intimidating, deranged, or just plain horrible (think Claire's haircut in Fleabag).
The wise thing for us ordinary people would have been to avert our eyes from what the famous and fame-adjacent are doing with their hair. Of course, we didn't. On TikTok, the "bob haircut" hashtag has over 1 billion views, convincing many of us that all our problems might be solved with a simple chop. "I regretted it immediately. I looked like Lord Farquaad from Shrek," a friend told me about their recent bobscapade. "Loved it for two seconds," said another. "Then I remembered I have curly hair." Many people I spoke with told me their new bobs made them look too young, verging on Dora the Explorer. One person I know went back to the bob fountain not once, not twice, but four times, hoping each hair appointment would yield
a different result but ultimately regretting it every time.
Sure, some people go through with the big cut and feel fantastic. One person even told me they loved their bob because they got it when they "cheated on their boyfriend and it was emotionally freeing." But as for the rest of us, we must stay strong. Mother Nature picks off the weak, and only a few true bobbianas will be able to make it through with their cropped tresses intact.
More From fall fashion issue 2023
See All