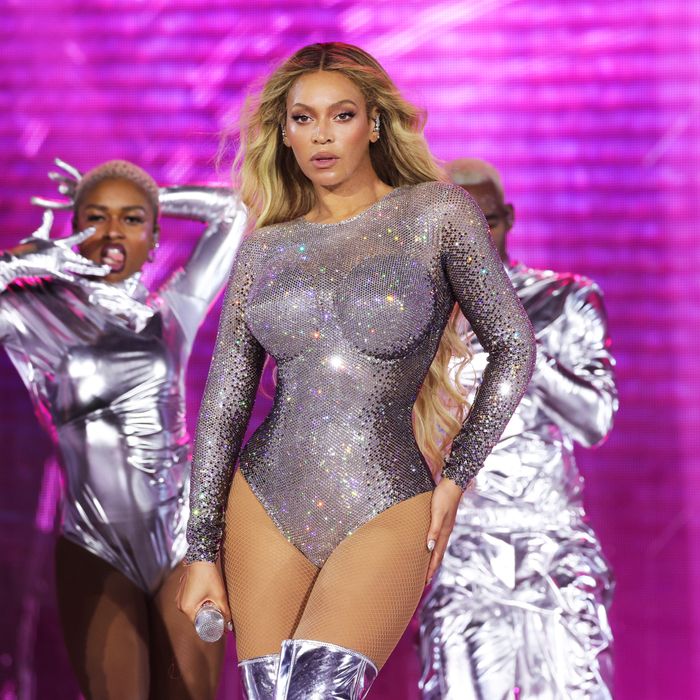 Photo: Kevin Mazur/WireImage for Parkwood/Getty Images
Along with every celebrity in Hollywood, I was one of the very lucky ones who got to experience Beyoncé's L.A. birthday Renaissance show from Instagram's suite (alongside Yara Shahidi and Storm Reid, more stars of course). And I was extra lucky to be handed a sample of Bey's perfume, which is launching later this fall. It smells exactly like what you would think Beyoncé smells like — feminine, soft, and graceful.
I blindly ordered the fragrance in July, when it was announced, after reading a list of notes on the website: clementine and golden honey for the top, rose absolute and jasmine sambac for the heart, and Namibian myrrh and golden amber for the base — I was sure that it was going to be a warm and slightly spicy scent, mostly because of the golden amber and honey. But also because I remember Beyoncé's very first fragrance, Heat, which was irresistibly musky and sexy. I was in junior high school then (and Bey was in her Sasha Fierce era), so maybe that's what I thought at the time. The honey notes in her new fragrance feels like an ode to the Beyhive, so I was sure it was a bold scent, something that said, "I'm here, Beyoncé," as Bey would say, but the perfume is actually the complete opposite, and after smelling it, I'm sure that Beyoncé smells just like this.
The rose was the most potent note, making the fragrance skew fresh. It's graceful and soft, exactly what you'd expect to get a whiff of if you just so happened to cross paths with Beyoncé (too bad we're not Diana Ross).
"It's so feminine that it almost smells like she wouldn't even have to put this on; this smells like it would be her natural scent," our fashion writer, Danya Issawi, said. For fragrance lovers who need something to compare it to, it reminded me a lot of Parfum de Marly's Delina Exclusif, mostly because they blend both fresh and warm notes, with rose being the overpowering one.
The gorgeous scent was created in France, and it's bottled up in silver packaging, which feels fitting for her Renaissance era. Bey offered a sneak peek of the bottle on her Instagram a few weeks ago. It's not ready to ship yet, but it can be preordered on her website, and it is set to go out in November. Her hair-care brand is also coming soon; she sent a handful of OG beauty influencers to her birthday show in anticipation of it, but we still have zero details. Until then, this scent will live rent-free in my head. It looks like post–Renaissance Tour Bey will be in her beauty-girl era, and we're not mad at it, especially if we can walk around smelling as elegant as she does, because that's the closest we'll ever get to having the same 24 hours as Beyoncé.