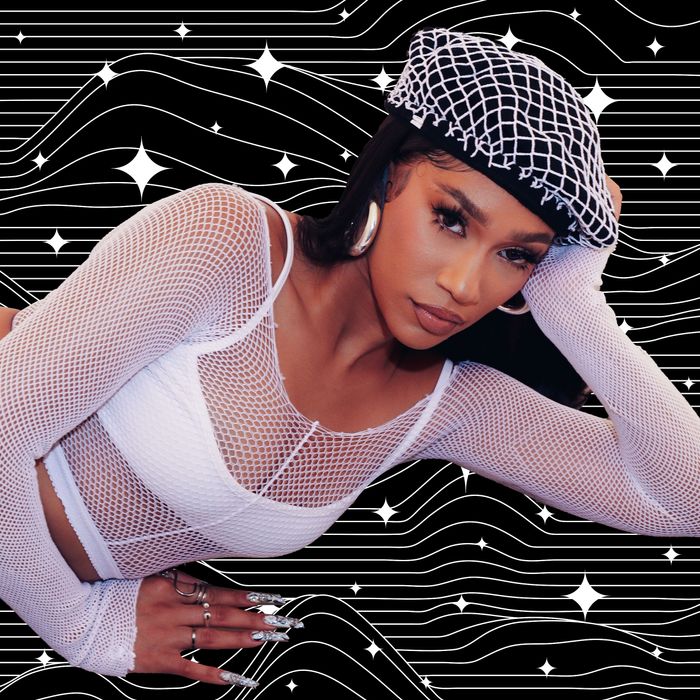 Photo-Illustration: by The Cut; Photo: Shaun Andru
In April 2023, New York Magazine celebrated "It" girls: who anointed them, what it was like to be them, and where they are now. Follow along as we continue that celebration by interviewing musicians across genres who we think have "It."
Bianca Miquela Landrau — a.k.a. BIA — knows how to clock a label. "Okay, Miss Ottolinger," she exclaims while meeting me at her Park Avenue hotel, noticing my bag. "That's one of my top three brands right now." It's a gloomy day in New York City, but nothing about BIA's energy is downcast. She's wearing her Rick Owens shades and a cropped biker jacket, and she's eager to talk about style. (Her keen fashion sense is just one of the qualities that make her "It.")
Her style — which the Massachusetts-born rapper describes as "edgy, sexy, electric" — has caught the eyes of legends throughout her career. BIA was discovered on YouTube and introduced to Pharrell early in her career, and she landed on Oxygen's Sisterhood of Hip Hop for two seasons in 2014 and 2015. By 2016, she scored a feature on J Balvin's "Safari," which started her rise to Billboard chart placements. In 2018, she released her first EP, Nice Girls Finish Last: Cuidado, and her second EP, For Certain, came at the tail end of 2020. A year later, it was almost impossible to go outside without hearing her hit song "Whole Lotta Money" — especially the remix with Nicki Minaj.
BIA's no stranger to collaboration with hip-hop legends, either. On her third EP, Really Her, she worked with J. Cole, Timbaland, and Swizz Beatz, and she collaborated with Busta Rhymes for a single called "Beach Ball" this summer. It's in her DNA to create a legacy with co-signs of major producers and artists, and she is certain that she's unfuckwitable. "I'm really her," she repeatedly tells me, speaking in her signature cool-girl flow. "I'm for the girls."
A few days before her birthday, BIA started to prepare for a long flight to Australia, where she was set to perform for the FIFA Women's World Cup. She's never been down under, and she knows the flight is extra long, but she tells me she doesn't mind because she travels luxuriously. "We only do lay flats, baby," she says through laughter, referring to the first-class beds on international flights. Could she get any more "It" girl than that?
What is an "It" girl?
An "It" girl to me is just a girl who's superconfident. She's authentic, she knows who she is, and she sets the trends. She really sets the bar when it comes to looks and fashion especially. She's in the know.
Who are some musicians you would classify as an "It" girl? Do they inspire you?
I'll take it all the way back to Aaliyah and Missy Elliott. I love Rihanna, too. She's the biggest "It" girl to me. And Nicki sets the trends. Those are my "It" girls; they set it. Even when I think about my style, there is one person I always think of: Aaliyah. She made streetwear and sexy, cool, effortless fashion. She wore baggy stuff but still made it cute and girly. Then there's Rihanna, who mixes high fashion with streetwear. It's her own personal style — she wears whatever the fuck she wants. You know that person on TikTok who everybody's killing for looks right now, the subway fashion? I feel like Rihanna could put on any of those. That's what we all think we look like when we try to replicate a Rihanna look.
Your confidence already answers this question for me, but do you consider yourself an "It" girl?
Yes, I do. I'm definitely sure of myself. I might not have the most followers, but I have a lot of eyes. Nobody's the first to do anything, so I feel like we all just take things and reinvent it and figure out how we can amplify it and make it bigger and better than the last time. I pay a lot of love and respect to a lot of the girls that I feel are "It," too. I show them a lot of love, and they show me a lot of love. Sometimes we'll be in the DMs, and I've had girls tell me, "Oh, girl, I'm going to copy this." It's all love. It's like, "Okay, cool. That's what we're here for." We're here to push the culture forward and raise the bar.
Where do you shop?
I shop everywhere. Online, at boutiques, outside. Sometimes I'll get a little vintage piece, I'll thrift something, but it's like, I really just love pieces. I love Ottolinger, Andersson Bell, Rick Owens, and Diesel, to name a few brands. I like to find up-and-coming designers, too. Designers that aren't so mainstream yet, but they have pieces. I'm always searching for key pieces.
What about going out? Where do you like to go out? 
I live in L.A., and my friends and I like to go out to eat. We're classy girls. I love Catch and LAVO; I could eat at LAVO every day, girl. I love the Ivy, too. They have this lobster ravioli, and it is so good. We do the hookah scene every once in a while or a lounge; we like to just go there and dance.
What was your vision going into your most recent project?
I work on a lot of songs, and I wanted this to be an elevated version of what For Certain felt like. For me, that project was the first time in my life and my career where I really felt super-sure of myself, like a hundred percent about everything. I was like, You know what? I'm stepping into it. I don't need validation from anyone. This is me. This is what and who I am. So with this project, Really Her, I struggled on finding a name that resonated with me, but I would always randomly say, "I'm really her," or, "Oh, I woke up her again today. It's me." I would always say it and one day it just clicked. I had so many other names, but I felt like this was the next step of For Certain because for certain, I'm really her — now I'm really in it. You can't take me out.
As for the songs, it's for the girls. If you know me, I'm really a girl's girl. People say they're girl's girls, but I'm really such a homegirl. I've got so many homegirls, and I want them to feel that. I want everybody that is my girl to get money; I want them to put themselves in a position to boss up and to feel good and to look good and to be happy. You need music and motivation to do that. You have to feel powerful and move powerfully.
Girl's girl is a term that has been going around a lot lately, but what does it mean to you?
A girl's girl to me means not being a hater. I'm not a hater, I've never been a hater, I've never been a weirdo, I love women. I show a lot of love, so I feel like that's why I get a lot of love. I've never been one of those girls that feels like it's got to be me or you. People want to program us to be like that, but we're actually stronger together, especially when we don't gatekeep.
You really lean into your confidence and just being that bitch. You even have a song titled "I'm That Bitch." Were you always this confident, or was it something you had to dig deep for and build?
I'm a Leo, so I think it's in me anyways. I'm naturally superconfident. I don't ever want that to come off as cockiness; it's not me being cocky. Some people feel like confidence takes away from what they're bringing, but I feel like everybody should have it. Everyone should feel like they're that girl. Everyone should move with that same energy because that's the energy you want people to give to you. If I want them to treat me like that, I have to treat myself like that.