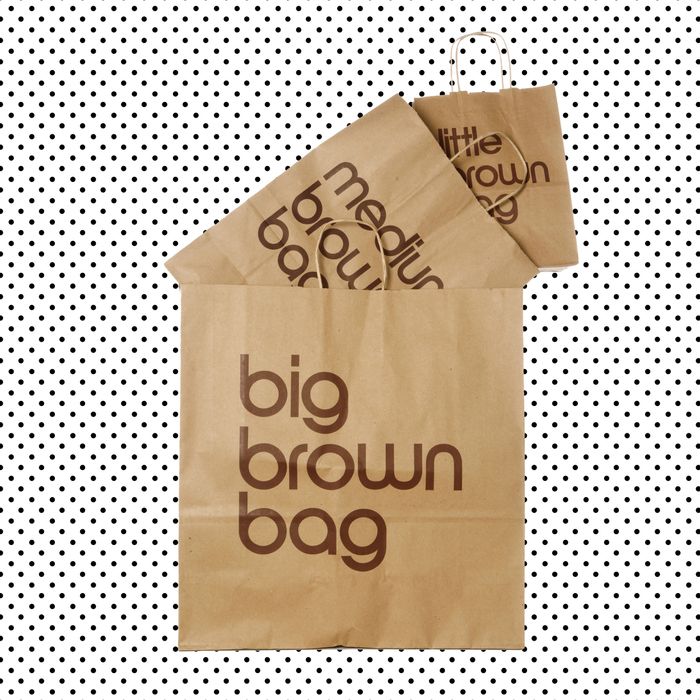 Nothing unites New Yorkers these days quite like an affinity for branded shopping bags and canvas totes. You can't enter an apartment without finding a collection stashed under the sink — or walk down the street without seeing one slung over the shoulder of a baby-tee–clad East Village resident. Bags from L.L.Bean, Outdoor Voices, Jill Sander, and even Trader Joe's have all had their moment, but none have had the longevity or cultural impact of the Bloomingdale's Brown Bag. It was originally designed by Massimo Vignelli in 1973 to accommodate the increasingly large pillows and sheets being sold in Bloomingdale's linen department, and it has since become a New York City status symbol and street-style staple (alongside the Medium Brown Bag and Little Brown Bag, of course).
It's so influential, in fact, that the humble paper bag is getting its own birthday-bash extravaganza this year. Over the course of the next few months, Bloomingdale's is rolling out major collaborations and hosting in-store events to celebrate its 50th anniversary.
The department store's carousel space will soon become a pop-up filled with exclusive Brown Bag–themed merch from fashion, beauty, and lifestyle brands like Ralph Lauren, Stoney Clover Lane, Aqua, Recess Pickleball, and Clinique. Think a crewneck sweater adorned with an image of the Ralph Lauren bear holding a Bloomingdale's Big Brown Bag.
Additionally, Bloomingdale's 59th Street flagship is hosting a party on Saturday, September 9, from 1 to 5 p.m. with activations on every floor. Artist Matthew Langille will create his signature pattern work on a life-size Big Brown Bag, and FIT students will be there to customize anniversary shopping totes. Meanwhile, customers will be able to enjoy themed food and drinks and limited-edition flavors at BKitchen, a Big Brown Bistro pop-up, and a Nespresso pop-up.
The beloved Bloomingdale's beauty department will also be participating. On October 7, from 1 to 4 p.m., beauty counters nationwide will offer a variety of activations and goodies. The highlights? A booth where customers can spin a wheel to win exclusive samples and beauty services, raffles with prizes from your favorite brands, and the chance to take home a 50th-anniversary tote bag with purchases of $150 or more.
Between the special merchandise and on-site activations, this public party is one you won't want to miss. (Not in New York? Don't worry, Bloomingdale's stores nationwide will also be celebrating the 50th anniversary of the Big Brown Bag on Saturday, September 9, from 1 to 4 p.m.)