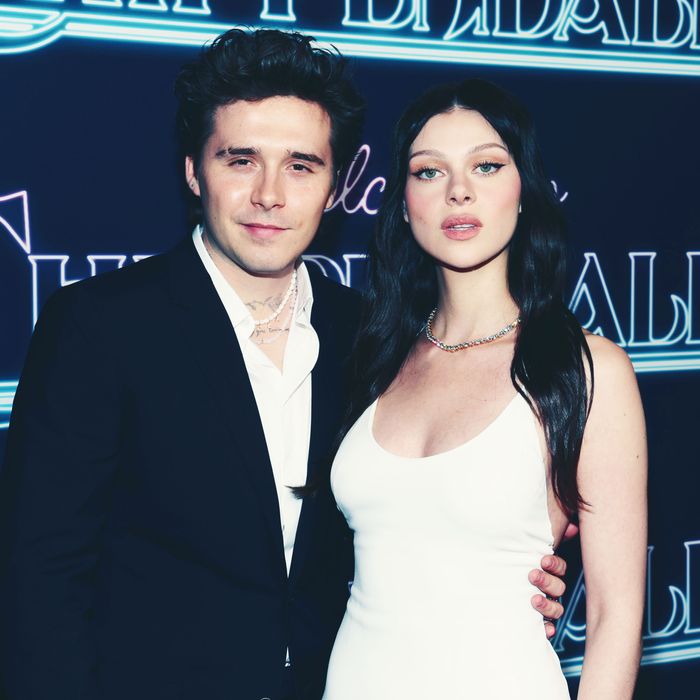 Photo: Phillip Faraone/GA/The Hollywood Reporter via Getty
Last April, Brooklyn Beckham and Nicola Peltz got married in front of 500 guests at her father's oceanfront estate in Palm Beach, as one does when you are the children of the rich and famous. Beckham, you may know, is the son of Victoria and David Beckham, while Peltz's parents are a model and a billionaire businessman. While Peltz and Victoria Beckham squashed rumors of a feud between them about the wedding dress, a different type of wedding drama continued to unfold in the ensuing months, stemming from an apparent falling out the Peltzes had with their wedding planners and culminating in two lawsuits.
While Beckham was busy racking up wife tattoos, his new stepfather, investor Nelson Peltz, sued Nicole Braghin and Arianna Grijalba, who run the Miami-based event-planning firm Plan Design Events. After Nelson (again, a billionaire) accused Braghin and Grijalba of failing to return a $159,000 deposit, the two women filed a countersuit seeking damages for breach of contract, calling Nelson a "billionaire bully" and claiming his family put them through wedding-planning hell.
According to Nelson's lawsuit, the Peltzes hired Braghin and Grijalba in March 2022, six weeks before the wedding, after their first planner fell through. (The original planner told "Page Six" he was "overcommitted" and didn't have any issues with the families.) Nelson's suit says their new planners couldn't handle the couple's enormous guest list and bowed out after nine days. It also suggested Grijalba had a drinking problem, citing a text she allegedly sent to Peltz at one point during the planning that read, "Now I'm going for a tequila my head is about to explode." Peltz's response was also included in the lawsuit: "Yes queen!!!!"
Although their reported countersuit disputed most of Nelson's claims, Braghin and Grijalba do paint a similarly chaotic picture of what was happening behind the scenes during the nine days they spent planning this wedding. According to their side of the story, "Page Six" reports, they worked 17-hour days to meet the Peltzes' demands, which included making flower bouquets whiter and creating a "water dance floor," whatever that is, for the after-party. At one point, they say, Peltz's mother, Claudia, asked them not to tell her husband that they'd paid upward of $100,000 for hair and makeup services, and both Peltz women were allegedly intent on keeping the planning disasters hidden from Victoria Beckham.
A lot of the disputes seem to have been about the celebrity-packed guest list, which the wedding planners claim Peltz was constantly changing. They say that after mistakenly telling Peltz that F1 driver Lewis Hamilton was already attending, they received an angry text from her that said, "Lewis Hamilton did NOT RSVP. So explain why his names on the list please." On a more understandable note, Peltz was also allegedly concerned about Florida governor and generally abhorrent politician Ron DeSantis attending. She allegedly texted them, "Desantis must be OFF THE GUEST LIST. PLEASE CONFIRM!" Frankly, I would be using the same tone if I thought DeSantis might come to my wedding, but I digress.
After Braghin and Grijalba left, the Peltzes reportedly hired event planner Michelle Rago to handle the final weeks of wedding planning.
Where is Brooklyn Peltz Beckham in all this, besides buried under layers of tattoo ink? Well, his betrothed did not want him involved in the planning process. When the planners asked him to weigh in on something, Peltz allegedly texted them, "I do not trust Brooklyn with this. U should be asking an assistant. He has no idea. And is guessing." Her fiancé remained mostly silent in the group chat, apparently, except to ask about the possibility of setting up guns that could shoot nets to capture any camera drones hovering above the venue.
Another element Beckham had a lot of thoughts on: the Wendy's food truck the couple considered hiring for their guests. (This sounds like a cool, everyman thing to have at a celebrity wedding until you realize that Peltz's father is the chairman of Wendy's.) According to the countersuit, Beckham weighed in extensively on the wedding burgers, which were named after him and his bride. Texts he allegedly sent to Braghin and Grijalba have him planning a "double or single burger" dubbed the Brooklyn and a "lettuce instead of bun and meat for the girls" named after Peltz.
A few weeks after Grijalba and Bragin filed their countersuit, which lists Nicola and Claudia as third-party defendants, Nelson's legal representation moved to have the two women removed from the lawsuit altogether, claiming that they weren't involved in the original contract with Plan Design Events. "Aware that its claim is frivolous," the motion reads, "PDE shamefully attempts to falsely portray Nicola in an extremely negative light to entice the media and hopefully pressure Mr. Peltz to dismiss his well-founded claims." Nelson's lawyers accused the party planners of making up "malicious and mean-spirited" allegations that were "tailor-made for the tabloids."
Through their legal representation, Braghin and Grijalba countered:
Throughout their time working together, my clients felt that Nelson, Claudia and Nicola were appreciative and respectful of Plan Design's work — as evidenced by the sincere and respectful nature of the parties' communications. My clients were totally shocked to learn about the lawsuit given their experience working with the Peltz family. At this point, my clients will continue to defend against the false accusations made against them in the lawsuit, and Plan Design will continue to pursue the legal rights and remedies it possesses in connection with this matter.
Some six months after filing, though, Braghin and Grijalba appear to have changed their tune. Just when it seemed like Nicola would be required to sit down for a filmed deposition, People reported on Wednesday that the suits had been dismissed with prejudice. In a joint statement, Nelson and the wedding planners said they had arrived at a settlement that involved Plan Design Events making a donation under Nicola and Brooklyn's name to the CARE Ukraine Crisis Fund. What exactly Braghin and Grijalba will be getting out of this agreement remains unclear, though we have contacted their representation for comment.
Now that the legal battle is over and all hope of a juicy trial has been dashed, one crucial question remains unanswered: Did this couple really serve the Spice Girls bunless burgers?
The Cut has reached out to representation for Nelson Peltz for comment and will update if we hear back.