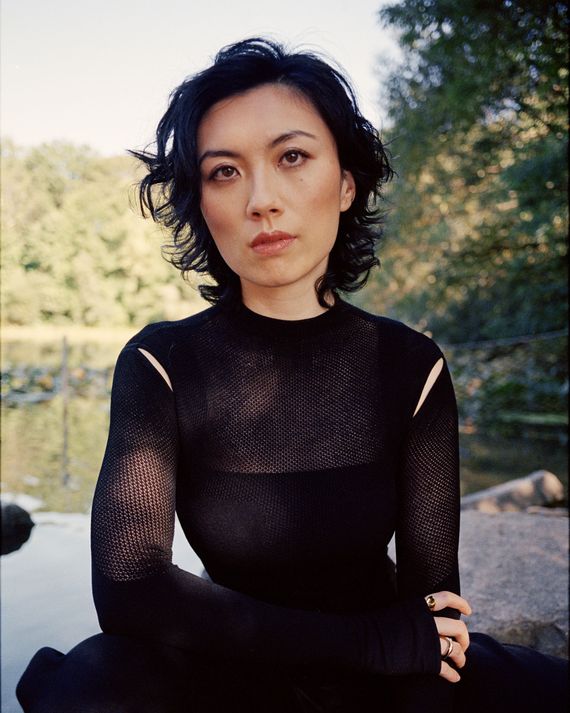 C Pam Zhang is ready to eat some duck. It's a warm August morning at Le Coucou and admittedly a little too early for the decadent meal we're here to dig into: leeks flecked with roasted hazelnuts; squash blossoms battered in buckwheat and filled with crab; a seafood gratin under a blanket of sweet sabayon, duckling for two in cherries and mushrooms. I'm intimidated, not only by Zhang's look when I greet her outside — she's dressed in a black, asymmetrical half-maxi-half-mini dress and smoking a cigarette — but because I've never eaten duck before. "It doesn't have to knock any of your selections off the table," she says, her breezy assuredness making me certain I'm in the hands of a gourmand. Why shouldn't I try something as splendid as the feasts that can be found in Zhang's sophomore novel, Land of Milk and Honey, which is all about the excesses of appetite, its junctures of joy and pleasure? Duckling it is.
The book is a pronounced departure from her debut, How Much of These Hills Is Gold, an epic survival tale of two Chinese American children — orphaned after the death of their father, whose rotting corpse they carry around in a suitcase — at the very end of the California gold rush. The novel offered a window into the long-overlooked history of Chinese Americans in the West, earning Zhang a spot on the Booker Prize longlist, the National Book Foundation's 5 Under 35 list, and a television adaptation deal. That kind of recognition is pretty much the dream scenario for any fiction writer, but it's not without its drawbacks. The bigger your literary star, Zhang says, the bigger the risk of getting pigeonholed. Especially when you write about racism and intergenerational trauma. "I don't like the feeling of being pinned down," Zhang tells me. "It made me feel itchy to think that was all people were going to expect of me."
How Much of These Hills Is Gold was released in April 2020, and it was over a year until Zhang even saw that book on the shelf. "It simply didn't feel real," she says. "In many ways, my first book was traumatic to write; a lifetime in the making. It was written for the young woman and girl I was leading up to it, who was concerned with where she was going to be in the world, where she belonged."
This makes Land of Milk and Honey, out September 26, feel that much more euphoric. In a future marred by climate disaster, a dense smog has obliterated much of the world's biodiversity; our narrator, a 20-something chef, must live and work in a world without pesto. Borders are closed to refugees, and she's stuck cooking with government-provided mung-bean soy flour when she comes across the opportunity to work as a private chef at a mountaintop research community on the Italian border. After fudging the requisite classical French training, she enters into a secluded kitchen where cream and berries still exist, where her shrewd employer and his scientist daughter recreate lost biodiversity for Über-wealthy investors. In the secluded bubble of privilege and abundance, the chef begins to recover her appetite, for food and intimacy alike.
Zhang began work on the novel in 2021, a bleak time during which she too hungered for a little hedonism. "I was fundamentally disconnected from my body," she says. She and her partner had left their cramped one-bedroom in San Francisco for a "strange house" rented sight unseen in a small but monied suburb outside of Seattle whose residents included Jeff Bezos and Bill Gates. The house hadn't been renovated since it was built in the '70s, and its beautiful view was offset by the cracked linoleum floors, broken heater, and isolation from neighbors who weren't the come-over-for-game-night type. Other residents lived in secluded compounds with private chefs and impenetrable hedges, sharpening the already stifling isolation of the pandemic. Zhang longed for meals out with friends and drinks at bars and did her best not to think about them.
Later that year, she had one of her first meals out with a doctor friend at a Filipino restaurant in Seattle. "You can imagine the things he had seen that year, and we were catching up about how difficult things had been and the horrible things unfolding at work," she recalls. But when their kare kare short ribs arrived, slathered in peanut butter and shrimp paste, Zhang felt the air shift. "It made you sit in your body," she says, recounting the joy of seeing her friend "relax and enjoy things" for the first time in who knows how long. A lightbulb went off, and Zhang got to work, putting 21 seasons of Top Chef binges to good use on a draft. She wrote the restaurant a thank-you card.
Zhang has a way of answering questions as if she's actively setting down sentences on the page. She speaks in tightly coiled soundbites, describing to me the "fundamental agony" she felt during her first media go-round when she had to distill an 80,000-word manuscript "that has all this nuance and depth" into buzzy two-sentence quotes. Still, she avoids sounding pretentious, despite pronouncing "privacy" the British way (to be fair, she studied there in college). There are moments when her coiffed demeanor cracks and warmth spills through, like when she asks me to swipe a piece of bread through our sabayon and describe the taste — she's gluten-intolerant. "I love watching people eat it," she explains, satisfied to hear that it's amply stretchy and a little sour.
Zhang was once a squeamish and picky eater, which she says is a byproduct of growing up in an "impoverished Chinese household." Born in Beijing in 1990, she immigrated to the U.S. as a young child, and her family bounced around from state to state, living in Iowa, California, Washington, and Kentucky, where Zhang fell so hard for the KFC chocolate-pudding parfait that the dish has a spot in the book's acknowledgments section. She also felt like a writer for as long as she could remember and tells me an "apocryphal family story" of how she used to recite Chinese poetry at the age of three.
For a long time, she didn't think writing could be a viable career. She majored in English, but after graduation, she got a job in San Francisco doing tech copywriting, what she calls the "classic immigrant daughter experience" of wanting to pursue art but seeking stability instead. It was here that she made her foray into fine dining, eating expensive corporate meals at three-star Michelin institutions like Atelier Crenn. She enjoyed them, but couldn't help but feel ambivalent about a world where food was a status marker rather than simply a pleasure.
Then, at 25, she got laid off, and suddenly other things seemed possible. She moved to Thailand with her savings, wrote her first book, and got into the Iowa Writers' Workshop. "It was a test for myself that I passed," Zhang says — proof she could maybe make it down another path.
For years Zhang assumed she had to be "all brain and no body" to be taken seriously as a woman writer. Her recent success has freed her up a bit. "Increasingly, I think I have no desire to be an intellectual, which was what I thought I was supposed to be for a long time," she says. But try as she might to get out of her head, Zhang still finds herself questioning why she enjoys certain pleasures: "Do I consider this piece of fried chicken eaten on a street in Bangkok unworthy of my full attention because it costs less than one American dollar? Am I parroting a colonialist hierarchy that considers many Asian foods less refined and less worthy?" The protagonist of Land of Milk And Honey pushes up against similar tensions, finding the most joy in a street stall mung-bean, soy-flour jianbing after several decadent meals on the mountaintop.
A waiter comes around with our final duckling course, which is, in fact, full-grown duck. He passes us two plates of seared breast and one heart each and arranges a silver dish in the center of the table, containing the thighs and legs served confit. "Breast, heart, cherries on the plate," the waiter explains. I don't think twice about the anatomy breakdown, but Zhang is not easily pleased. Are the hearts on our plates the hearts of the ducks we're eating? The waiter isn't sure. "So this is actually the heart of two ducks?" she presses. "Or a duck with two hearts?" He smiles and lathers our plates with a thick, iron-rich sauce that makes my stomach turn. Finally, he relents and suggests the restaurant purchases hearts by the bag. "I mean, I'm guessing," he says.
In any case, Zhang cleans her plate and passes on the cheese course — it's all American — and dessert. Instead, she leads me instead down Henry Street, to Sun Hing Lung, a tofu factory counter where a man is tucking into some $2.50 cheung fun that looks unassailably better than anything we just ate. Zhang orders a sweet tofu. We spoon it up on a stranger's porch steps, opposite construction cones. Zhang loves to come here and watch the woman in the shop dole out pounds and pounds of fresh tofu, holding her own in a space that's pushing and pricing everyone out. "It's really a revelation," Zhang says. Then she digs in.