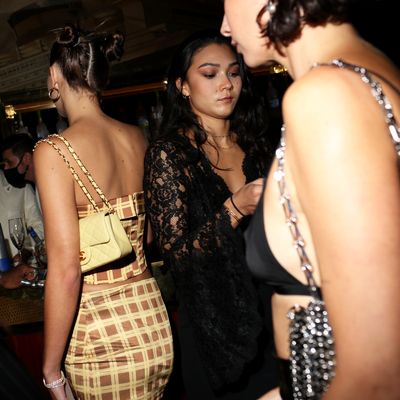 A night out on the casa.
Photo: Lexie Moreland/WWD/Penske Media via Getty Images
These days, there are so many ways for the very wealthy to waste money. Tinder, for example, is banking on the theory that some swipers will pay $500 per month to message people without having to match with them, while a certain subset of wellness enthusiasts are clamoring for $2,750 gym memberships that include sound baths and IV drips. And then there is Casa Cipriani, the $4,000-a-month members-only club in New York that has purportedly branded itself as an old-money haven despite opening in 2021. Apparently, though, not all high-paying members are created equal, because less than two years into its existence, the club is allegedly axing clients with the bloodthirst of a caviar-slurping Caligula.
Casa Cipriani has wriggled into the weekend rotations of Blake Lively, Leonardo DiCaprio, and, of course, our hard-partying nightlife mayor Eric Adams, but reports from within the bowels of the converted ferry-terminal building paint a less glamorous picture. One member told Bon Appétit that the crowd skewed largely "wealthy housewives in for the night from Long Island wearing gowns and tiaras," and the Financial Times described a "tigerish atmosphere of older men and younger women." Also, its status as a semi-frequent hangout for certain celebs has sometimes been to its own detriment: In May, photos of Taylor Swift and her short-lived rebound Matty Healy "cuddling and kissing" on the club's terrace leaked online, violating its no-pictures policy. Swift was rumored to have quit the Casa after the photos leaked, leading management to revoke a handful of memberships, lest it squander its reputation as a place where the famous may enjoy their problematic flings in peace.
In June, "Page Six" asserted that the club is now looking for members who are both "more high-profile" and also "cooler," having become overrun with "mob types" and "girls looking for sugar daddies." In pursuit of that revamp, "a real purging" is allegedly being executed as we speak. Though Casa Cipriani reps recently denied rumors of a community cull to "Page Six," one anonymous source ominously warned that "no one is safe," with those deemed not elite enough for the club's gilded walls allegedly being notified over email that their memberships were not being renewed or, even more abruptly, discovering they'd simply been deactivated. Casa Cipriani did not immediately return the Cut's request for comment.
As Casa sifts through its supposed 4,000-person wait list, could more and more innocent clubgoers be robbed of the chance to pay more than the average rent on a Manhattan studio for oysters and a Matty Healy sighting? Maybe, but on further reflection, perhaps this is a blessing in disguise.