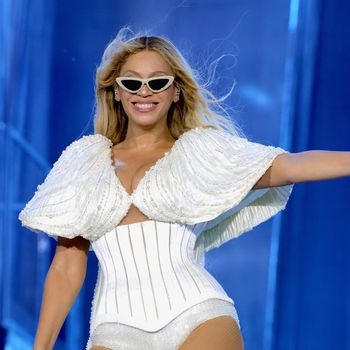 Photo: Kevin Mazur/WireImage for Parkwood
Beyoncé is the ultimate celebrity to other celebrities, so it should come as no shock that dozens of stars attended her Renaissance tour in Los Angeles over Labor Day weekend. Not only did L.A. fans get three nights of performances, they also got to see a slew of other musicians — including DJ Khaled, Wiz Khalifa, Lil Wayne, Big Sean, Coi Leray, 2 Chainz, Offset, and Kaytranada — take the stage. And on Monday, to celebrate Beyoncé's 42nd birthday, Diana Ross led the crowd in singing "Happy Birthday" to B.
Some celebs went to the concert more than once; others made out with their rumored significant others; and several did — or attempted to do — the Electric Slide as Beyoncé sang "Before I Let Go." Just about everyone followed Beyoncé's birthday dress-code request: "shimmering human disco ball."
Here's a short list of the famous faces spotted in the Renaissance crowd.
Prince Harry and Meghan Markle
Though certain photos showed Prince Harry — blank-faced, hands in his pockets, seemingly stationary — looking bored in his box seats, he apparently snapped out of it by the time Beyoncé got to "Crazy in Love." Video taken by a concertgoer nearby shows him jamming with Meghan Markle and her mom, Doria Ragland.
Timothée Chalamet and Kylie Jenner
Though many would still like to pretend that this couple isn't happening, we now have the closest thing to confirmation that these two are dating: photos of the actor smoking cigarettes and making out with Jenner throughout Monday's performance.
Keke Palmer
Palmer made it to Renaissance at least twice: the first time with some friends and family and the second with her boyfriend (?), Darius Jackson. After that show, Palmer wished Beyoncé a happy birthday on Instagram, looking very disco ball in a silver corset.
Gabrielle Union, Dwyane Wade, Zaya Wade, Kaavia Union Wade
For her first night at the concert, Union wore a sheer silver hooded dress and a thong. For her second night, she went with jeans and a sparkly fringe bikini top while her family also got decked out.
Tracee Ellis Ross and Diana Ross
Ellis Ross wore a silver disc dress to Friday night's show and shared a video letting fans know that she did not fail the mute challenge — Beyoncé-mandated, stadiumwide silence — during "Energy." For the birthday serenade, Ellis Ross's mom, Diana Ross, wore a sparkly black dress with feathered sleeves.
Kelly Rowland
Rowland, one of Beyoncé's closest friends and a founding member of Destiny's Child, went to all three L.A. shows. She shared a Reel of her getting-ready process, which seemed very involved but absolutely worth the effort. Arguably the disco-ball-iest ensemble of them all.
Kerry Washington
Washington made it to L.A. from the Venice Film Festival (where she wore three great outfits in one day) in time to dance with Rowland and Markle at the concert on Monday night.
Selena Gomez, Nicola Peltz, and Brooklyn Beckham
Gomez attended Saturday's performance with friends Nicola Peltz and Brooklyn Beckham, plus her little sister. She shared videos of the group singing and dancing throughout the night to her Instagram Story.
Issa Rae
Our favorite Barbie shared a video of herself shimmying in a silver crop-top-and-skirt set as her friend hypes her up in the background. Based on her Instagram page, it looks like she went to at least two of the weekend's shows.
Kim Kardashian, North West, Kris Jenner
Kardashian and West seemed to enjoy the concert in their chrome outfits, but Jenner stole the show as she tried to keep up with Jay-Z and Offset while doing the Electric Slide.