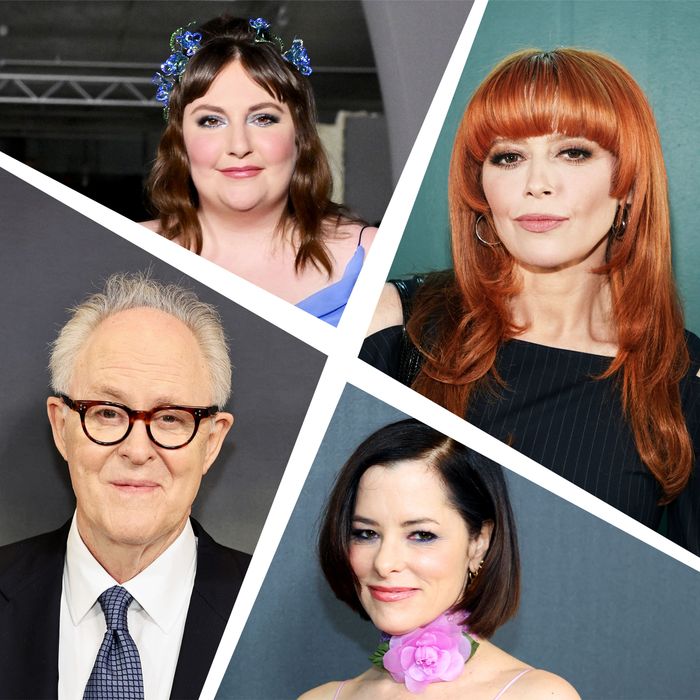 Photo-Illustration: by The Cut; Photos: Getty Images
Anyone who's shopped online for vintage clothing can tell you eBay is a rabbit hole of weird shit. Bags of air, rotting Cheetos, waterboarding kits, chewed-up gum: The lowest and most objectionable detritus of human life gets bought and sold every day — and for sizable chunks of change when it's come in contact with a celebrity. With that in mind, it is either deeply strange or entirely appropriate that eBay is where a bunch of A-list personalities have gathered to auction off their time and their knickknacks to help their colleagues weather the ongoing Hollywood strikes.
The auction is a project by the Union Solidarity Coalition, an organization founded to support production staff whose jobs have been affected by the simultaneous WGA and SAG-AFTRA work stoppages. It's been accepting donations for months, and the proceeds from this first auction will go toward covering the health-care costs of those crew members. To that end, the organizers have managed to procure an eccentric hodgepodge of celebrity talent and ephemera to bolster their cause.
Some famouses have contributed items from their personal collections — Parker Posey, for example, is generously donating her bust of Dr. Zachary Smith from the defunct sci-fi series Lost in Space, and the cast of The Bear has signed this "pre-worn" apron that we hope smells like Jeremy Allen White's sweat — while others are seizing this opportunity to flex the creative skills they've honed outside of acting. John Lithgow can and will paint a watercolor portrait of your dog! Lena Dunham, if given coffee and a blank wall, is ready to paint an entire children's mural inside your home — assuming you are willing to gamble your security deposit on a Dunham original and also that you live in New York, Los Angeles, or London.
Or, if your thing is crosswords, Natasha Lyonne and her big, wordy brain can help you tackle a New York Times puzzle to completion. If you would prefer not to spend both money and mental energy, you can sit back and let the entire cast of Bob's Burgers entertain you with a video of an improvised song, custom-built just for you — for $3,550-plus, that is.
On that note, be warned: The prices have increased with the auction's visibility, many of them now creeping toward $4,000 per listing. At the same time, Variety claims the auction will be adding more items, including a tour of L.A.'s gay bars hosted by Dolly DeLeon. I hope the drinks are on her?