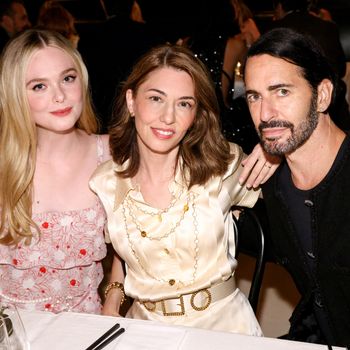 Elle Fanning, Sofia Coppola, and Marc Jacobs.
Photo: Matteo Prandoni/BFA.com
"Bingo!!!" musician Michelle Zauner yelled last night after an intimate dinner at Indochine, a downtown hot-spot restaurant. I'd be yelling it loud, too, if I had the winning numbers. The prize? A classic red Chanel Flap Bag. Fitting for an event celebrating American filmmaker and downtown emo girl–mother Sofia Coppola's first book, Sofia Coppola Archive: 1999–2023. The archival book is a body of work that highlights Coppola's work, travels, and experiences over the years. "You just go on making stuff and never really stop to look at it. It was really gratifying to see how they all fit together and all the collaborators I've ever worked with," she tells the Cut. To celebrate, Chanel brought together friends and former collaborators of Coppola's, indulging Laura Dern, Elle Fanning, Katie Holmes, Leon Bridges, and more. They were all clad in Chanel, from their full-tweed looks to their accessories. Coppola's relationship with Chanel started back in the '80s when she interned under Karl Lagerfeld, and she has been a friend of the brand's ever since.
The writer and director didn't want to celebrate with only an intimate dinner, though. She also wanted to have some fun, so the night turned into a bingo night — but not your traditional bingo night. "My mom was a sorority girl, so she's really into game parties. We grew up always playing games," Coppola says. Following dinner, guests snacked on sorbet and roasted pineapple (my new favorite dessert) while playing multiple rounds of bingo. SNL's Chloe Fineman hosted the game with her hilarious commentary. "O 69 — we all know that position, don't we?" Fineman joked, calling out the bingo numbers. Coppola assured us that though we were playing a game often played in retirement homes, we were playing for fabulous gifts. And she was right.
With each round, the gifts got better. It started with a photo print from Coppola's film Priscilla and then went to knitwear by Chanel followed by a Chanel bracelet. But the final round was when things got intense. We were tasked with the ultimate bingo: blacking out the entire bingo card with chips for a Chanel bag. Unfortunately, I was not the lucky winner, but we all left with a copy of Coppola's new book.