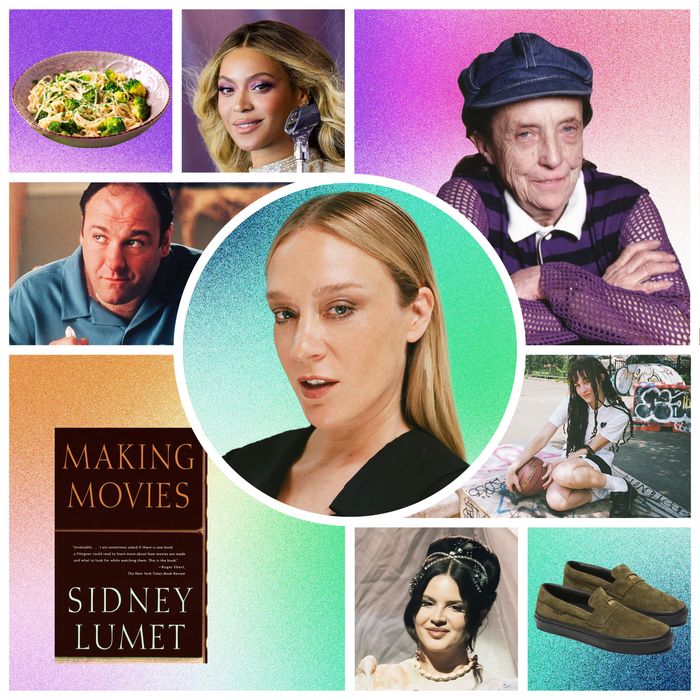 Photo-Illustration: by The Cut; Photos: Brianna Capozzi, Getty Images, Shutterstock, Lizzi Bougatsos @baby_seal777,Vans, Amazon
Back in 2014, Chloë Sevigny designed a pink skate deck adorned with her high-school yearbook photo as part of a collaboration with Fucking Awesome. It's since become a collector's item that can only be found on eBay for upwards of $1,000. Now nearly ten years later, the actress and streetwear label are feeding her cult following of fans and young skaters alike by launching a reimagined version of the hero item. (She's so mother!) "Ten years is a really long time in skate culture because kids get into skateboarding really young," Sevigny told the Cut. "The brand called me and said, 'There's a whole new crop of kids who are really coveting this board. It's really expensive on eBay, so let's give the kids what they want'."
The memorialized deck — which has a glittery pink overlay, unlike the original solid-pink one — is available to purchase now on faworldentertainment.com, along with quintessential skate-wear styles, including a ruffled skirt, an argyle derivative sweater vest, and a classic polo shirt. The seven-piece collaboration marks Fucking Awesome's first foray into womenswear.
"I just love the brand, and I love [Fucking Awesome founder] Jason Dill. I've known him since the early aughts when he was on The Osbournes," Sevigny said. "I believe in what the brand represents in skateboarding." Even in the '90s when mainstream popularity caused skateboarding to embrace a more sleek aesthetic, Sevigny said Fucking Awesome has always been committed to upholding the sport's punk roots and rebellious nature. "From the graphics to the name itself, it's all very confrontational, which is what I love about skateboarding and what I was drawn to as a kid … I've always believed in disruption."
And it makes sense — Sevigny has been disrupting the status quo since the inception of her decades-long career. From critically acclaimed performances in indie films like Boys Don't Cry and Kids to successful design collaborations with labels like Opening Ceremony and modeling stints for Louis Vuitton and Miu Miu, the Academy Award nominee is one of New York City's all-time favorite "It" girls.
Here, Sevigny discusses her latest venture with Fucking Awesome and shares insight into her personal taste when it comes to fashion, art, entertainment, and other elements of culture.
If I can only buy one piece from the collection, what should it be?
It's very back-to-school, so there's a classic polo that we did in black-and-white. It has a black-heart logo that says "FA" in it with a little pink bow underneath. I think it's perfect for anybody who's into a polo but wants something a little edgier or more interesting. I always love a polo.
What other skate-wear styles do you love and recommend?
There's always classic T-shirts. I have this exhaustive archive in storage that has so many T-shirts, but I just can't let go of them. They're like art pieces. I have an early Zoo York baby tee, which is so rare. I'm also really into puffy sneakers right now. [Skateboarder] Beatrice Domond, who rides for Fucking Awesome, released a pair with Vans. She also did like a loafer sneaker, which I thought was really cute. I have a pair and I'm very excited to wear them this fall.
What's your most recent fashion purchase?
I'm staying outside of Provincetown, Cape Cod, this summer. I've been walking back and forth to town in my tabi ballet flats or my flip-flops, and I was like, "This is not sustainable for the rest of the summer." So I got these new Tevas with a really fancy sole. They almost look like Mary Janes and wearing them is like walking on air. They were only $80. I just walked into a store and purchased them. I was desperate. Also, a vintage Dior by Galliano jacket from @eitherstore on Instagram.
What's the most unexpected item in your closet? Is there something I would be surprised to find?
Maybe like an Eileen West nightgown. I got that in the Vermont country store or something.
What's the best piece of fashion advice you've ever received?
My longtime stylist, Haley Wollens, tried to get me away from a clunky shoe and into something a little more elegant. That was a good tip. I always felt very top-heavy because of my chest, so I thought I would look more balanced if I wore a clunky shoe. But a Manolo — or any classic strappy or pointy shoe — is really the way to go.
Where do you get your culture recommendations?
Can I say New York Magazine? It's the only magazine I still have a subscription to. I love the weekly recommendations in the back, and I love the film critic David Edelstein. I find New York Magazine very fruitful. I don't know if I'm allowed to say that? It seems like pandering.
You're definitely allowed to say that. I mean, that's how I feel, personally, so I'm glad to hear other people feel like the same way. Which celebrities would you invite to a dinner party?

I'm really curious about Lana Del Rey. I'd like to be friends with her. I met Beyoncé at a Knicks game once. I've sat next to so many celebrities at Knicks games and she was the only one who turned and introduced herself to me. So she must be a nice lady. I feel like I want to hang out with her. She was also eating all kinds of shit … M&Ms and fried chicken. Very real.
Relatable queen! Anyone else?
Louise Bourgeois if she was alive. I'm very curious now, with my mother aging, about having relationships with seniors. I feel like they have so much to offer and people don't embrace them enough. I want to hear more about their lives.
Yeah, that would make for interesting conversation. Speaking of, what is the last meal you cooked for dinner?
For me or my son?
Hmm, either.
Broccoli and noodles for my son. There's a lot of egg noodles and a lot of butter happening in our house. He loves broccoli with lemon. I have to mimic how they make it at Pepe Rosso because that's his favorite restaurant in New York City.
Wow, a man with taste! What's a book you couldn't put down?
Making Movies by Sidney Lumet. It has a lot to say about the unions. It's good because Lumet was more of a director, not a writer-director. So he has a lot to say about writers.
Do you have a pre-filming ritual?
It depends on the role and how emotionally invested I am because some roles are obviously more disturbing than others. So then it's actually more about the comedown as a way to kind of shed the feelings you've been working on, and the trauma you've been revisiting. So yeah, it really it depends. Like when I had worked on (a film) that was very disturbing, I watched Enlightened every day as a way to shed the pain I was feeling all day.
That makes sense. Do you have any other comfort rewatch shows?
The Sopranos.
Ah, classic. Is it comforting, though? I'm not sure.
Very! Very comforting. Comforting that people make art and television like that … and that there are people acting like that and trying to bring big ideas to the mainstream. Comforting that there are performances like that, you know? I could go on and on. I learn new things every time I watch it. There are always new discoveries to be made and new ways to feel about different characters.
How about something you've never watched?
Oh, well I don't want to offend anybody. But I've never watched The Kardashians.
Don't worry, I don't think that will offend anyone who reads the Cut.
I've never watched the Housewives either. I don't know who any of them are. There's also the ironic liking of reality television thing, but that just doesn't do it for me … except I'm watching Survivor right now. I also watched American Idol. I had a big crush on Simon Cowell.