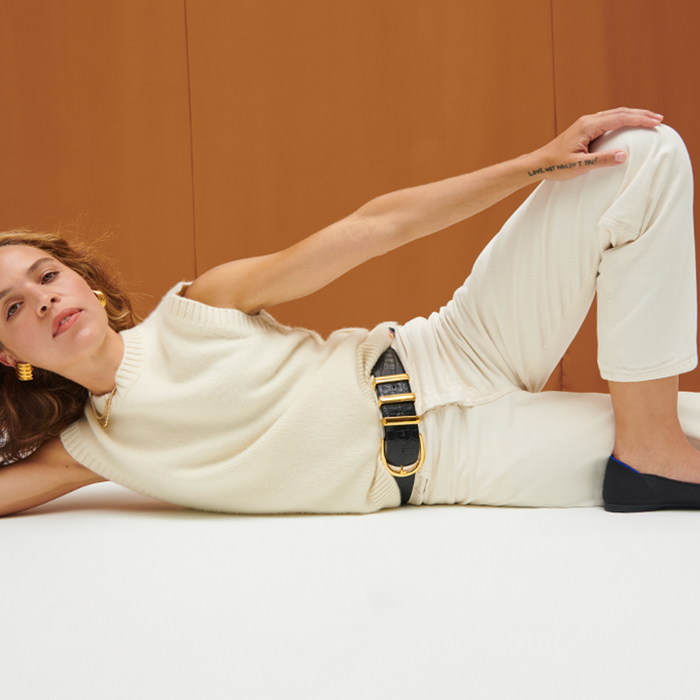 Fashion is a cyclical business: After a short dormancy, most fabrics and styles come back around, like karma. But the beauty of this industry is that even when it invites something old into the fold, that tired trend feels new again.
Take, for instance, tweed, a hardy fabric originally popularized by Scottish hunters in the early 18th century. It was transformed in the '50s as an integral part of women's workwear and became one of the most memorable fabrics of the era. This year, it made a grand return to runways with bejeweled, structured silhouettes. Some things just get better with age — an adage Rothy's knows well. When the direct-to-consumer brand first launched in 2016, its knit flat, The Point, became an instant bestseller. Fast forward to today and the shoe is back with added improvements, such as better arch support and the new In Love Insole™ for extra comfort.
But the future of fashion doesn't just mean repurposed designs — it also means renewed materials. Think: Products with a purpose. Not much can last forever, but when brands combine style and sustainability, you can come pretty close. This approach is one that Rothy's ambassador Cleo Wade utilizes in her own wardrobe. "I like to wear things that are well-made, thoughtful, and wearable," the author of Remember Love says. "I like to buy things I can wear forever."
Thanks to her empowering handwritten poems on Instagram and natural talent for inspiring self-expression and building community, Wade's relationship to her followers feels less parasocial and more personal. So when she says that being equally stylish and sustainable is important, they believe her — and she's right. In 2018, the EPA reported that the U.S. generates over 17 millions tons of textile waste per year. If the fashion industry thrives on reinventing the wheel — turning something timely into timeless — why can't it do the same with how things are made? Rothy's is ready to pave the way, and if anyone can inspire you to follow along, it's Wade. Ahead, her thoughts on sustainable style and the power of the consumer.
On making fashion yours:
As an art form, Wade loves how fashion is always reinventing itself in new ways — and it's able to do so because of how intimately it interacts with our daily lives. "It's the art form we run errands in, play with our kids in, celebrate our special occasions in; because of that it is always innovating," she says. "Fashion feels like it always wants to keep up with what we have going on in our lives, and I really love that."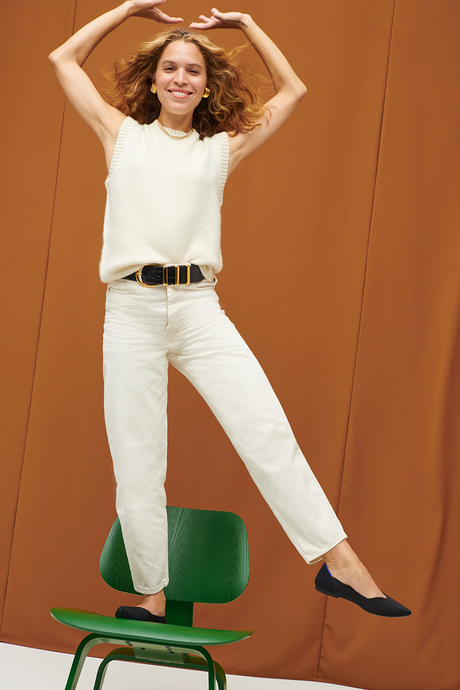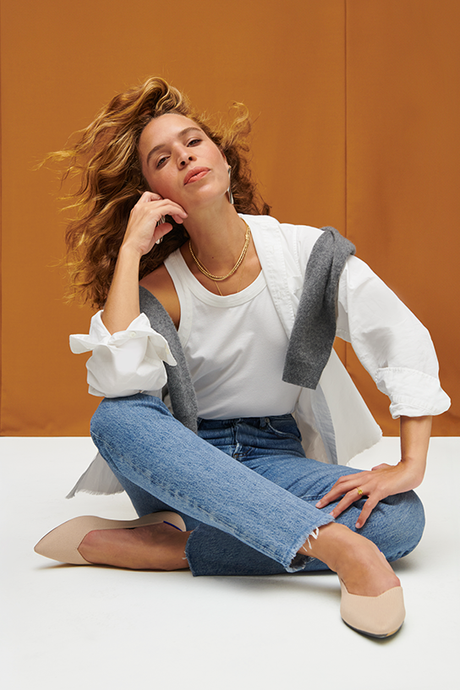 Wade's style needs to move with her and fit comfortably into her life. As a mom of two children, everyday can feel impossible in some way. Wade needs her clothes to move with her and fit comfortably into her life. "I don't own shoes I can't walk in," she says. "I don't own dresses that are too tight to eat in. I like to live in what I wear." Hence her love for The Point II. "The Point II is comfortable and also makes me look put together, which is especially helpful on the many days I am in no way put together!"
On being sustainably stylish:
We know what the future can hold for us if we don't change the way we live and move through the world — how we create art and fashion is just one small part of the systemic overhaul. If you've ever found yourself asking, "Is progress really possible?" allow Wade to confirm that we can all make a difference, even by just wearing sustainably stylish clothes.
"Slowly build, and be nice to yourself," she says. "Know that the nature of progress and life is not a high speed chase. There are moments of pause. There are moments of recovery and repair. There are moments we walk and some we run. Know that each day will not look or feel like the next. And keep going."
When Wade is able to wear pieces that are equally stylish and sustainable, she feels comfortable — she calls it the "ultimate fashion trifecta." "If you have those three, you have hit the jackpot in my opinion," she says.
On using our consumer power:
In 2020, amid an election year, Wade used fashion to fight against voter suppression. Almost four years later and the activist still believes fashion — and our shopping choices — can be impactful. "Fashion is an incredible way to engage politically," she says. Money, and how we spend it, contribute to our power. "It is not always high stakes and there is not always a way to spend in perfect political alignment to your values, but knowing the two are linked is very important."
Fashion is an art form, but it can also be a means to create social change. If brands like Rothy's are candidates on the ballot, your wallet is the proverbial vote. It's not uncommon for us to hear promises from brands that guarantee more sustainable results (in the next 50 years or so), but Rothy's tries to make the most of wasted and renewable resources we have now. Since its inception, the brand has used thread made from recycled plastic to knit all their products. To date, they've kept over 166 million plastic bottles and more than 603,000 pounds of ocean-bound marine plastic out of landfills, among other measurable innovations.
"You can't serve people if you don't know them," she says "The more fashion, or any industry, listens to their consumers, the better they will be at serving their needs. It has been amazing to witness people wanting more sustainable options in fashion over the years and see the fashion community observe and deliver — Rothy's being a leader in that."
This advertising content was produced in collaboration between Vox Creative and our sponsor, without involvement from Vox Media editorial staff.