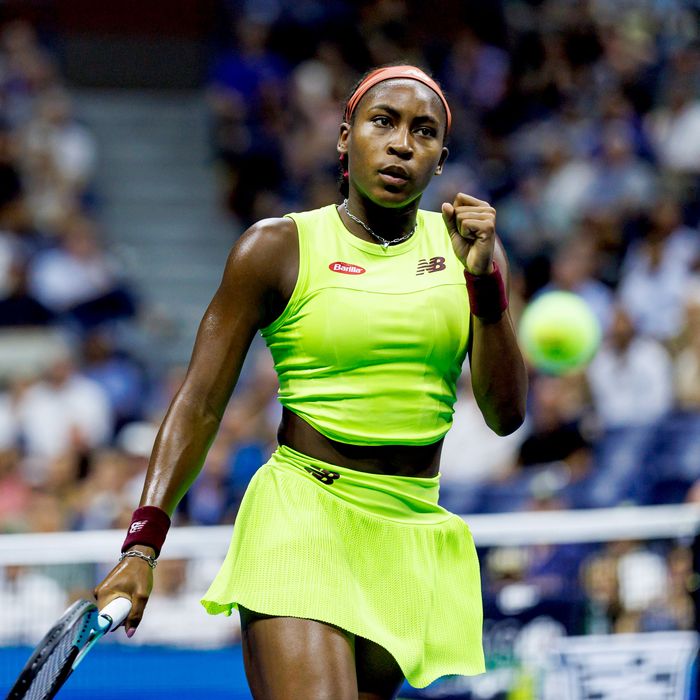 Photo: Frey/TPN/Getty Images
For the past two weeks, 19-year-old Coco Gauff has been busy cementing her status as a tennis icon: She is the youngest woman to reach the U.S. Open final since Serena Williams did it in 1999; she counts the Obamas among her fans; her neon-skirt game is unmatched; and no, she will not be losing those extra-long nails, no matter what anyone says about her forehand. And on top of all those attributes, she also supports the climate protesters who interrupted her semifinal match against Karolina Muchova on Thursday, resulting in a 49-minute delay.
"I wasn't pissed at the protesters. I know the stadium was, because it interrupted entertainment," Gauff told reporters, per CNN. "I believe in climate change. I don't really know exactly what they were protesting. I know it was about the environment. I 100 percent believe in that."
Gauff was setting up her serve when, as the U.S. Open put it in a statement, a "fan-related incident" broke out in the upper deck of Arthur Ashe Stadium, as four protesters wearing shirts bearing the slogan "End Fossil Fuels" began shouting. Security flooded the stadium and the NYPD escorted out three of the activists; the fourth, who had glued themself to the cement floor, remained handcuffed in place before finally being removed by security, medical professionals, and the NYPD. "Kick them out, kick them out!" the crowd could be heard cheering, according to reports from The Guardian. Similar climate protests also took place at the 2022 French Open and earlier this year at Wimbledon.
Gauff and Muchova both left the court during the delay, returning after the demonstration subsided to finish their match, which Guaff won 6-4 7-5. Speaking to reporters afterward, Gauff said she expected protests at the tournament, expressing compassion for the activists even though she "100 percent" would have preferred their action not take place during her match.
"I always speak about preaching what you feel and what you believe in," Gauff said. "Obviously, I don't want it to happen when I'm winning up 6-4 1-0 and I wanted the momentum to keep going. But hey, if that's what they felt they needed to do to get their voices heard, I can't really get upset at it."