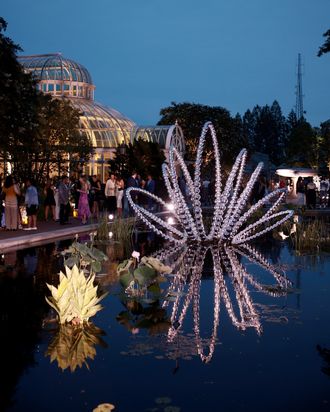 Photo: Dimitrios Kambouris/Getty Images for Parfums Christian Dior
The day before New York Fashion Week officially started, Dior hosted a cocktail party and intimate dinner with celebrities and house friends including Charlize Theron, Stephanie Hsu, Kiki Layne, Leni Klum, and more to celebrate L'or de J'adore, the new fragrance by perfume legend Francis Kurkdjian with a limited-edition art bottle created by sculptor Jean-Michel Othoniel.
Kurkdjian's inspiration for the classic scent, J'adore, was liquid gold. So it makes perfect sense that the original bottle included a sleek gold top. This time around, the renowned perfumer — who has created scents like Jean Paul Gaultier's Le Male and his namesake brand's cult favorite Baccarrat 540 — wanted to top that. This new iteration has at least ten different types of flowers and actual gold. "When it comes to smell it's about personal taste and memories," he says. As for his taste? "Very French," he says, laughing.
Décor
You can't really go wrong with décor in the Brooklyn Botanic Garden; the garden alone is the backdrop. And then add Othoniel's sculptures to that, and you are basically at Versailles. As soon as we entered the garden's lily-pool area, the reflection of the sculptures in the pool became more pronounced as the sun went down (and made a great photo background). Unfortunately, being surrounded by a garden also meant being surrounded by a ton of mosquitos, but the views made up for the bites. Following that, the intimate dinner was housed in the garden's Palm House, the glass structure that's a hot spot for New York weddings. The amount of florals in the room would have probably made someone guess there was a wedding, but no, we were just celebrating the new fragrance in all of its glory alongside celebrities. The florals weren't the standout moment of the décor, though — it was the tablescape created and installed by Othoniel. Not only were there plates adorned with paintings of his sculptures but also centerpiece fountains topped with his gold sculptures that were scented with the fragrance — and yes, I confirmed this by sticking my finger in the foundation with my tablemates. Did we look silly sniffing the fountain and sticking our fingers in it? Probably, but also probably not, because after all, we were there for the fragrance.
Food and Drink
While the cocktail hour was two hours long, I couldn't really complain because the hors d'oeuvres were divine: mushroom-artichoke bites, beef and tuna tartare, and my personal favorite, mini Shake Shack sliders. (I personally tested that they were indeed from Shake Shack, since I had never seen their sliders before.) The cocktail menu was straight to the point: a simple bourbon drink and a vodka, lemonade, and thyme option. All simplicity was over when it was time for dinner, though: We ate a gem salad, striped bass, and a dark-chocolate tart (my personal favorite) plated on Othoniel's signature sculpture plates. Were the portions big? No. "This is delicious, but I just need more than four snap peas," I overheard someone say jokingly at my table. As for drinks, we sipped Ruinart champagne and wine for the remainder of the night.
Clothes
I lost count of the amount of Lady Dior bags — ultramatte, large, mini, you name it. Celebrities did not leave their Dior bags behind, nor did they leave their fans behind as a handful of guests fanned themselves off in the 90 degree heat. The garden looked like a sea of black and white during a portion of the cocktail hour, juxtaposing the garden setting. I was a part of the problem wearing my off-white leather dress. But there weren't only neural colors; there were a handful of guests wearing bright-colored dresses or printed ensembles to match the theme. "Everyone is in black and white and I'm in color, did I miss the memo?" I overheard someone say as she pranced over to the bar in a pink floral adorned A-line dress.
Music
There was a small orchestra that played classical music throughout the cocktail hour. It fit the theme of the garden and it immediately invited us in. Small orchestra > DJ, any day.