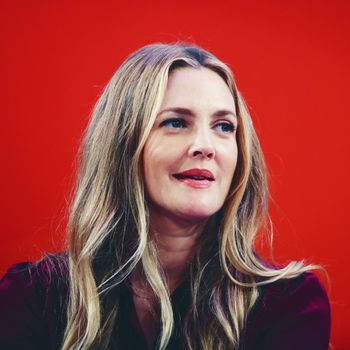 Photo: John Lamparski/2016 Getty Images
After intense blowback, it appears Drew Barrymore has decided to rethink her decision to resume production of The Drew Barrymore Show amid the ongoing WGA and SAG-AFTRA strikes. On Sunday, the actor and talk-show host announced that she would pause the show's premiere until the Hollywood strikes are over. "I have listened to everyone … I have no words to express my deepest apologies to anyone I have hurt, and, of course, to our incredible team who works on the show and made it what it is today," Barrymore wrote in an Insta-pology on Sunday.
The talk show, which had gone on summer hiatus before the WGA strike began on May 2, resumed tapings last week. News that Barrymore is reversing course comes a little more than a week after CBS announced that The Drew Barrymore Show would be returning for its fourth season on September 18, apparently without its WGA staffers. "I own this choice," Barrymore wrote in a since-deleted Instagram post where she attempted to explain her rationale. She noted that the show remains "in compliance with not discussing or promoting film and television that is struck of any kind." But the move, which would have forced employees, audience members, and celebrity guests to cross picket lines to attend tapings, was met with swift and harsh blowback. Many critics called Barrymore a scab and pointed out the hypocrisy of her decision, given the pro-union stance she took when she backed out of hosting the MTV Movie & TV Awards back in May.
CBS scrambled to Barrymore's defense, telling Vanity Fair that The Drew Barrymore Show would not be "performing any writing work" covered by the strike. According to NBC News, a SAG-AFTRA spokesperson also clarified that Barrymore's hosting was "permissible work," and pointed out that talk shows like Barrymore's are produced under the Network Television Code, a separate contract from the ones the WGA and SAG-AFTRA are striking. Pointing out these technicalities didn't assuage the thousands of writers and actors who have been picketing for fair pay over the last several months and expected solidarity. "Drew Barrymore should not be on the air while her writers are on strike fighting a fair deal," a guild spokesperson told Deadline last week, contending that shows like hers "cannot operate" without writing and maintaining that it is, in fact, a WGA-covered struck show.
Two audience members claimed they were kicked out of the show's tapings last week after they showed up wearing pro-WGA paraphernalia. The National Book Foundation rescinded its invitation to have Barrymore host its 74th National Book Awards ceremony, noting in a statement that the evening was meant to celebrate the "incomparable contributions of writers to our culture." Amid the mounting backlash, Barrymore posted a tearful video to Instagram on Friday in which she apologized to writers and unions but upheld her decision to proceed with production. "I deeply apologize … I wanted to own a decision so that it wasn't a PR-protected situation, and I would just take full responsibility for my actions," Barrymore said in the video, which has since been taken down. "I know there's nothing that I can do that will make this okay for those it is not okay with." Though she didn't explicitly address why she planned to press on, Variety reported that contractual obligations with station partners in daytime TV played a role in the decision.
According to Variety, the newly taped episodes of The Drew Barrymore Show will not air, and the WGA has canceled its planned pickets of the show. After news of the pause broke, two other CBS shows, The Talk and The Jennifer Hudson Show, also announced they would not return as planned on Monday. Other daytime TV talk shows, like The View, continue to air without writers, however. "We really tried to find our way forward," Barrymore wrote in her latest apology statement. "And I truly hope for a resolution for the entire industry very soon."