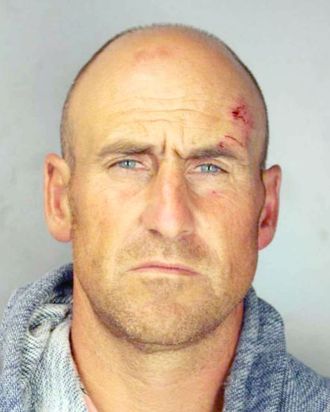 Chad Michael Busto
Photo: Southampton Town Police
On Wednesday, Drew Barrymore's alleged stalker, Chad Michael Busto, was arrested for the second time in three weeks. According to the New York Post, he entered a dressing room at the Brooklyn Navy Yard during New York Fashion Week, demanded to see Emma Watson, and wound up charged with two counts of trespassing and two counts of disorderly conduct.
"I want to marry Emma Watson. Let me speak to Emma Watson," he reportedly said. "Let me take a photo with Emma Watson."
In August, Busto interrupted a conversation between Barrymore and Reneé Rapp at the 92nd Street Y, walking toward the stage while shouting that Barrymore knew him. Rapp escorted the actor offstage, while security removed Busto from the venue. Police did not arrest him until a few days later, when he appeared outside Barrymore's Hamptons home, which he found by going door-to-door in her neighborhood. He was charged with fourth-degree stalking — a Class B misdemeanor — but released without bail, though the judge said he would have to wear an ankle monitor for 60 days. But last week, the judge issued a bench warrant for Busto after he failed to appear for an appointment with the Hamptons police to be fitted for the monitor.
Since the 92nd Street Y event, details of Busto's criminal history have been reported: He has been arrested in California, Georgia, Minnesota, Florida, and Wisconsin for disorderly conduct, trespassing, indecent exposure, and making lewd comments to children, among other crimes. On social media, some people alleged that Busto has targeted other female celebrities. Fortunately, he didn't harm anyone at the Navy Yard, and it isn't known if Watson was even on the property.