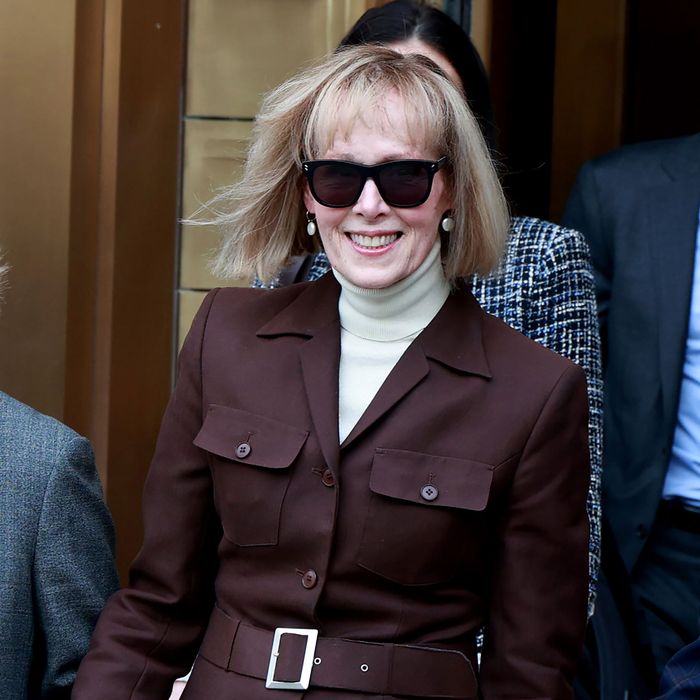 E. Jean Carroll leaving court after winning her defamation and sexual-abuse case against Donald Trump.
Photo: New York Daily News/NY Daily News via Getty Images
In yet another legal blow to the recently indicted former president, a federal judge has deemed Donald Trump liable for defamatory statements against E. Jean Carroll, the writer who accused him of raping her in the '90s. In an opinion issued Wednesday, Judge Lewis Kaplan ruled that a Manhattan jury's guilty verdict from earlier this year, which found Trump guilty of sexually abusing and defaming Carroll, would carry over to this separate but related case. Now, in a trial scheduled for January, jurors will only focus on how much Trump has to pay Carroll for defaming her.
Carroll first came forward with her allegations in a 2019 New York Magazine essay, writing that Trump attacked her in a Bergdorf Goodman dressing room in 1995 or 1996. Trump quickly fired back that Carroll was not his "type" and insisted he did not know her. In November of that year, Carroll sued Trump for defamation. Three years later, thanks to the passage of a New York State law that opened a one-year window for civil cases that would normally fall outside the statute of limitations, she sued him again, filing a civil suit against Trump for both sexual battery and defamation. That's the suit — Carroll II, per Kaplan's latest opinion — that recently went to trial. Trump opted not to testify, instead appearing via an hours-long deposition video in which he claimed he had never met Carroll and called her allegations a hoax. At the same time, he was unable to tell Carroll apart from one of his ex-wives in a photo. The jury found him liable for sexual abuse and defamation, though not for rape, and awarded her $5 million in damages.
After the verdict came in, Trump said he planned to appeal, and hours later, called Carroll a "whack job" in a CNN town hall. Describing the case as "fake news" and asserting that the trial was "rigged," he repeated his old claim that he had "no idea who this woman is." Shortly thereafter, Carroll's attorney petitioned Judge Kaplan to add not only the verdict to Carroll's original 2019 suit, but Trump's subsequent statements as well. These, the filing reportedly argued, "show the depth of his malice toward Carroll, since it is hard to imagine defamatory conduct that could possibly be more motivated by hatred, ill will, or spite." Kaplan allowed Carroll to amend her complaint, prompting her to seek at least $10 million more from Trump.
In June, however, Trump countersued Carroll, claiming she actually defamed him when, in a post-trial interview, she reiterated her belief that he raped her. But Kaplan dismissed that bid last month, ruling that her remarks were "substantially true" in light of the verdict and that Trump hadn't proved she made them with actual malice.
The January trial will be the first of several for Trump, who is facing more than 90 criminal charges in Georgia, Florida, New York, and Washington, D.C. Those include conspiracy to defraud the United States, conspiracy against the right to vote, withholding documents from an official proceedings, and falsifying business records, among many other accusations. The DC case is scheduled for March 4, 2024; his New York trial is set for March 25, 2024; and the Florida proceedings will begin on May 20, 2024. All the while, he'll be campaigning for president again.
This article has been updated.