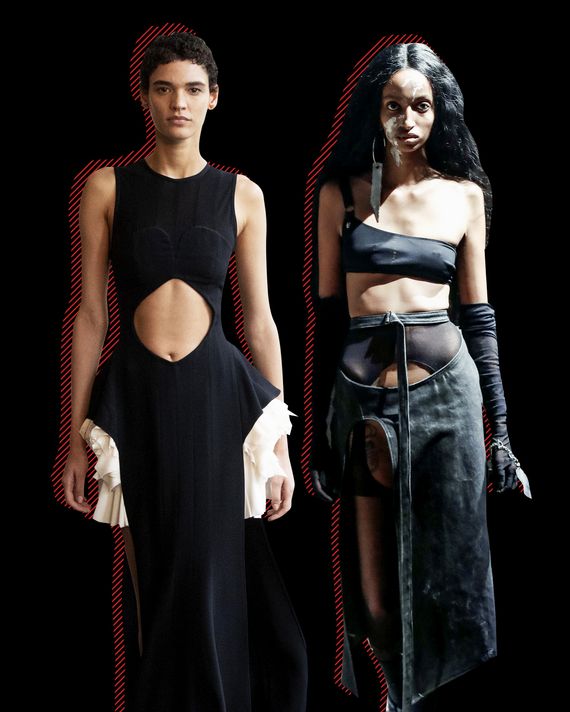 From left: Ashlyn and Elena Velez
Photo-Illustration: by The Cut; Photos: Maria Valentino / MCV Photo/Courtesy of Ashlyn, Getty Images
It was just a little bit of mud, nothing to be alarmed about. And since this was a show by the missionary designer Elena Velez, who hates the standard niceties of female representation, things were bound to get down and dirty in Bushwick on Tuesday night.
The setup, if you haven't heard by now, was a former factory floor, in the center of which was a sizable rectangle of dirt about ten inches deep and well hosed down before the models started to walk the perimeter. It was mud by then. If you were at the front of the SRO audience — that is, next to the mud — you were as close to the clothes as you could possibly be. You could see the tiny details of a white sports jacket, shown with clingy long-john shorts, with the texture of a plastered wall or a rough linen coat with seaming that suggested corset boning. The published runway images don't do justice to the clothes, nor do they adequately convey the visceral or confrontational aspect of being in such close contact with the models, with their stringy hair and dour looks. It was during the traditional finale march that they dropped down into the mud and started mauling one another.
I get what Velez is after, increasingly, with her shows, and I completely share her belief that western fashion still has not fully come to terms with women's lives, despite the general opening up of attitudes in the last 30 years. I still find it amazing that in the mid-1990s, I was asked by Vogue to write a story about whether it was acceptable for women to wear pants in corporate offices. Today, the rights of women to expose their bodies, to wear what they want is a given, though in historical time it's a huge change. What made Coco Chanel's original straight-line suit and little black dress so revolutionary in the late 1910s and early 1920s is that for the first time in history, she ended the practice of giving feminine fashion an erotic focal point — be it the breasts, hips, or waist. It was the power of her straight line. It put women's dress on more equal terms with men's.
Velez deplores what she characterizes as "the sanitization and unilateralization of womanhood in popular culture" — in part, she argues, because it "leaves no room for the nuance and multiplicity we deserve as architects of labyrinthine interior lives." That's typical of Velez's rhetoric, which she included in a "manifesto" about her latest collection. She declined to talk to reporters afterward, and I, for one, am grateful. If a designer is the real deal — and Velez is, in my opinion — and if she has something worth saying, then it will come out in the clothes, or not. The rest is all rhetoric, and I'm not interested. One of the greatest privileges and pleasures of covering fashion over the past 35 years is not getting an explanation from designers like Rei Kawakubo and Martin Margiela. They never talked, or barely. That forces you to look at the clothes and just interpret what you see and feel.
I happen to think that Velez is right, that the expression of women on the runways is so sanitized — largely by the demands of the luxury-goods industry — that it's practically one-dimensional. We don't really get a fierce or nasty woman, much less a complex one. Alexander McQueen obviously came very close in the mid-1990s, and the sexuality of his collections initially revolted a lot of people. Margiela, in the late '80s, was also incredibly confounding when he showed women in transparent and shattered-looking garments, and in public spaces like a playground or parking lot. A new and commanding expression of sexuality almost always disturbs people, as it apparently did some the other night.
Although Velez's work obviously owes a debt to the deconstruction techniques of Margiela, Vivienne Westwood, and other older designers, she is really motivated, I think, by a bigger idea. I look at her generation, and whether they are fighting against overconsumption to help save the planet, or for the rights of animals, or for how human beings should be represented in all their plurality, I see people who want to shift the moral focus of society. To them, it's not about a compelling new design. It's about something bigger, and we are still far from seeing how that will be expressed in fashion. But it will happen.
Velez is in a difficult place, and I suspect she knows it. She has to make more clothing styles that will sell, if only to support her vision — and the woman has a vision that has been shaping up rapidly in the past three seasons. She did have more relatable looks on her runway this time, especially those fantastic corsetlike jackets. What she needs, I think, and this will be extremely hard to find in the United States, is a business partner who believes in her ideas but can also help navigate the realities of stores and marketing. Margiela had the late Jenny Meirens, who was with him the whole way. A like-minded business partner has historically made all the difference to a designer's career.
The designer Ashlynn Park has taken a quite different route from Velez, though in a sense, they are two sides of the same modern coin. Park, who presented her Ashlyn spring collection on Wednesday, trained with Yohji Yamamoto in Tokyo and later worked with Raf Simons at Calvin Klein. So she had a lot of experience when she started her label in 2020 in her New Jersey home. Today, she has a small studio in the Garment District.
"This season the brand got big and I felt that the members of the team are like pieces of a puzzle," said Park, who sells her clothes at Bergdorf Goodman in New York, Blake in Chicago, Susan in San Francisco, and Maxfield in L.A. "I'm like the master puzzle-maker." To that end, Park created a puzzlelike pattern; those pieces, along with all the scraps, became surface details on her mostly black-and-white clothes — lightweight but well-constructed and thoughtfully designed jackets, simple tops in black crêpe or jersey that were trimmed with fluffy white scraps. Park and her two patternmaking assistants are focused on using everything, and also conserving their time.
"I really love that Yohji and Raf are conceptual, but you need to find a client who understands that," Park told me. "I'm 40. I'm thinking of that client, where they are going, what occasions they have. I also think about the weather changing. Clothing cannot be heavy."
Park has only 55 items in her collection. But each reflects her hard-target understanding of how many women across the country want to live and dress. As she put it, "They don't want too much fashion on them." She has taken certain ideas from Yamamoto — how many designers haven't? — but her restrained eccentricity is her own.
She told me, "The great thing I learned from Yohji in the design is elimination. Usually a designer keeps adding and adding — to make a beautiful piece. Yohji was always asking us, 'Why did you put that pocket here?' And if you accidentally combined details from different eras, like the 1960s and '90s, he always said, 'You have to study again.'"
Still wise words.