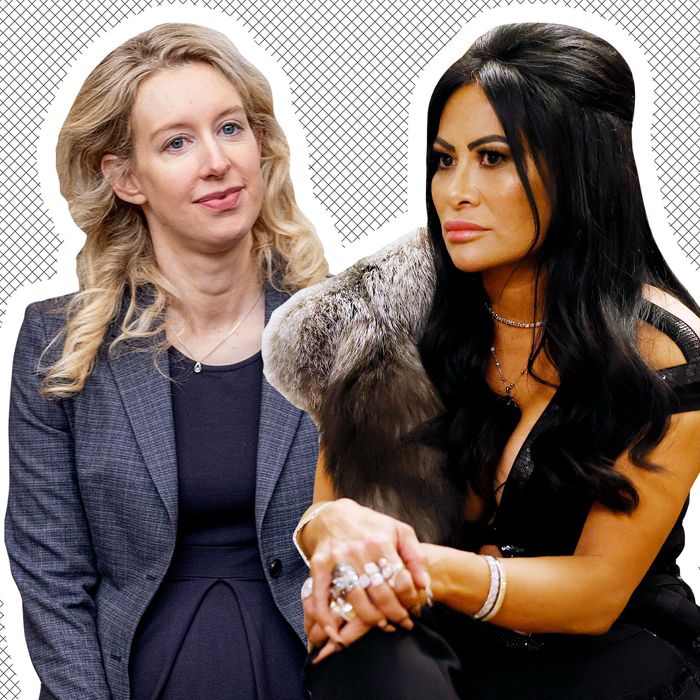 Photo: The Cut. Photos: Getty Images
In a shock to absolutely no one, convicted scammers Elizabeth Holmes and Jen Shah have apparently "bonded" in prison, according to People. The magazine reports that between "graduating" from anger-management classes, tutoring fellow inmates who want to get GEDs, and teaching a workout class called "Shahmazing Abs," Shah, 49, has somehow found time to take on a "motherly role" for 38-year-old Holmes inside the Bryan, Texas, facility. That's according to the former Housewives star's rep, at least.
"Their situations brought them together, and they have a good understanding of one another. They're getting through it together," Chris Giovanni, Shah's rep, said.
Giovanni said Holmes — who recently began her 9-to-11-year stint for defrauding investors in her medical device company, Theranos — has been taking Shah's workout class. Meanwhile, a more "peaceful" Shah — who is serving a 6.5 year sentence for her involvement in a telemarketing scheme — has apparently met and held Holmes's baby, Invicta. She's also been giving Holmes "a lot of advice," Giovanni claimed. The precise nature of that advice remains unclear, but the rep added that both women are "rehabilitating and have bonded over being on this journey of positive change" together. Shah-mazing for them!