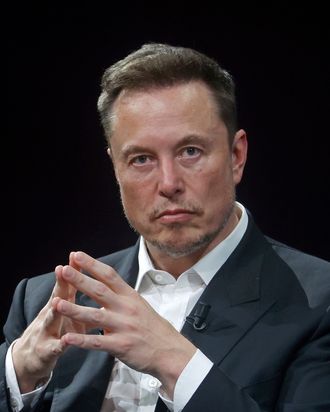 Photo: Chesnot/Getty Images
Making good on his promise to fill the Earth with tiny little Muskettes before scampering off to Mars, Elon Musk has helped produce a total of 11 children during the past two decades. The count has long been high, and jumped up again after journalist Walter Isaacson disclosed the existence of a secret third child the biologically ambitious billionaire had with Grimes. According to Isaacson's forthcoming biography of Musk, the newest addition to that brood arrived in June 2022 and is named Techno Mechanicus (nickname: Tau). Of course.
Half of Musk's progeny stem from his first marriage, during which he had six kids — one set of twins and one set of triplets, as well as a son who died of sudden infant death syndrome in 2002 — with Canadian author Justine Wilson. Ten years after they got divorced, he and Grimes got together and, apparently, had three children in the course of the on-off relationship that followed: X Æ A-Xii, Exa Dark Sideræl (or Y for short), and now Tau. Isaacson reports that Musk also volunteered his sperm to his former employee, Shivon Zilis, because in her words, "he really wants smart people to have kids." (This could also explain how Musk is producing children while also claiming, unprompted, that he hasn't had sex in ages.) Zillis then gave birth to Musks's twins, Strider and Azure, in November 2021, all of which he purportedly neglected to mention to Grimes, even though Y was also on the way. It would appear that in his personal life as in his business endeavors, Musk is nothing if not exceedingly messy.
Though Musk happily confirmed Tau's existence and name on his own platform, X (formerly Twitter), via Pop Base's comments section, it sounds like he may still be leaving Grimes out of the loop on some family matters. Right around the release of the biography, Isaacson posted a photo of Musk hanging out with Zilis and the twins. Grimes then quote-tweeted the photo in a since-deleted post, writing:
Tell Shivon to unblock me and tell Elon to let me see my son or plz respond to my lawyer. I have never been allowed to see a photo of these children until this moment, despite the situation utterly ripping my family apart.
After taking the post down, Grimes posted a longer message indicating she and Zillis ("an amazing human") had resolved the situation, adding: "We both just want what's best for our kids." She referred to her and Musk's newest family member as Techno, writing, "I wish I could show u how cute little Techno is [alien emoji] but my priority rn is keeping my babies out of the public eye."
Hopefully morale on the space commune improves before the next Musk baby arrives.