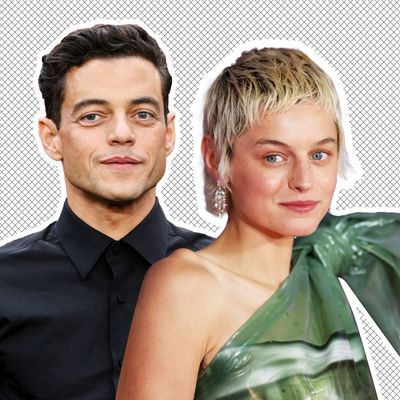 Photo-Illustration: by The Cut; Photo: Getty Images
Who among us did not wake up this morning wondering who Rami Malek, internet boyfriend of yesteryear and possessor of a gilded set of fake Freddie Mercury dentures, is kissing these days? If not you, then someone at the Daily Mail apparently did, and now they have delivered an answer. After a string of portentous sightings, Ramek and his fellow thespian Emma Corrin have locked lips in the park. The more you know!
The outings started in July, when Corrin and Ramek were photographed whispering and touching each other's legs in the audience of a Bruce Springsteen concert in Hyde Park. At that point, some of us were under the impression that Malek was still dating his longtime girlfriend, Lucy Boynton, not having heard anything about a breakup. But The Sun quickly investigated, reporting the following month that Malek had parted ways with Boynton and was "living it up" by inviting Corrin to see the Boss. Bold!
Around that time, eyewitnesses (also speaking with The Sun) claimed to have spotted the duo slurping down oysters in Kent and kissing in North London. Soon after, they were again seen in close proximity at the U.S. Open, where they sat side by side in the stands looking kind of bored. But now, even more compelling evidence of romance has been captured on film: Ramek and Corrin kissing while walking a dog in London.
If you think about it — which, maybe you have not — Corrin and Malek make sense: He famously played an introverted hacker in Mr. Robot, a role that seems to have had some influence on Corrin's depiction of a Gen-Z coding expert in Brit Marling's forthcoming show, A Murder at the End of the World. And now they are kissing while holding a plastic dog ball thrower! Life comes at you fast.