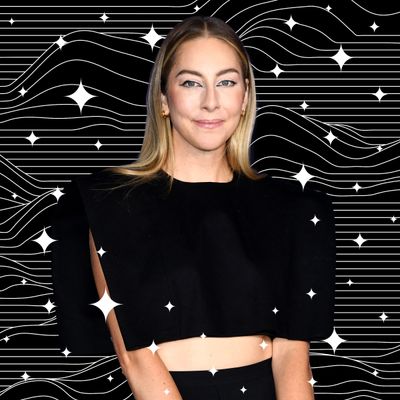 Photo-Illustration: by The Cut; Photo: Getty Images
When Este Haim was three years old, her parents let her name her newborn sister. "I have very trusting parents," she says, "but clearly I had taste."
It isn't surprising that a three-year-old entrusted with her sister's christening would grow into a woman who knows exactly what she likes. Her curatorial vision has influenced Haim, the pop-rock band she formed with her two younger sisters Danielle and Alana. If you've consumed any form of pop culture over the past ten years, you know Haim — they've collaborated with their good friend Taylor Swift, earned themselves two Grammy nominations, and recently contributed a song to the Barbie soundtrack.
Este might be Haim's bassist, vocalist, and eldest sister, but their dynamic is a "pretty easy democracy," she says. "There's three of us, so either we all agree on something or it's two against one." For her, the "it" factor is less about leveraging influence than something that comes from the inside. "I don't think I truly understood self-love until the last three or four years," she admits. That newfound assurance helped her try her hand at composing music for film and TV — in 2020 she wrote the soundtrack for the Netflix series Maid and has since scored Cha Cha Real Smooth, Do Revenge, and You Are So Not Invited to My Bat Mitzvah — on top of consulting for the on-camera music scenes in White Lotus' second season. Like writing for Haim, scoring is "about trial and error," which often means spending hours messing around in the studio. There, she says, "the world is your oyster."
What is an "It" girl to you?
A person who really understands and loves who they are as a person. I learned that self-love is really important, but I don't think I ever truly understood that until the last three or four years. There's an air of confidence that comes from just loving yourself, the good and the bad.
Who are some musicians you'd classify as "It" girls?
For me, the quintessential "It" girl is Chaka Khan. She plays drums like a badass; she has maybe the best voice of all time. I've seen her perform a couple times, and she is a fucking force to be reckoned with. She probably has her bad days, but she really loves being who she is, and that just shoots out of her pores. She's amazing. My sisters and I have always been inspired by videos of her playing drums.
Has she inspired how you dress?
Her style is insane. If you look through photos of Chaka Khan, she really fucking gets it. The outfit isn't wearing her — she is definitely wearing the outfit. Just fucking working it. You can also tell these clothes are really comfortable to perform in. There's one photo of her where she's literally crouching in over-the-knee boots. She also clearly loves a bralette, and if you look through what I wear onstage …
What other "It" girl musicians inspire you?
Tina Weymouth is the reason I was into the idea of being a bass player. My dad rented Stop Making Sense when I was young, and I saw her playing "Slippery People" and lost my mind. I hadn't really been exposed to many bands that had women playing bass, so I didn't know it was possible. Watching her have that good of a time, it's hard not to fall so in love with her. I remember thinking, Oh my God, she's the real-life Princess Peach. I guess being aspirational also makes you an "It" girl. It definitely worked on me: I still look at Tina Weymouth and want to be her.
Where do you like to shop?
I love a bargain. I'm a big thrifter. I always have been. I enjoy perusing eBay and Depop and Etsy, and I grew up going to the dollar sale at Jet Rag. I went to a high school where vintage and thrifted clothing was what everyone did, and that's carried on since I was 14. My sisters and I are obsessed with anything Phoebe Philo.
What are you on the lookout for, shopping-wise?
My biggest search right now is this style I would wear in high school: a very, very elongated pointed-toe kitten heel.
What's your vintage white whale?
A '90s Jean Paul Gaultier Buddha dress that I got on Etsy. I'd been looking for it forever, and I basically couldn't afford groceries that week. I've only worn it once. I feel like it's kind of an art piece.
What's your biggest thrifting tip? 
I'm big on mood-boarding. Google Lens is also really helpful. Don't search the word "vintage." The second you put "vintage" in front of something, the price becomes, like, five times what it should be.
I'm letting my freak flag fly, people are gonna know that I'm a hoarder, but I think it's important to go back into your own archives and see what you can use to fit the way that you're feeling in this moment. I don't really get rid of a lot of stuff. I try to wear my clothes from high school and college as much as humanly possible.
Where do you like to go out at night?
I love to dance; I'm not really a sit-at-the-bar girl. And I like going out on the earlier days of the week, like Monday, Tuesday, or Wednesday, because those are the best dance nights. There's a bar in Echo Park called the Short Stop that has Motown Mondays. I always bump into a bunch of friends there. Tuesday night at Zebulon is always really fun, and Wednesday at Los Globos in Silver Lake. I go out once a week, and on the weekend, I'll go to bars or restaurants with friends, like the Black Cat, Café Stella, Cha Cha Lounge, Red Lion. On Sundays, the Silver Lake Inn has a pool party that I've been going to.
Who are your favorite "It" siblings?
Beyoncé and Solange. I'm also a big fan of Rashida and Kidada Jones and their style. They really, really know how to dress. If you look up photos of them in the '90s, like … chef's kiss. Venus and Serena. Ann and Nancy Wilson from Heart. Oh, and gotta love the Bee Gees.
Recently you've started scoring movies and TV shows. What draws you to that?
I've always been a huge fan of movie scores. I was the girl that would go to the movies on a Thursday night with a pillow and a blanket and order a huge popcorn. I still do that — the perfect Thursday night. We did our first EP with Ludwig Göransson, who just did Oppenheimer. He was in the studio with us while simultaneously doing Fruitvale Station and Community. I was very much hyperfocused on Haim at the time, but I saw Ludwig doing it, and I think that kind of unlocked a curiosity within me that was awakened 11 or 12 years later when I scored Maid. I kind of went into it blindly and trusted that I was just going to work my ass off and make sure that what I did was something I was proud of.
Has scoring changed how you write and record for Haim?
If it has, I can't tell. I think it all comes from the same place. Haim is such a well-oiled machine that we kind of share the same brain by now.