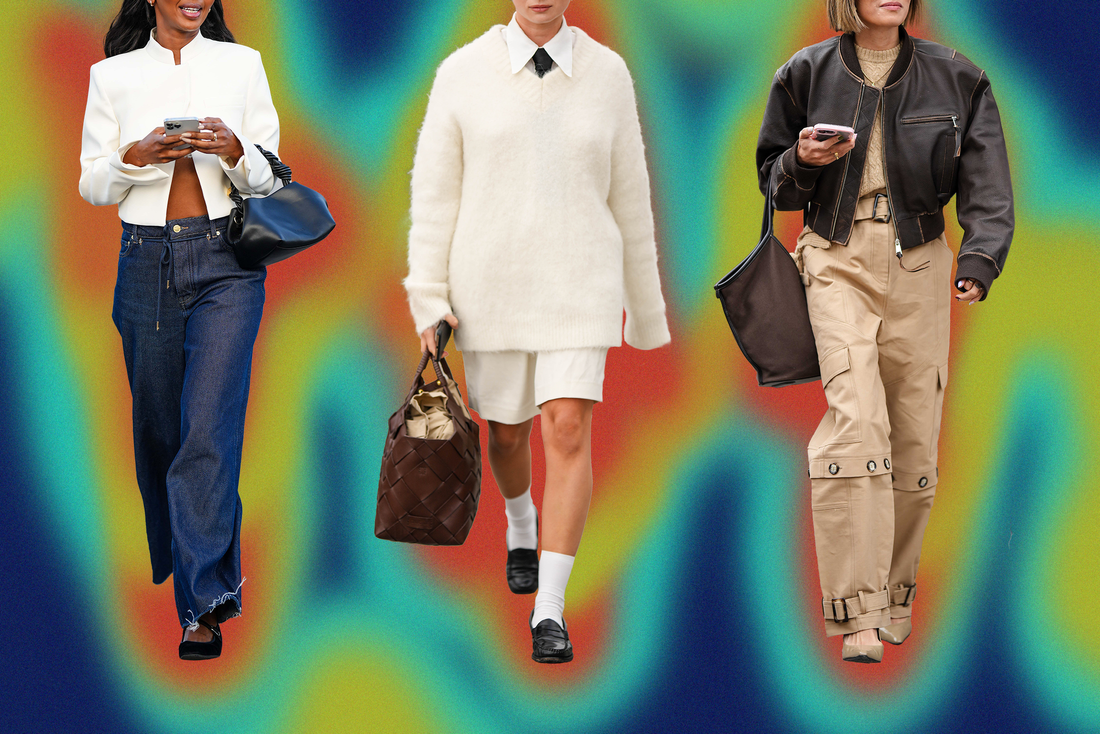 Photo-Illustration: Marissa Dickson; Photos: Getty Images
There are many things that live gloriously rent-free in my mind. The lyrics to all 10 minutes of a certain re-recorded pop ballad. The operating hours of my local bakery with the good matcha drinks. And lately, the street-style looks coming out of fashion month that I'm scheming to replicate. Any style enthusiast knows that the outfits walking the streets during various fashion weeks across the globe are just as exciting as the looks that come parading down the runways. The runway is about dictating upcoming trends; the street-style scene is about breathing life into those trends — interpreting them in an original way that feels wearable and personal.
When I'm perusing street style, what catches my eye isn't a show-y piece or a hot-off-the-runway get-up. Instead, it's an interesting color story, an unexpected pairing of proportions, a creative play on contrast, or a study in masterful layering — dynamic details that make me take a second, closer look and challenge me to push my own styling boundaries. And so far, fashion month has delivered with a slew of style moments I can't get out of my head, from statement tonal looks to more quiet neutral ones.
No matter what look I'm planning on interpreting this season, one way I love making an outfit more distinct and dynamic is through jewelry. Anyone can wear the same designer bag in the same way, but how you layer on a diamond piece from the De Beers Enchanted Lotus collection, for example, is entirely individual and adds something unique to your style story because it holds intention. So if you, like me, are planning on taking inspiration from the fashion week style set, don't forget to add the most distinct finishing touch of all: A sparkly piece (or three).
(Not So) Precious Cargo
This tonal get-up is just one of many street style outfits proving that the cargo craze is here to stay. But what stands out to me in this look isn't actually the cargo pants (although they are undeniably cool), it's the functionality and versatility of the whole thing.
Rather than being precious with the styling (which tends to be the immediate inclination when you're working with slouchy pants), the wearer really leans into the utility theme with the combination of the practical tote bag and bomber jacket. As for the versatility, this particular interpretation might rely on taupe as the base color, but the appeal of the look is in the fact that you can easily recreate it with any color, as long as you match the top and bottom. With such tough pieces defining the look, you can afford to be precious in one aspect; a delicate matching earring and necklace set finished in rose gold and crafted with micropavé diamonds will add some subtle sparkle.
1) De Beers Enchanted Lotus Medal Pendant in Rose Gold, $3,350; 2) De Beers Enchanted Lotus Earrings in Rose Gold, $2,950; 3) Giuseppe di Morabito Cropped Leather Bomber Jacket, $1,374; 4) St. John Cashmere Jersey Sweater, $595 5) Proenza Schouler White Label Cotton-Twill Belted Cargo Pants, $495; 6) Khaite Lotus Mini Suede Tote, $1,800
Dainty in Denim
Now here's a take on styling slouchy pants that is precious. Oversized, low-slung jeans can often read grungy and rugged, but this look comes together gracefully with more refined pieces that lend a cleanly tailored edge.
The trick is to build your look around a pair of crisp, dark wash denim. As much as I love light-wash jeans, they tend to give off a casual energy, so the key here is elevating via intentional styling. From there, ladylike pieces — a cropped tweed blazer, dainty Mary Janes, and a darling top-handle bag — bring an element of twee to contrast the tough. Of course, we can't forget the jewelry. A white gold and diamond ring and matching hoop earrings inspired by the lotus flower will tie the look together with an elegant flourish.
1) De Beers Enchanted Lotus Ring in White Gold, $3850; 2) De Beers Enchanted Lotus Sleepers in White Gold, $3,500; 3) Self-Portrait Cropped Embellished Satin-Trimmed Metallic Bouclé-Tweed Blazer, $630; 4) Citizens of Humanity Brynn Drawstring Wide-Leg Trouser Jeans, $298; 5) Aeyde Uma Black Leather Flat, $295; 6) Proenza Schouler Mini Drawstring Leather Top-Handle Bag, $990
Red Hot
If there was one trend that loudly proclaimed itself in the fall/winter 2023 shows, it was the color red. As the defining hue of the season, I knew I'd see plenty of red walking the streets, and while there were certainly pops here and there, it's this head-to-toe monochromatic look that had me at hello.
Wearing a shade this bold allows you to keep the individual pieces simple — you don't need a lot to make an impact. The long slinky dress cuts a lithe line and brings nighttime appeal (ideal for a date or after-work event), but is tempered by the oversized fit of the blazer. Small silver-toned accents make a statement without interrupting the sweeping effect of the color: A duo of chunky white gold bands, one featuring intricate openwork micropavé and the other featuring rows of pavé-set diamonds, a pair of petite white gold and diamond studs, and sandals that cleverly nod to the jewelry.
1) De Beers Enchanted Lotus Band in White Gold, $8,750; 2) De Beers RVL Band Ring in White Gold, $4,800; 3) De Beers Enchanted Lotus Studs in White Gold, $1,900; 4) Magda Butrym Double-Breasted Wool Blazer, $2,607; 5) Norma Kamali Diana Jersey One-Shoulder Midi Dress, $215; 6) Studio Amelia Pebble Ring 90 Heel, $465
Feeling Blue
Baby blue was one of summer's biggest color trends and this wool twill skirt suit proves it can make a seamless transition to fall. Here, the softer hue offsets the striking silhouette of the hourglass blazer (which has made its triumphant return to fashion). But the real reason this outfit is seared into my brain is because of the shoe choice.
One of my favorite stylists talks at length about the "wrong shoe theory" on TikTok and Instagram: She suggests opting for the less obvious shoe choice when completing your outfit in order to create tension and interest. This look is a prime example of that and is so easy to execute, while pushing me to think outside the box when putting together my own outfits. To me, the more obvious shoe pairing with a skirt suit would be classic pumps, tall boots, or even clean leather sneakers that match the level of power and sophistication — it would not be athletic dad sneakers. You can't deny the shoes make you do a double take, right? Complement the skirt suit with jewelry power pieces in the form of layered white gold diamond necklaces and a pair of classic, mid-size hoop earrings.
1) De Beers Dewdrop Necklace in White Gold, $27,500; 2) De Beers Enchanted Lotus Pendant in White Gold, $2;550; 3) De Beers DB Classic Hoop Earrings in White Gold, $4,100; 4) Ganni Wool Twill Blazer, $675; 5) Ganni Wool Twill Mini Skirt, $345; 6) New Balance Gray & Blue 998 Sneakers, $250
Power Hour
You've heard of quiet luxury — but have you heard of quiet power? Rather than asserting your dominance via a baby blue skirt suit, for example, you're doing it with more subtlety. A crisp shirt here, a razor sharp shoulder there, usually in neutral tones. As we saw on the fall/winter 2023 runways, power dressing is a major trend, and this ivory look is perhaps the most interesting take I've come across. It may seem unassuming, but it (quietly) screams "I make my own rules."
The details alone make this outfit worthy of a closer study: The various textures, the long proportions of the sweater and shorts, the addition of the tie (you'll be seeing a lot more of these this fall!) and socks, and the perfect V-neck of the sweater to display what's underneath. Even the accessories are filled with intention, from the structured tote in a rich brown hue to add dimension to the color story to the refined jewelry to show restraint. A pair of micropavé diamond and mother of pearl hoop earrings and a micropavé and rose gold band add subtle sparkle to punctuate the look.
1) De Beers Enchanted Lotus Sleepers in Rose Gold and Mother-of-Pearl, $6,400; 2) De Beers Dewdrop Band in Rose Gold, $5,850; 3) NAADAM Merino Cashmere Cable V-Neck Sweater, $225; 4) The Row Elada Cotton Poplin Shirt, $990; 5) Khaite Rillo Pleat-Front Shorts, $980 ; 6) The Row Black Soft Loafers, $1,250; 7) Bottega Veneta Small Arco Tote Bag, $3,300; 8) J. Crew American Wool Tie, $60
This advertising content was produced in collaboration between Vox Creative and our sponsor, without involvement from Vox Media editorial staff.