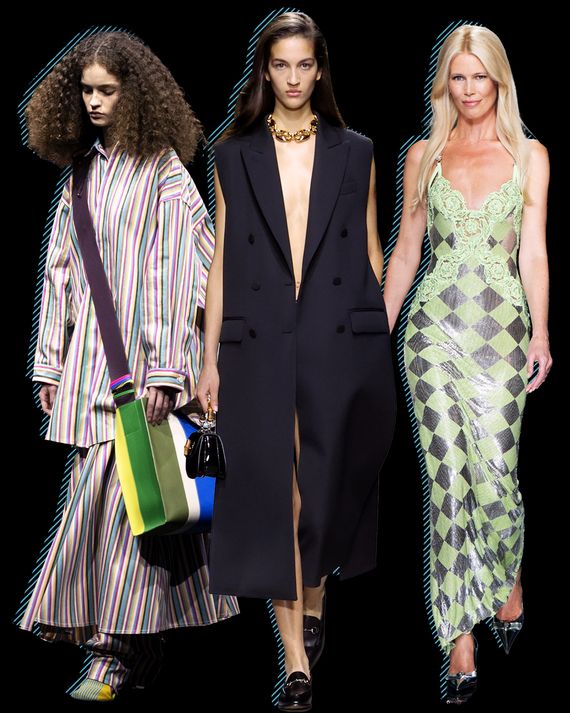 From left: Sunnei, Gucci and Versace
Photo-Illustration: by The Cut; Photos: Courtesy of Sunnei, Gucci, Versace
Everybody's a critic. This is hardly a new revelation but the Sunnei designers, the obstreperous Loris Messina and Simone Rizzo, really nailed how meaningless things are — and on such a big day in Milan, Friday, the debut of a new designer at Gucci, the mega-brand owned by Kering. Small-fry Sunnei does shows that involve the audience, and this time, in a dark sound stage, guests were given a set of numbered paddles and instructed by a male voice on a loudspeaker to judge each outfit as it came out. Because we were seated on risers, with our paddles raised in unison, or perhaps because we were such obedient dolts to begin with, we looked like game-show freaks.
Meanwhile, the male voice, British-accented, droned, "Sunnei is the opportunity to not hate fashion. Ancora! Having an opinion is natural, just release it. Follow your gut. Don't overthink, just judge."
At the mention of ancora, which means still—as in still here—in Italian, mild laughter erupted. Gucci Ancora is the title of Sabato De Sarno's first collection for the ten-billion-dollar brand, which was shown two hours earlier in front of a huge, buzz-producing audience that included Julia Roberts, Ryan Gosling, Bad Bunny and Kendall Jenner. Ancora has appeared on signs, on a specially produced book of inspiring images, and on gold-plated I.D. bracelets given out to editors and other guests.
Gucci knows how to get its point across, and Sunnei knows how to mock it and the machine of fashion. Rizzo and Messina's collection of just 30 looks was concise and brilliant. In keeping with their mantra of individuality, every outfit was different, and included wide-leg jeans, multicolored tank tops and tube dresses, big messenger bags, and their signature plays on stripes, including a deliciously boffo, oversized cotton shirt in mint, fuchsia and yellow stripes with a matching full skirt. Weird? Yeah. Ancora!
De Sarno's fairly safe collection will surely disappoint people. Indeed, the knives were out by dinner time.
"I was hoping for more," an editor told me. "No ideas," someone else said. De Sarno has the unfortunate problem of following Alessandro Michele, who, having worked at the house for years, in the design studio, knew its symbols and culture cold and then turned everything on its head. Michele, who is rumored to be heading to an LVMH brand, also anticipated the new sensibilities about gender and beauty diversity, even though his ideas began to wear thin as the world caught up to him (and in some ways surpassed him). De Sarno arrives at Gucci at a seemingly less creative time in fashion, and when consensus — the opinions of bosses, social media critics, the buying public — has become a nightmare, closing down freedom.
But De Sarno understands this, it seems. He is 40, but wiser and more sanguine than his years. A native of a small town near Naples, he began his career as a pattern-maker at Prada, and then spent 14 years at Valentino, where he was eventually the director of men's and women's design. A few days before his show, in the prep studio at Gucci headquarters, with his speckled dachshund Luce in her bed under a table of handbags and GG belts, he told me, "People will maybe say these things are boring in fashion but not for me. Maybe they don't see the details on the runway. Honestly, I don't care." He smiled and then continued, "I don't want to impress. I want to do what I like."
De Sarno has invested his time in the sartorial ingredients of design, in the impeccable shape and finishing of his tailored jackets and coats, in the construction of the sleeves of a cotton-and-silk pullover so that they retain their form, and in a stunning black sleeveless wool coat, shown with boy shorts, that is double-faced, for a smooth interior finish — and he's right, nobody will see these details on a runway. Or, for that matter, on Instagram. On the other hand, the cut and shape of his jackets are unmistakably Gucci, not Saint Laurent or Chanel or McQueen, or any other high-fashion brand with a distinct silhouette. That's one of De Sarno's aims: "I want people to recognize Gucci because of the shape."
Another thing that's interesting about De Sarno's first collection, which includes novelty tops, like a jewel-edged white cropped top in wool and silk that was based on a Tom Ford design and shown with well-cut jeans, and a navy dry-wool blouson that is a classy respite from leather, is that it seems to express a less idiomatic view of Italian culture and life. I can't quite put my finger on what it is (not being Italian myself) or why I sensed it both in the studio and on the runway. But De Sarno has a roving curiosity, mostly aimed at contemporary things, as well as a deep knowledge of historical fashion—he's a collector of clothes—and I want to give him the benefit of the doubt that he is a pathfinder, and this collection was only the beginning. It takes a long time to develop a sensibility. Think of where Demna was at the beginning of his run at Balenciaga, in 2015, and how much sharper his ideas were by 2021. That is something else the consensus hurts. It shortens the personal runway, the take-off time, for new creative directors.
De Sarno has some perspective about that, too, and it surely feeds into his uncomplicated style. "Honestly, I like Sabato as a person," he said, without guile. "This is a job, an important job, but I have a lot of things in my life that I care more about than my job."
The show did have its faults, notably the last portion of black mini outfits shown with pretty ordinary white tennis shoes. De Sarno did have a few dressy "evening" looks, all minis, some blandly combining lace and leather, but the very last bit added up to a black hole, not a fresh proposal of how a young person might want to dress to go out, but a question mark. He should answer it next time.
Donatella Versace's show was all over the place on Friday night, a spree of well-merchandised clothes without a compelling fashion element. She drew heavily on a Versace collection from 1995, with pastel mini suits in cotton tweeds and perky mini dresses with toeless boots. Everyone has shorts this season —hot pants or flared versions—and Donatella plugged them in, too. The last portion of the show, which ended with Claudia Schiffer clad in silver and green chain mesh, seemed a grab-bag of disconnected products. What the collection needed was less merch, and more motor, a driving point.