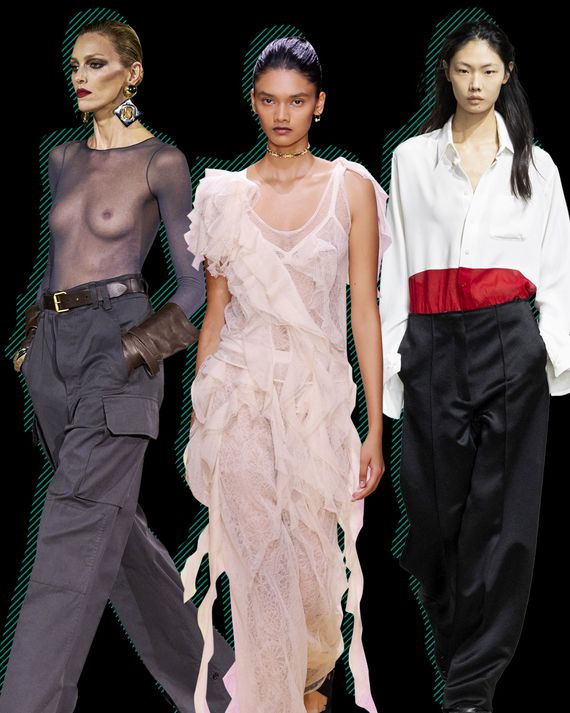 Left to right: Saint Laurent, Dior, Peter Do
Photo-Illustration: by The Cut; Photos: Courtesy of Saint Laurent, Getty Images, Monica Feudi
Azzedine Alaïa liked to collect other designers' fashion when he wasn't making his own —and running a business and cooking lunch for friends. The Palais Galliera in Paris has opened an exhibition of his collection, a dazzling selection of the 20,000 pieces he kept in his couture house, and one thing that becomes apparent is that Alaïa loved women designers. And in the 1920s, '30s, and '40s, there were many of them: Alix Grès, Madeleine Vionnet, Jeanne Lanvin, Coco Chanel, Augusta Bernard, and Claire McCardell. Their clothes almost always highlight the body with economy and ease. A dress from Vionnet or Grès looks as modern today as it did in 1935.
But something else becomes clear in this outstanding exhibit, curated by Olivier Saillard. These designers, and many male designers of the period, loved color: saturated reds, pale pinks and violets, aquamarine, a cerulean-blue satin gown from Jean Patou (1930) with the gleam of an automobile. "Azzedine learned a lot about color from them," Saillard said. "The way to become timeless comes from color, more than the shape."
The light their work throws on the Paris spring 2024 collections, which opened on Monday, is merciless. It asks of designers: Where are your colors? Where are your ideas, except those that come from archives?
Not one designer — not Maria Grazia Chiuri of Dior, or Saint Laurent's Anthony Vaccarello, or the New York–based designers Peter Do, or Patric DiCaprio and Bryn Taubensee of Vaquera — offered more than a bit of red and perhaps muted gold. Because Vaccarello based his collection on Yves Saint Laurent's original Saharienne suit, first shown in 1967, the cotton gabardine jumpsuits, shirt dresses, slim skirts, cargo pants, and tank tops were mostly in desert shades of khaki and brown with some mild bursts of tawny orange and burgundy. Chiuri's show, held in a black tent with wraparound digital screens blinking fuchsia-and-yellow images (the work of the artist Elena Bellantoni), was black and white with a bit of ecru gold.
Her previous two collections were also predominantly black with the same practical feminine shapes like full skirts, the classic Bar jacket, the same blurred photo prints, and a reworking of an archival style (this season a slightly off-shoulder dress from the late 1940s, translated into one-shoulder cotton shirts and a shirt dress).
"Sometimes, I think, it's not clear why I'm obsessed with comfort," Chiuri said. "The body is like a beautiful house." But while the body is surely not a castle in need of fancy details, neither is it a tract house nor are its furnishings as sleekly generic as those of a modern luxury hotel. And let's be honest: Many designers over the years have managed to provide comfort and newness simultaneously. As for her references to female power figures like Joan of Arc, Maria Callas in "Medea," and Salem witches, they don't bear commenting on since they were not evident in the designs. The artwork was simply a colorful if unrelated backdrop.
There is a poverty of imagination at the moment and a lack of self-criticism. Before the start of the Saint Laurent show, on a monumental, purpose-built set overlooking the Eiffel Tower, I ran into the photographer Jean-Baptiste Mondino. There were, in fact, a few of the old guard there, including model Betty Catroux, designer Jean Paul Gaultier, model Carla Bruni, and Dominique Deroche, who handled PR for the house for several decades.
Mondino, a great observer, said: "We're waiting for someone to come up with a new proposition. But it's the same for photography, for film, the same for art. We're desperately trying to say what we can say." He paused as Bruni leaned in for a kiss, and then he said, "What I see is a new generation coming that wants to dream. But it's all about marketing now, which I understand. Who's resisting? Rick Owens? He has his little territory, like a sect. It's very difficult to shrink your market."
Not when conglomerates like LVMH and Kering, which owns Saint Laurent, have built enormous ones, especially across Asia. One day, Mondino added, speculating, "The people in Asia are going to know exactly how weak we are." In short, Paris needs to be more creative.
Although Vaccarello's take on the Saharienne — which the house of Saint Laurent later exploited in ready-to-wear, making the style a staple — was a refreshing change from some of his recent high-toned collections. But it's still hard to ignore that it comes from the archive, however appealing. There's also the problem that these styles will be easy for companies like Zara and Banana Republic to copy if they choose.
Speaking of Banana, Peter Do tucked in about ten looks he created for the brand in his own show on Tuesday. It was a seamless move, with Do's signature kilt (in black cotton) and a pair of trousers and some cool henley and tank tops. His own collection sharply reflected his urbane tailoring and, at the same time, expanded it with well-cut, two-tone black pants, a sleeveless black-leather jacket wrapped over a black skirt, and a clever, minimalist white dress with an oval-shaped front in sheer red. He was right to bring his act to Paris.
Taubensee and DiCaprio of Vaquera have been showing in Paris for a while now with the help of Dover Street Market, and the difference is clear in the work. It gets better and better. "I think every season we ask, 'Why are we doing this? What do we care about?'" DiCaprio said backstage. This time, the two were thinking about celebrity culture — that is, wanting to be seen by the camera and hiding from it.
So their show felt like a red carpet mixed with a rave as the models barreled down a narrow passage between the standing audience. DiCaprio and Taubensee know how to flaunt the body, but their assurance actually comes through best in new leather coats and a tent dress that was painted white and crackled, as well as new T-shirts stitched glaringly around the breasts and worn with their ever-changing jeans.