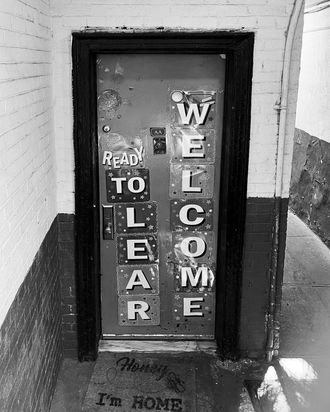 Photo: Roni Jacobson/New York Daily News via Getty Images
On September 15, when Grei Mendez, the operator of a day-care center in the Bronx, noticed that a number of children in her care were having trouble waking up from their naps, she reportedly made three phone calls: first to her husband, then to first responders, then to her husband again. According to prosecutors, cameras show the latter rushing into the building empty-handed and leaving through an alley in the back — carrying multiple shopping bags — a short time later. Police believe those bags were filled with drugs, including fentanyl that the couple had allegedly been keeping in the day-care center.
"All of that happened while the children, the babies, were suffering from effects of fentanyl poisoning and in desperate need of help," Manhattan U.S. Attorney Damian Williams said at a news conference.
After medics arrived at Divino Niño day care, they took three children to the hospital, where they were treated for opioid poisoning. Two are reportedly doing "fine" now, but one — 1-year-old Nicholas Dominici — did not survive, and authorities have chalked up his death to fentanyl exposure at the day care. (Per the New York Times, a fourth child, who left Divino Niño before nap time, also received Narcan at a local hospital and survived.) NYPD Chief of Detectives Joseph Kenny told reporters that inspectors found the drug "laid underneath a mat where the children had been sleeping earlier." While executing a search warrant on September 20, police have also said they found a trap door in the facility's floor, concealing a stash of fentanyl and other drugs. According to NPR, it was located near an area where children played, while a bag of fentanyl had already been discovered atop a stack of mats. A law enforcement official told CNN that the drugs weighed about 10 kilograms and were wrapped up like bricks. Investigators also found presses and bags, apparently used to package narcotics, throughout the apartment.
Mendez and a tenant of the building, Carlisto Acevedo Brito, were arrested the next day and have been charged with murder of "depraved indifference" in Dominici's death, along with one count each of possession with intent to distribute narcotics resulting in death and conspiracy. In federal court, Mendez's attorney claimed her client didn't know about the drugs and suggested that her husband was to blame. Meanwhile, Brito was silent throughout his federal court appearance, per NPR. They both face up to life in prison if found guilty and have also both been charged with murder, manslaughter, and assault in state court.
A third person, Renny Antonio Parra Paredes, has also been charged with conspiracy to distribute narcotics that led to Dominici's death. Per CBS, authorities believe Paredes, who's apparently known as El Gallo or The Rooster, played a key role in selling the supply kept at the day-care center. Meanwhile, on September 26 — more than a week after the arrests of Brito and Mendez — the latter's husband, Felix Herrera-Garcia, was found on a bus in Sinaloa, Mexico, and taken into custody by Mexican police and the Drug Enforcement Agency. The charges against him and details about extradition have not yet been made public, according to USA Today.
This post has been updated.