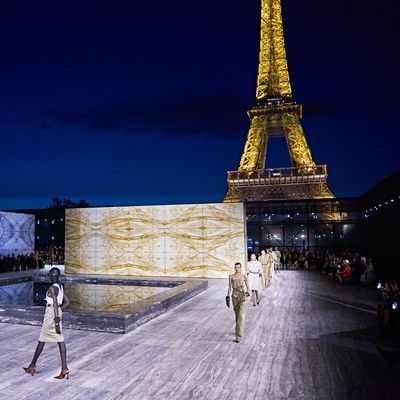 Photo: Francois Durand/Getty Images
Can you put a price on the barrier to entry in the fashion world? Apparently, yes.
Typically, Paris Fashion Week, and the most coveted shows, like Peter Do, Saint Laurent and Dior, are near-impossible to access for those who aren't editors, buyers, or celebrities. That is, unless you have $3,000, give or take. On Tuesday morning, fashion editor Louis Pisano, tweeted out a photo from the Close Friends Instagram story of a VIC (or Very Important Client) Manager of "one of the biggest French luxury houses" selling spots at highly-sought after shows. In it, the alleged manager promises a seat somewhere in the first three rows of each respective show as well as access to the red carpet and after parties of brands like Balmain, Givenchy, Balenciaga, Chanel, Miu Miu and Louis Vuitton to name a few.
In what he said was a screenshot of a spreadsheet from a previous year's Paris Fashion Week, posted by blogger and editor-in-chief of Perfect Magazine Bryan Yambao (better known as Bryanboy), seats at Dior were being sold for $6,200, a spot at Balmain for $3,800, and seats at Louis Vuitton for $6,000. And Chanel? Price upon request.
Paying for access to a fashion event is becoming more common — last season, Vogue World was selling spots to its star-studded New York Fashion Week event for $3,000 a pop, and this season, the Ritz-Carlton was offering packages for $10,000 a night that included "front-row VIP seats and private car service" to the PatBo show. What makes this different, though, is that wealthy people are now paying in-house employees, publicists, and even security with glorified bribes to either sell their own seats or smuggle them into the show. Apparently, it's a way for people who work for the fashion houses to supplement their income under the table.
"The corruption is real. They bribe a lot of people in layers," Yambao wrote. "Imagine paying 6,000 for a Dior show like today's one," another user tweeted.
Fashion students notoriously sneak into presentations, hopefuls mill around at the doors and buzz around iPad-wielding PR girls like gnats, begging to be let in. Last season, publicists' inboxes were flooded with show requests after their emails were amply shared across apps like TikTok and Instagram. It's an industry that has long been notorious for a cacophony of undesirable traits for those working within: exclusivity and meager pay among them. It seems, if you have the funds, you can squash easily through that first hurdle, and if you have the access, you can supplement your bank account.