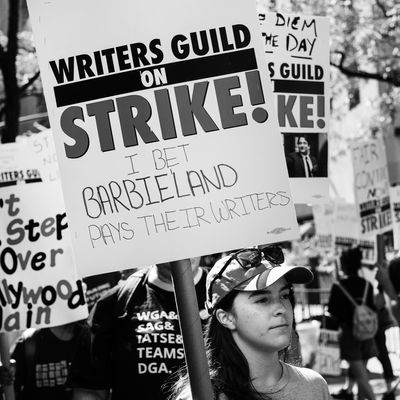 Photo: Lev Radin/Pacific Press/LightRocket via Getty Images
The Writers Guild of America and the Alliance of Motion Picture and Television Producers have reached an agreement, ending the 148-day strike that kept thousands of writers out of work. The WGA said on Tuesday that its boards unanimously voted to send the new, three-year contract to its 11,000 members for ratification, a process that will begin on Monday and run for a week. Members are expected to approve the contract.
Negotiations for the deal began on September 20, after a monthlong hiatus, and ended on Sunday night, one day after the AMPTP said it would bring its "best and final" offer to the table. The deal includes increases in wages and residuals and sets minimum staffing requirements for writing rooms. It also entitles writers to a bonus from streamers based on the percentage of active subscribers the platform has. Additionally, the contract guarantees that artificial intelligence won't overtake writers' credits and pay.
"We can say, with great pride, that this deal is exceptional — with meaningful gains and protections for writers in every sector of the membership," an email sent from the Writers Guild's negotiating committee to members on Sunday read. According to the New York Times, the tentative deal was only reached after senior studio leaders including Bob Iger of Disney, Donna Langley of NBCUniversal, Ted Sarandos of Netflix, and David Zaslav of Warner Bros. Discovery joined negotiations directly. While some WGA members celebrated, the Times reported that the AMPTP was "conspicuously not doing a victory lap."
With one strike officially over, writers may now return to work as early as Wednesday. But the SAG-AFTRA strike remains ongoing, and the WGA has suggested that its members join actors on the picket line. No negotiations between the actors' union and the studios are scheduled, continuing to stall production on many movies and TV shows. Still, the end of the WGA strike could speed things up for actors, who have been on a work stoppage since July and who are asking for similar protections, in particular around A.I. and streaming residuals. In a statement, SAG-AFTRA congratulated writers but urged studio and streamer leaders to "return to the table and make the fair deal that our members deserve and demand."
This article has been updated.