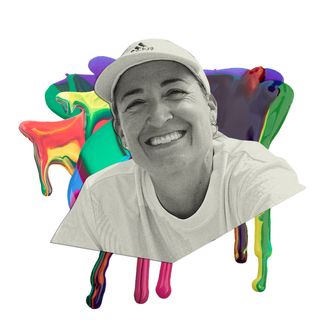 Photo-Illustration: by The Cut; Photo: Gianmaria Schönlieb
Caitlin Thompson is bringing sports journalism to new arenas. A former political journalist, Thompson founded Racquet magazine with editor David Shaftel as a Kickstarter in 2016; they launched their first issue just in time for the 2017 U.S. Open. In the seven years since, the quarterly magazine has reached readers across the globe.
Thompson was born and raised in Montreal, where her parents were performers in the Montreal Symphony. She says her earliest memories of tennis involve hitting with her grandmother in Arizona, whom she would visit while her parents were on tour. She didn't start to play tennis competitively until her family moved to Atlanta, where her high-school team took home two state championships. But at the same time, Thompson realized she also had a deep interest in storytelling. Growing up, she started a small newspaper on her street that she called Full Drive News, and she joined the yearbook and newspaper at school. She attended the University of Missouri on a tennis scholarship to study journalism. After graduating, she worked at a few different news organizations, including the Washington Post, Time magazine, and WNYC, where she covered politics. When the media started ramping up coverage of the 2016 presidential election, she'd had enough: "I just got so sad after covering politics for so long because I was like, oh no, we're treating this more like a sport than something that affects people's lives." 
One day, while playing tennis with Shaftel, they had a realization: What if they started a magazine where they could not only tell stories about the sport they loved but talk about all of the big ideas that surrounded and existed within it? What if, through talking about tennis, they could cover more of the policies and politics that affect people's daily lives? After all, tennis isn't only about who wins or loses; Thompson saw the sport as a container for all of the interesting discussions she and Shaftel were having about elitism, access to free courts, and inclusion of women and LGBTQ+ players. So, with a little bit of inspiration from Tyler Brûlé's Monocle magazine, Thompson and Shaftel developed the idea that would become Racquet. 
Today, Racquet is not just a magazine, but a creative media agency that has become the premier destination for conversation and community around a global sport. It's run by a small but mighty team, with Thompson leading the charge. It's known for its profiles of the biggest names in tennis (Nick Kyrgios, Naomi Osaka) and features with names you might not know but should (like Anand Amritraj), in addition to its lifestyle coverage, opinion pieces, colorful creative direction, and investigative reporting. In addition to the quarterly print magazine, Thompson co-hosts The Racquet Podcast with tennis champ and coach Rennae Stubbs. Racquet also has a major courtside presence, hosting events around the world during the Grand Slam Tournaments and partnering with designers like Clare V. and Sergio Tacchini to produce Racquet merch. "Sometimes I'm just shot out of a cannon, but my whole secret is I just do it," Thompson says. "You have to just keep going."
On her ideal working environment:
I like to work tennis-court-adjacent, not just because of leisure. Most of my job is email, and I can do that from anywhere. I'm talking to people, pitching brands, working on our events, merger calls, et cetera. But the actual work I do is managing the vision as it comes to life. This morning, I answered emails and got some admin out of the way to keep projects moving, all from the bench while waiting to get on the court. I meet with people on the court, whether they're investors or collaborators, because it gets people in a state of play. When they're in a state of play, they're creative, they're open, they're a more vulnerable version of themselves. It gives me the best of the people I'm meeting. And also I don't have to be in a meeting. It's truly an enjoyment for me to be on the court with somebody.
And her guiding ethos:
I'm a little bit of an anti-authoritarian. I don't really believe that the people in charge necessarily know what they're doing — and that includes me, by the way. I just feel like everyone's kinda making shit up. So let's just try to measure ourselves based on the amount of good work we do instead of performing the idea of work without actually doing stuff. Now, I get to just be myself at all times. I also hope that it comes with a relentless positivity and the idea that the door is always open and I'm always happy to collaborate. I couldn't really dream of separating myself because this feels like what I'm supposed to do. We're giving a voice to people who the sport has needed this whole time and we're paying people to participate in it. It's a tremendous accomplishment.
On turning a profit:
I would love to be able to say that the journalism pays for itself, but it doesn't, and if anything, it's a loss leader for us. We haven't ever had sophisticated enough distribution for our product, and it's something that people criticize me and us for all the time — and they're totally right. Nobody's really trying to do what we're trying to do. Because of that, we can capitalize on the stuff that's easier to monetize, like having cool events where people wanna be part of the brand. We're selling this idea that they can be part of something. And so much of our content is free. We have a free podcast, we have a free newsletter. The magazine is gonna be a smaller audience than people who follow us for free on all of our social channels, but if they really wanna participate, obviously they can subscribe, they can buy some of our merch, and they can be involved in the brand-centric parts of what we do.
On the people who help her get it done:
My amazing wife is incredibly busy and has a way more cool and important job than I do. She's got this really interesting urban-planning background, but also she's in the world of politics and sustainability. She's such a pragmatic thinker. [We] have an extremely structured home life, which helps me tremendously. I do all the cooking, all of the child pickup. I know that my day ends at four because I have to get my kid, and then I'm cooking. We do our calendars on Sunday night — we call it "sexy calendars" — so that we can get through the week. She has a lot more evening commitments than I do, so I try to do my stuff during the day. We also have rules, like "one in, one out." If I bring something into the house, like a piece of swag or some kind of cool merch that I get because a brand is sending it to me, something else has to leave. I find being married to somebody who's extremely type A is super helpful for me, and I think she likes being married to somebody who's a little wacky and fun.
I also have my business partner, David. His taste is really, really great and has made Raquet what it is. He keeps it silly in the right way. It's a good reminder that this is fun, even though it's hard to own your own business, being a woman in sports. And I have all of the investors and collaborators who enjoy the play of what we're doing. That is the most freeing part because then it allows me to think about what I want to build in the morning. I can stay in that state of play.
On traveling for work:
I try to make my trips as short as possible. I love traveling; I always have, I've lived overseas. But I have to be surgical about how I get in and out because I want to be a good partner and parent. I also tend to go places where I have friends. Seeing somebody local and going to their apartment really grounds me. It keeps these relationships that are really meaningful to me alive. If I can get away from a dinner and just hang out with somebody who I haven't seen, that's really important.
I also play tennis when I travel. It's good exercise and it keeps the jet lag away, especially if I can get off the plane and go play really quick. It also allows me to connect with the local community. More often than not, I do get invited to play with somebody who maybe follows the magazine and wants to hit. A lot of my job is performing and meeting people and pitching and, you know, I'm in this space where I have to tap-dance a lot and give everybody the razzle-dazzle, which is fine. I like that I'm pitching Racquet as a concept to people all the time, and I probably will never stop! But even for somebody who's extroverted like me, it does become a little tiring, so playing tennis gives me energy.
On Racquet's future:
In my mind, we should have five video series going at any time that speak to travel because tennis is such a fun way to see the world. You get on a plane with your racquet, you get off and maybe you're meeting a new friend and you're in a new part of the city that you'd never go to that's maybe not super touristy. We should have a video series that is instructional or aimed at beginners because we wanna get more people to feel comfortable, and they deserve to be on the tennis court, whether they're new or not.
This interview has been edited and condensed for length and clarity.