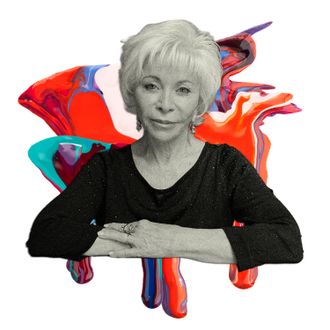 Photo-Illustration: by The Cut; Photo: Lori Barra
Isabel Allende still remembers clearly how she used to carry the manuscript for La Casa de los Espíritus with her everywhere she went, like a mother with a newborn baby she couldn't bear to be apart from. She began writing it as a letter to her dying grandfather after she was forced to flee Chile during the Pinochet dictatorship. Her debut novel, it launched her into literary stardom at age 40. Since then, she has written 26 books, which have been translated into more than 40 languages and sold over 77 million copies worldwide. "Writing is my hobby and my life and my work," Allende says. Now 81, she continues to spend her days crafting new stories and running the Isabel Allende Foundation, which she created in 1996 following the death of her daughter Paula Frías. Her most recent novel, The Wind Knows My Name, was published this summer. She also just announced a publishing deal to write three children's books. "I never think of retiring," she says, "because you don't retire from this. You retire from a job, but you don't retire from a passion. Writers write until they can't write anymore. Painters paint until they fall apart. Who retires from art?" Allende lives in Marin County in Northern California with her husband, Roger Cukras, and their two dogs, Perla and Dulce. Her home, she says, is "a small house, but it's all glass, all windows. I am very close to a lagoon — so close that when I wake up in the morning, it seems that I'm in a boat, that I'm floating." Here's how the acclaimed author gets it done.
On her morning routine:
I wake up really early, around five o'clock in the morning, and I stay in bed for 20 minutes or so just putting my thoughts together and being grateful for everything I have. I need that quiet time because my day is really busy. Without it, I'm not centered. Then I have a cup of coffee, get in the shower, put on makeup, and get dressed as if I was going somewhere, although often I don't. Then I exercise (I have two trainers), even after I have had my shower and my makeup. It doesn't matter to me. I need to put myself together first. In the meantime, my husband walks the dogs and afterward a friend takes the dogs for the day. Then I go to my office.
On what a typical workday looks like:
My office is 15 minutes away from home. It's an old Victorian house that has a coach house in the back. The [main] house is for the foundation and my office, but the coach house is for my writing. It's very lovely, all painted white stark, very simple, no clutter. I don't do any other work there. I can spend many hours there. I have a cup of tea available, always water. I don't listen to music. I'd rather be in total silence.
I don't set a limit of pages that I'm going to write, but often I say, "Today I need to get this scene done." That doesn't mean that that's the final version of the scene, but at least have it on the computer. It's like the skeleton of the final scene. I need to have all the research. I need to be sure that all the facts are true. I need to be sure that that's the right place in the book.
Other times, especially when I begin a book and I don't know where I am going because I don't have a script, I just sit down and let it flow, let the story tell itself, let the characters come alive. That process is slow at the beginning. I usually break for lunch with my son Nicolás and my daughter-in-law Sarah. He's the one who does contracts, agents, contact with the public, social media, while she works for the foundation. That 40 minutes of lunch, we are allowed to just let ourselves go and say whatever we want and laugh, and it's really wonderful. And then back to work.
On unwinding at the end of the day:
My husband, who is 80 years old, goes to university where he takes several courses. Depending on what time he comes back, we meet at home. On the way there I listen to audio books because I don't have much time to read for fun. I read for research, things that have to do with the book I'm writing. When I get home we walk the dogs and then we cook together. We usually have a nice dinner with a glass of wine and flowers on the table. We try to make it like a date. Then we watch some TV or a movie. I don't watch anything violent. I mean, I can take some violence, but no torture, no cruelty with animals, no beating up of women because then I can't sleep and I have nightmares instead of dreaming with my book.
On her writing practice:
I start my books on January 8. That day, I'm sitting in front of my computer ready to start something, whatever it is. Then it takes two, three, sometimes four weeks to have a sense of where the book is going. This year I started two projects, and on January 8 I opened the computer to both to see which one would talk to me, which one I would feel more. After a week, I knew which one it would be. I cannot have more than one project at a time.
I wrote The House of the Spirits on the kitchen counter in an apartment in Caracas. For the second book, Of Love and Shadows, I took all the clothes out of a closet, put a board across it, and I hung a light bulb so that I could have my typewriter there. That was my sacred space, my office. For the third book, Eva Luna, I had a computer and everything changed because I started getting the checks from the previous books, and finally, I could have a space of my own. We moved to a larger apartment and I had a room where I could write. Since then, there have been periods in my life when I have had a lot of space, some private space for myself and other periods in which that has been impossible. For example, when I moved to the United States, after Eva Luna came out, I came to live with an American whom I married very soon, Willie. His life was a mess. He had three drug-addicted children, lived in a small house. There wasn't even a table where I could write. I wrote a collection of short stories sitting inside a car, sitting in a coffee shop in San Francisco, and in a park because there was nowhere to do it. So what I'm trying to say is that if it's time to write, if it's January 8, I will write, no matter where. It's not about the space. I'm glad that I have it, but if I didn't have it, I would write no matter what.
On finding inspiration:
I have some memories and experiences inside me that I can use in writing: traveling, the things that I have learned or seen or heard through my foundation, meeting extraordinary people, usually extraordinary women. I'm surrounded by stories; they are seeds in my belly and some of the seeds start to sprout or grow, and then it starts bothering me, and eventually I end up writing about it. There are themes that I always come back to: separation, displacement, people who are marginal, who are not protected by the big umbrella of Establishment. Of course, women, love, death, losses, violence. My last four or five books are about people who have been displaced, about refugees or people who are seeking asylum or migrants. My life has been about always being a foreigner, and that's a theme that keeps creeping back between the lines.
On a challenge of the job that might surprise people:
The creative process is instinctual. You write in a very organic way, the way you dance. But that text needs to be sustained by all the work that nobody sees: the research, the editing, the correcting, the reading aloud so that you will feel what emotion the writing provokes in the reader. That part of my work, which is not exactly creative, sustains the creative work, and I have to do it. But that takes a lot of my time too. That work can be very tedious, and it requires great attention.
On advice she received early in her career that's held up:
Back then, I didn't know what I was doing. I was in a very particular state of mind, living in exile in Venezuela. I was very lonely, very frustrated. I had lost my country, my grandfather, my in-laws that I adored, my little house in Chile, my work, my friends, everything that was familiar to me. Writing the House of the Spirits was trying to get back all that. It was an exercise in nostalgia and in memory. I'm glad now that there was no one around to tell me how to do it, because maybe it would've screwed up the whole process. My then-agent called me a month after I sent her the manuscript and said, "I'm going to have your book published. It's a good book, but everybody can write a good first book because they pour everything they are, everything they have, in that text. The writer is proven in the second book and the other books that come after, so don't quit your day job." That was fantastic advice.
On not getting it done:
I had writer's block after my daughter died. For two or three years, I couldn't get anything done. I was just so worried and anxious because I thought, "I lost it. I'm never going to be able to write again!" But then I remembered that I'm a journalist by training, and if I'm given a subject and enough time to research, I can write about many things. I gave myself a subject for a book that was nonfiction, and the subject would be as removed from death and loss and mourning as possible. And I wrote a book about aphrodisiacs, and the research pulled me out of that state of mind in which I was. I don't think I was depressed. I was just empty, completely empty. I could write after that. If it happens again … Well, if it happens again and it's because I'm 81 and my brain is going, what can I do? But if it's a temporary writer's block, I can always write nonfiction.
On motivation:
I don't have the ambition of getting an award, of transcendence, or of a legacy that people will remember after I die. I don't care at all about any of that. I would say more than ambitious, I am obsessed and driven.
On the people who've helped her get it done:
Most of them have been women. I became a journalist because there were women taking care of my kids, the nannies, my mother-in-law that lived next door, and an adopted grandmother. I learned to write, because I started working in a magazine in Chile, and there were three wonderful women journalists that pushed me and taught me the craft and believed in me. Then it was my agent, Carmen Balcells, who helped me become a writer. I have to be very grateful to my translator, Margaret Sayers Peden, who translated 19 of my books and opened the door of the United States and England for me because of her translation. I have had wonderful women editors in different publishing houses, a few male ones too. I have to mention also my mother because I had unconditional love. We seldom lived in the same country, but we wrote to each other every day for decades and decades. I have around 24,000 letters in plastic boxes in a storage room. That kind of support, very few people ever get.
This interview has been edited and condensed for length and clarity.