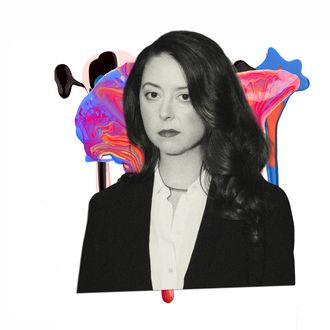 Photo-Illustration: by The Cut; Photo: Lee Jameson
Karina Longworth is getting a lot done now so that she can get nothing done in a short while. When we spoke in early July, the host of the Hollywood-history podcast You Must Remember This was scrambling to get the first two episodes of the current season, "Erotic '90s" (which returns September 12), written, recorded, and sent off to her editor before she left on a monthlong European vacation with her husband, director Rian Johnson. The critic turned film historian turned podcaster was a pioneer of the medium, debuting You Must Remember This in 2014, in a markedly different media landscape. "I was more excited about listening to stories than I was about reading them," Longworth says of her transition from traditional print and digital journalism to audio. Now, when it seems like every other dude-bro has a podcast, Longworth stands out in an oversaturated market with her dulcet voice and intriguing exhumations of Hollywood's lapsed past, dredging up everything from Song of the South to Charles Manson's fledgling musical ambitions. "My career path is not replicable because I've been around so long," she says. "I don't think my podcast would have been successful if I hadn't already established myself as a film critic and a person on the internet." She lives in Los Angeles with her husband. Here's how she gets it done.
On her morning routine:
Most days I get up without an alarm, between 7 and 8. The first thing I do is get dressed and drive to my office, which is, depending on traffic, about 15 to 20 minutes from my house. My office is in a house in Laurel Canyon in Los Angeles, so to get there I'll drive down Mulholland Drive and often park on the way to the office and do a walk down Mulholland in between these different outlook areas. It's nice being outside where there's a beautiful view. When I get there, I make breakfast and coffee, and I sit down and answer emails. I get to work from there.
On a typical workday:
It really depends on the day and where I am in the schedule of the podcast. For instance, once I'm settled down to work, I might be reading a list of newspaper and magazine articles that my research assistant has prepared for me, or I might be reading a book and typing up notes I've already made into complete sentences and paragraphs. That's the at-the-computer work, which is often broken up with needing to watch movies and video interviews with filmmakers or performers.
I usually exercise in the middle of the day. I do a combination of weight training at a gym three times a week, and I do Pilates twice a week. I go on long walks, which I don't really think of as exercise, even though it is; I think of it more like relaxation. More of a mental-health thing than a physical thing.
And working from home:
I'm very sensitive to noise; I don't like noise that I don't choose. I can be really easily disturbed by a gardener or construction, and on Wednesdays at my office, there's a gardener and the cleaner comes, so I've broken down the week so that Monday, Tuesday, Thursday and Friday I'm alone at the office, and Wednesday I try to schedule interviews or Zoom calls when I work from home. My house is not as conducive to doing the hard-core reading and writing and stuff like that.
On the bottom line:
I think some people have this idea that podcasts are these dinky little things that people do for free, but I make more money from my podcast than I ever made from a job. Now, my job before that was as a film critic, which is not a high-paying job! But podcasting is a good business for me because I can pay myself more money than I ever earned before, and I can pay freelancers who work with me.
And her money mind-set:
My father was from England and he had a real scarcity mind-set. He had a pretty good corporate job, but he didn't make a ton of money, and we were a one-income household, so he was always really careful about spending. That's how I was raised and how I lived my life for a long time. Even at points when people would have thought that I was successful, I was still pretty overextended and bouncing rent checks and not able to wear clothes other than thrift-store finds and Forever 21. Maybe if there was a sale at Banana Republic, I could buy a blazer. That was how I was living until my early 30s, when I got together with my current husband. There's public information about various deals he's made, so there's an idea of what my husband's financial situation is. There's no hiding that.
On the people who help her get it done:
I have Lindsey Schoenholtz, who is my research assistant for the podcast, and she does some administrative things like scheduling. We have somebody who helps us out with stuff around the house, like who will go and meet the electrician if neither me or my husband is home, but I don't have somebody who brings me coffee.
On ambition:
When I was in my 20s, my father was never impressed by anything I did. Because I was working freelance, I didn't have a job that would give me health insurance. So for him it was like, you don't really have a job then. I was never able to clear the bar for him until I had a full-time, salaried job with health insurance and a 401(k).
Throughout my 20s it was about trying to get to that place, but none of those things really mean anything to me anymore. So it's a question of: What could I possibly want that I don't have? More and more, I feel like I'm ambitious not to get to another level in work, but to get to a point where I can work less and where I can have more focus on life rather than work.
On criticism:
I'm a Cancer, so I'm very sensitive and would prefer to hide in my hard shell, but I have this soft underbelly. I've definitely taken criticism badly in the past and gone into a tailspin from negative comments or online hate. Now, I've kind of found an even keel where I don't really pay attention to the negative stuff and I don't pay attention to the positive stuff. I just try to keep my head down and work.
And self-doubt:
I never had professional training for what I do. I never really had a direct mentor, so in any professional situation, part of me has imposter syndrome and worries that I'm not doing it right.
On the advice she wished she'd been given at the beginning of her career:
I didn't really understand how important relationships are and how so much of success is about people wanting you around and being a pleasant person to be around. That wasn't something that was a priority for me for a long time, and I regret that.
And the advice she gives other people:
The thing that's served me well is really believing in something I was doing, not because it already fit the model of something that was successful, but because it interested me personally. I've never shaped the podcast based on trends or what was working for other people. I've only focused on things that I was interested in personally. If you're passionate about things and can communicate that passion, you have a better chance of inspiring passion in other people than by figuring out what other people are passionate about and trying to do that.
On unwinding:
I love to go out to dinner, to have a cocktail. I don't watch a lot of TV. I haven't seen a lot of shows other people talk about, but I did just finish this show on Netflix called The Diplomat, which I really loved. Keri Russell is an American treasure. She's one of the best TV stars we have. I'm also a big baseball fan, so at this time of year often there's a baseball game in the afternoon, and I do find that generally soothing — unless the Dodgers are playing badly, which sometimes this season they have been!
This interview has been edited and condensed for length and clarity.