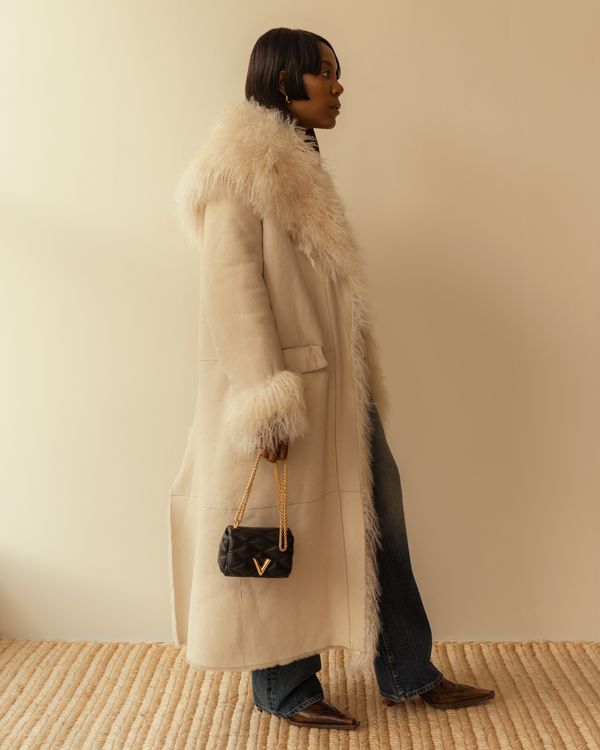 Wearing something like these square-toed mules adds a bit of hardness to an otherwise soft outfit. The denim should lightly puddle on top of the shoe so you can see just the tip and heel.
Before you grab yet another puffer, consider something that's just as warm but looks miles better: the anything-but-boring coat.
Don't shy away from making a statement
"If you want to go big with it, you can go big," Willis says, "I prefer to let the coat speak for itself."
Commit to the bit
Willis loves how this coat channels Almost Famous muse Penny Lane, and pairing it with bootcut jeans fully leans into the inspiration. It's just one of the many ways to wear this coat (like with a dress or mini skirt.) She kept the top pared down with a simple white turtleneck that added another warm layer.
Balance shapes
Since the coat is so fluffy and soft, you want to add a bit of hardness to the look. You can do so with these pointy shoes from KNWLS. The denim should just lightly puddle on top of the shoe so you can just see the tip and heel.
Add your special-occasion bag
Another philosophy from Willis is to not save her nice bags only for nice occasions. "Your bag shouldn't be precious," she says. "Throw the bags into your everyday rotation." Her bag of choice? A quilted Louis Vuitton. It has a versatile chain strap to easily become a crossbody or clutch.
Go light on the jewelry
Since the coat is so impressive, you want to pair down the accessories. Willis opted for these earrings from Tabayer.
Get the Look
Here are six coats to channel your inner muse.
Featuring faux-shearling cream-colored accents, this is as warm and fuzzy as it is chic.
Opt for edgier leather details and a more fitted silhouette.
For those transitional weather days, this bomber makes just as much of a statement and the fur collar is removable.
Turn a few heads with the classic coat in a very fun sage shade. The leather coat comes equipped with a belt for a better fit at your waist.
Add a bit of contrast with this glossy glazed coat in black with cream details. It's reversible and slightly oversize so you can layer under it all winter.
Get the vintage look with this already distressed leather trench.
More From fall fashion issue 2023
See All