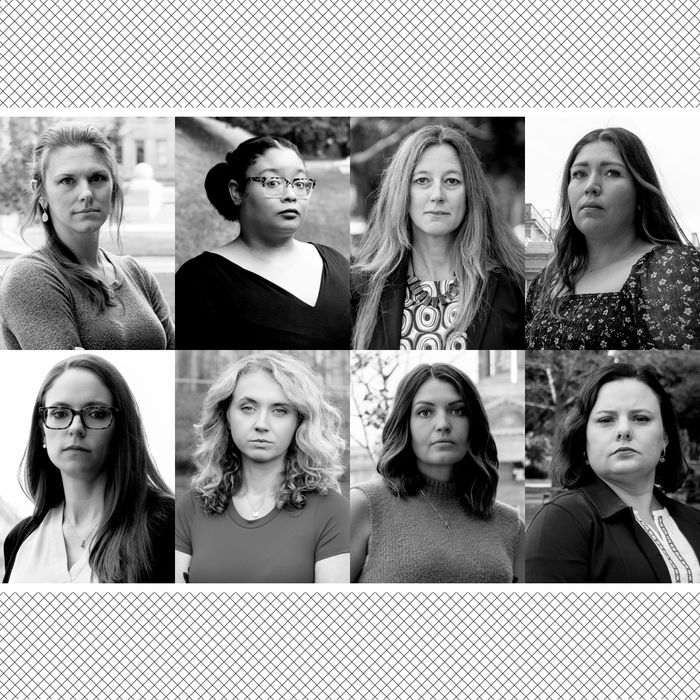 Photo-Illustration: by The Cut; Photos: Center for Reproductive Rights
A woman who was forced to carry an unviable pregnancy to term while she mourned the death of her 14-year-old because she couldn't afford to travel out of state for an abortion. Another who was told to wait in a hospital parking lot until she was sick enough to receive emergency abortion care. A patient with a history of preeclampsia who took out a $16,000 personal loan in order to travel across state lines and terminate her pregnancy. These women and five others filed legal actions in Idaho, Oklahoma, and Tennessee on Tuesday, arguing that the state's abortion bans prevented them from obtaining medically necessary care.
Four OB/GYNs and the Idaho Academy of Family Physicians, a professional membership organization that represents more than 600 health-care providers in the state, are also plaintiffs in the lawsuits, which were brought by the Center for Reproductive Rights. The legal challenges in Idaho and Tennessee seek to clarify what circumstances qualify as "medical emergency" exceptions under the states' abortion bans. They build on a case the center already brought against Texas on behalf of 13 women who were denied abortion care in instances of medical emergencies and fatal fetal abnormalities, the first legal challenge of its kind since the Supreme Court overturned Roe v. Wade. Following the Texas plaintiffs' emotional testimony in July, a judge ruled that the state must allow doctors to use their "good-faith judgment" to provide abortion care in emergency medical situations. Texas immediately appealed the ruling, which is currently on hold.
In Oklahoma, CRR filed a complaint with the U.S. Department of Health and Human Services against the Oklahoma Children's Hospital on behalf of a woman who had a partial molar pregnancy — a condition where a nonviable embryo develops with a tumor that may become cancerous. Jaci Statton alleges that when she sought emergency abortion care earlier this year, the hospital refused to admit her because there was still cardiac activity and told her to wait in the parking lot until she was sick enough to receive help. The complaint argues that the hospital violated the Emergency Medical Treatment and Labor Act (EMTALA) when it denied to provide an abortion for Statton. EMTALA requires emergency rooms to provide stabilizing care to patients, and in July 2022 the Biden administration clarified that guidance extends to emergency abortion care.
The plaintiffs in these latest legal challenges have had heartbreakingly similar experiences to those in Texas. Nicole Blackmom, a 31-year-old from Nashville, Tennessee, learned she was pregnant in summer 2022, just months after her 14-year-old was killed in a drive-by shooting. During an ultrasound at 15 weeks of pregnancy, she learned that the fetus had a lethal condition called limb-body-wall complex (LBWC), in which its organs develop outside of its body. Unable to afford the cost of traveling out of state for an abortion, Blackmom was forced to continue her pregnancy, exacerbating several of her chronic health conditions. After showing early signs of preeclampsia, her water broke at 31 weeks, and she had a stillbirth after 32 hours in labor.
"No one should have to endure the emotional and physical pain and risk to their life that I have suffered in Tennessee," Blackmom said at a Tuesday press conference. "That law forced me to carry a baby for months that was never going to live and easily could have killed me. I should have been able to get an abortion in Tennessee and protect my own health."
Tennessee plaintiff Allie Phillips says she was forced to travel to New York for abortion care after her daughter, whom she'd already named Miley Rose, received multiple fatal diagnoses, while Katy Dulong claims she was denied abortion medication that would have allowed her to expel an unviable pregnancy and avoid life-threatening infection after being diagnosed with cervical insufficiency. "Politicians are passing cruel laws about something they know nothing about," Phillips said Tuesday.
In Idaho, Jennifer Adkins, Jillaine St. Michel, Kayla Smith, and Rebecca Vincen-Brown all say they had to travel out of state to terminate their pregnancies after being diagnosed with fatal fetal abnormalities. "I can't stop worrying that the same thing could happen to any one of us — to you, your sisters, your wives, daughters, and friends," Adkins said at the press conference. She added that she's worried about the exodus of health providers from Idaho due to its restrictive abortion laws.
"Because of these bans, my home hospital just lost its genetic counselor and will soon lose its last remaining maternal fetal specialist," she said. "So who will be there to care for us when and if this happens again? It isn't safe to be pregnant in Idaho."
The Cut offers an online tool you can use to search by Zip Code for professional providers, including clinics, hospitals, and independent OB/GYNs, as well as for abortion funds, transportation options, and information for remote resources like receiving the abortion pill by mail. For legal guidance, contact Repro Legal Helpline at 844-868-2812 or the Abortion Defense Network.