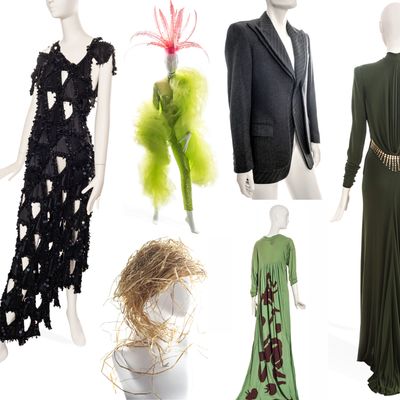 Photo: Mark C. O'Flaherty
@McQueen_Vault is an obsessive and highly selective Instagram account that was started in 2018 by an American living in London named John Matheson. His focus is the work of Lee Alexander McQueen's, from the designer's graduate collection at Central Saint Martins in 1992 until his final collection in 2010, and Matheson has assembled a remarkable archive of clothing, runway clips, and interviews with the designer. In so doing, he has built a community of serious McQueenites.
But until I read Narrative Thread, a new book by the writer and photographer Mark C. O'Flaherty, I didn't know Matheson's identity. "That's a really important chapter to me," O'Flaherty said recently in London. "A lot of us were following him on Instagram, but none of us knew who he was. And we didn't know it was two people — John and his husband, Pablo, who likes to stay in the background. It's a partnership."
As the title of O'Flaherty's book suggests, it's a series of conversations with individuals about the fashion they've worn and saved over the decades, though most don't think of themselves as collectors. "There's no one in the book who really just collects," he says. "I'm not interested in that. I'm more interested in the physical connection to fashion." Among those he profiled are Carla Sozzani, co-founder of the landmark Milan store 10 Corso Como and president of the Fondation Azzedine Alaïa in Paris; the costume designer Sandy Powell; the New York retailer and creative director Karlo Steel; the impresario Susanne Bartsch; milliner Stephen Jones; and Charlie Casely-Hayford, whose late father, Joe, had a huge impact on menswear in the late 1980s and '90s and who continues the family business in London.
Each chapter is conducted as a conversation, and O'Flaherty opens Narrative Thread with a kind of historical overview with the costume curators Valerie Steele of the Museum at F.I.T. and Claire Wilcox, a former senior curator at the V&A museum in London and the current chair of fashion curation at the London College of Fashion. He includes, as well, a conversation with the designer Andre Walker, who has worked with Marc Jacobs and Kim Jones and has his own label, And Re Walker. Along with O'Flaherty's own observations about the rapidly changing fashion scene in the past decade or so, the book tells a rich and thoroughly engaging story. As O'Flaherty says, "I'm doing an entertainment as much as a history."
It's especially a history of London and New York from the 1980s to the present, and inevitably it covers the rise of designers like McQueen, John Galliano, Romeo Gigli, and all the great Japanese designers, and stores like Hyper Hyper in London and Charivari in New York, and lots of clubs. As a teenager in London in the '80s, O'Flaherty met up with friends every Saturday at Hyper Hyper and the Kensington Market after watching a TV program called The Chart Show, a forerunner of MTV.
"I didn't realize how important those markets were and how they defined an era," he says. "Today, when Dover Street Market has an evening event, it's not part of your social day."
The book is chock-full of personal stories and adventures in the realms of fashion and identity so that it does read like an insider's report on an era.
O'Flaherty points out that when he was photographing McQueen's Dante show in March 1996 in Christ Church in London's East End, Matheson was having his own encounter with the designer's work, via TV, in his native South Carolina. He had been flipping channels when he stopped on the show. As Matheson says in the book, "Everything about that production — the soundtrack of LL Cool J, 'Adagio for Strings,' Gregorian chant, the Rolling Stones and gunshots, and the styling using imagery from Joel-Peter Witkin — spoke to me as a young gay man in the middle of Nowheresville, USA … I fell passionately in love with what he was doing."
When Matheson and his husband met O'Flaherty to have pieces from their archive photographed, they played music from Dante. "They were so in the moment," O'Flaherty recalls. "I thought, I love this."
O'Flaherty himself has had an eclectic career. He was a runway-show producer, a music photographer, and a DJ ("All the things you did in the '90s") before he turned to journalism, covering fashion and interiors for publications like the Financial Times. He kicked around various book ideas with publishers, one asking if he'd like to work with a designer on a monograph. "I would rather kill myself," he tells me with a laugh. "Who would I tolerate working with for a year, and who would not want approval on every single page?" He and Powell, who has won three Academy Awards for her costumes, including for The Aviator and The Young Victoria, explored doing a book together, but they didn't have images of those designs — and pictures would have been very costly to produce after the fact.
But while talking one day with Sozzani, whose personal fashion archive totals some 5,000 items, he realized there could be a book about people's passion for clothes. He eventually landed with Bloomsbury Publishing. Although O'Flaherty dislikes the corporate aspects of fashion, he's sanguine about the future. Narrative Thread mentions designers who have found their own path, producing in small batches and avoiding e-commerce, like Paul Harnden and John Alexander Skelton in England.
His hope is that readers will see there is still a human side to working in fashion. "Even though Chanel wants to make X billions of dollars, you can always have a voice and you can always put yourself in that work," he says. "You shouldn't live for nostalgia. You should look at the things people are referencing but also use these references for what we can do in the future. How can we find a way forward that's sustainable and not insanely obsessed with money, still turn a profit and make a living, how to be creative and self-expressive? Thinking small may be the way forward."