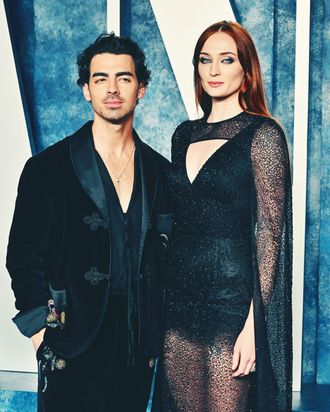 Photo: Axelle/Bauer-Griffin/FilmMagic
Summer is officially over, but the season of celebrity breakups is not. Musician Joe Jonas and Game of Thrones actress Sophie Turner have been in the throes of a divorce since early September, and things seem to be getting increasingly tense. Recent filings suggest that the couple may not see eye to eye about where their two children will grow up — or even where they should be living right now.
Turner and Jonas married in 2019, sealing the deal in a secret post–Billboard Awards Vegas ceremony, livestreamed by Diplo, and then again in the south of France. Reports that Jonas had filed for divorce first arrived on September 5, and the couple confirmed the news in a joint statement on Instagram the next day. "After four wonderful years of marriage we have mutually decided to amicably end our marriage," it read. "There are many speculative narratives as to why but, truly this is a united decision and we sincerely hope that everyone can respect our wishes for privacy for us and our children."
Per court documents obtained by NBC, Jonas officially filed in Miami Dade County, where the couple recently sold the house they bought a year before. In the petition, Jonas called their marriage "irretrievably broken" and requested shared custody, indicating that he plans to abide by the prenuptial agreement they both signed in 2019.
In the weeks since news of Turner and Jonas's divorce broke, a messy back-and-forth about the end of their relationship has played out in tabloids. A steady stream of anonymous sources accused Turner of partying too much — a narrative that clashes with older statements the couple has made about her being a homebody — and saddling Jonas with all the parenting responsibilities. (TMZ's initial report noted that Jonas has been touring with his one- and three-year-old daughters in tow, suggesting Turner isn't holding up her end of the childcare bargain when, actually, she's been filming in the UK.) One deeply weird rumor alleges that the final straw for their divorce was when Jonas caught her on a Ring camera doing something sinister yet unspecified.
As the initial wave of suspiciously pro-Jonas speculation met criticism for its overtones of sexism and mom-shaming, other sources countered that he pressured his wife into attending events while she was struggling after the birth of their second child. People also reports that the couple settled on the current childcare arrangement together. "It's just been easier because she's been working for the kids to be with him," their source explains. "There's some more support at home and on the road with his family. It's something they both agreed was best."
Now, however, whatever agreement the couple struck appears to be falling apart. On September 21, Turner sued Jonas for custody of their children, accusing him of keeping them in New York and refusing to turn over their passports. In court documents, she detailed the couple's supposed plans to raise their kids in England, referring to the country as their "habitual residence." Originally, her filing states, the family relocated to their "forever home" of England in April and were in the middle of buying a house there that they'd move into come December 2023. The girls spent the summer on Jonas's U.S. tour while Turner wrapped filming on a show in the U.K. — an agreement she says she only conceded to "with hesitation," per "Page Six," because daily breaks in his work schedule lined up better with their waking hours. Court docs list the family's official relocation date as April 10 of this year.
Turner also alleged that the marriage's "breakdown … happened very suddenly," and that she "found out through the media" that her husband had filed for divorce. She called his statement in the divorce document that the children had been living in Miami for the past six months "incorrect." After that point, her petition indicates, the couple still planned to send their kids back to England with Turner. Now, she claims, Jonas is withholding their passports and reneging on their deal. She's suing him under a group of child-abduction laws included in the Hague Convention treaty, which the U.S. and the U.K. both signed.
In response to Turner's petition, Jonas told outlets through a representative that "the children were not abducted," instead accusing Turner of abandoning the "amicable co-parenting setup" they'd arranged and using these laws as an attempt to move their divorce proceedings to the U.K. Jonas insisted Turner was "aware" he was planning to file for divorce and denied his involvement in any "disparaging" statements made about Turner in the wake of the filing. In his telling, he was pushing for a joint custody agreement that would see their children traveling between the U.S. and the U.K. when Turner suddenly decided she wanted to bring them to England permanently and immediately — which, per "Page Six," would violate their Miami divorce filing. Jonas took issue with the petition's use of "abduction," calling the word "misleading" and "a serious abuse of the legal system."
This article has been updated.