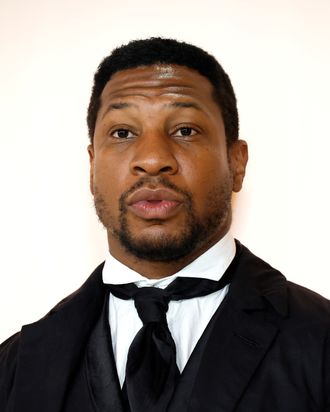 Photo: Mike Coppola/Getty Images
Lately, it has become a popular pastime (mostly, let's be honest, on TikTok) to dissect the perceived PR strategies of famous people in the news. There is the widespread theory that Timothée Chalamet and Kylie Jenner are dating for publicity; the slow car crash that was Ashton Kutcher and Mila Kunis trying to save face after defending their friend convicted of rape; and what some observers have identified as a transparent attempt by Joe Jonas to spin his divorce from Sophie Turner in his favor.
And then there is Jonathan Majors, the Creed and Marvel star currently awaiting trial for assault charges stemming from a March incident that police described as a domestic dispute. Through his lawyer, Majors has denied all allegations that he hurt the woman involved in the altercation, and has since accused her of attacking him. This week, shortly before a hearing when a judge was supposed to set a new date for Majors's twice-postponed trial, he was suddenly filmed breaking up a fight between two teenage girls. What, pray tell, is going on?
News of the altercation first emerged on TMZ, where it was breathlessly reported that Majors had noticed a squabble between two students outside Hollywood High School, right across the street from his lunch locale of choice, In-N-Out. A few days later, the outlet posted ostensible footage of the fight, which showed two blurred-out girls grappling with each other and Majors jogging over to pull them apart and attempt to calm them down.
Social media noted that the interesting timing of this event — again, the same week Majors's trial was due to get a new date after being postponed twice — was glaringly convenient. The video, as many have pointed out, also bears the uncanny, forced vibe of a school play that was not allowed to cut anyone who auditioned. It is hard to say what the weirdest thing is: Majors's comically large newsboy cap, which he wears almost like a helmet shielding him from flying adolescent fists; the way he slowly and dramatically hustles over to the action from somewhere outside the frame; or the fact that one person seems to be filming the whole thing on a laptop.
Perhaps what seemed most unusual, though, is the fact that Majors was even there, four days before another hearing for his assault charges, chowing down on a $5 cheeseburger like the Everyman that he is, when he suddenly noticed two children slapping each other silly deep in the alleyway of the school across the street. Naturally, given the internet's current sensitivity to such manufactured-feeling ploys, a lot of people felt they could see right through this flimsy attempt to paint Majors as a feminist, child-saving hero. In fact, the entire affair seemed, to many, so unnatural that Majors and his fellow kids have been jokingly accused of scabbing the SAG-AFTRA strike.
Contrary to popular suspicion, an X user claiming to be a student at Hollywood High School has claimed that the fight was indeed real and about "stupid high-school stuff." Though it's unclear what the user's name is, let alone how old they are and where they go to school, they also posted a video, taken from a different angle than TMZ's, of Majors stepping in. Apparently, all these teens now find him "goofy as hell," and say "everyone @ school is clowning him."
Whatever the provenance of the video, I'm not quite sure what to take from it, besides a sudden hankering for animal-style fries.
This post has been updated.