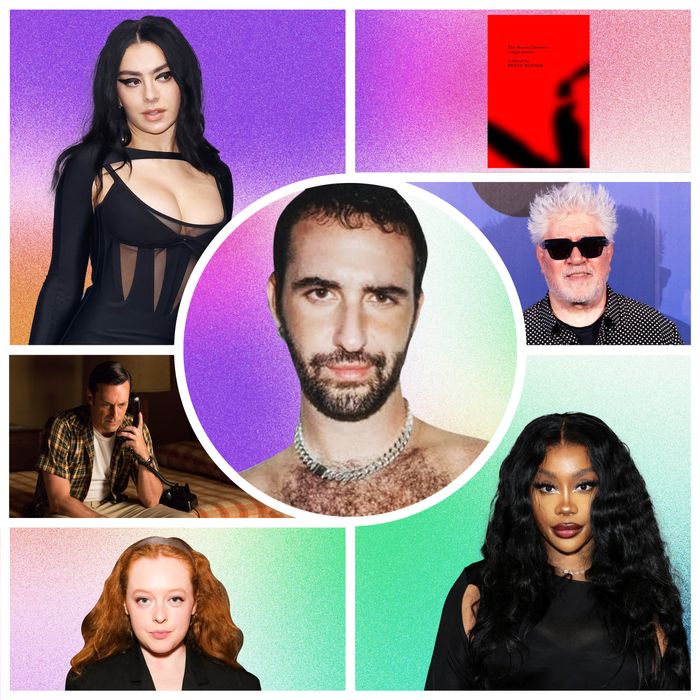 Photo-Illustration: by The Cut; Photos: Samuel Talan, Getty Images, Everett Collection
Much like his heightened self-caricature in Sebastián Silva's Rotting in the Sun, Jordan Firstman knows how to embrace the moment. The meta-comedy mystery explores a tense budding relationship between an artist and his muse — a play on Silva and Firstman's IRL dynamic — and on the night of the film's New York premiere, the actor says he celebrated "maybe 20 percent more than I should have" with the filmmaker.
In Rotting in the Sun, which debuted at the 2023 Sundance Film Festival and will be released to select theaters on September 8, we first meet Firstman-not-Firstman while he's drowning at a nude gay beach in Mexico. He manages to find a silver lining in the near-death experience, though. The filmmaker (Silva) who gets stuck in the same rip current, happens to be the director of a movie he'd watched the night before. An American social-media influencer who won't take no for an answer, Firstman runs with the coincidence as a sign that they should collaborate. What starts as an attempt to milk the opportunity and get the depressed artist to have a good time results in Firstman becoming sucked into the pits of Silva's dark world. The hedonistic rollercoaster begs the question, when should the party end?
"He is living in a reality where he puts out what he wants and he gets it," Firstman said via Zoom, a sinister grin familiar to his nearly a million Instagram followers plastered on his face. "It is this kind of Oprah mentality, and it's working."
Firstman says the toxic positivity he channels into the performance comes from the 2020 version of himself. But following Silva's direction to play the "worst" version of himself offered more of a challenge than channeling the inner life of inanimate objects, like the ones he inhabits in his viral Instagram videos. "After this movie, I'm so much more confident as an actor and so much less confident as a person. It's been like therapy and anti-therapy at the same time. Like, I need therapy because of it, but it also was a form of therapy."
Where do you get your best culture recommendations? 
I think in general, if something is really good and enough people I know are posting about it, I'll see it. But my friend Ruby McCollister, she's a New York-based comedian. I call Ruby, and she just tells me where we're at as a culture. It's not even like specific recommendations, but the last time I talked to her, she's like, The next wave is like gothic. It's not goth, it's gothic. And I was like, that is so true. The next aesthetic is like, 1800s gothic.
You're hopping in an Uber XL and can bring five celebrities. Who's coming? 
I've been in this car, so it's kind of unfair, but I would probably choose Charli XCX, Benny Drama, and Rachel Sennott. That's a fun car where we're gonna dance and make stupid TikToks and go crazy. Five can fit in an XL or six? I'm gonna add another person from my life, another comedian, Owen Thiele, who is brilliant. Let's have a wild card: I'm getting Christina Aguilera. Because then we'd have to deal with her vibe and we would still wanna be having fun, but we'd be like, wait how do we make Christina have fun? And she's not gonna have fun. She's sitting in the front.
What about if you could invite five celebrities to a dinner party?
Pedro Almódovar.
I saw you met him recently?
Yeah, it was a dream come true. I can't say it in any other way. You expect these legends to almost be out of touch in a way. But there's something in his eyes where I'm like, Oh, you're one of the girls. You get it in a way that me and my gay friends get it. You get all culture. I'm gonna make this a pretty gay dinner. It's a gay legend dinner. Let's add Mike White. We're gonna add Stephen Sondheim there. We're gonna add Jean Genet there too. It's gonna be a very heady, heady dinner. I met Wolfgang Tillmans recently, and he's such a sweetie, so I want to keep this a highbrow art dinner. And Todd Haynes.
What's the last meal you cooked for dinner?
My boyfriend's Italian, and I went to meet his family for the first time and the food his mother cooked, I mean, it's so stereotypical, but like, I thought the restaurants in Italy were the best food you could have. No, it is the home-cooked shit. It was better than any restaurant I've ever had. And it's constant. And they don't let you stop. All they do the whole dinner is talk about what they cooked last week or what they're gonna cook next week. Her fried cuttlefish, it was exquisite. I asked to help cook, and they wouldn't let me. I didn't do a single thing.
What is your pre-filming ritual?
If I need to be in my feelings, I'll usually put on some SZA or Frank Ocean. Those are my girls that really get me to a sad or a heart-centered place. "White Ferrari," and "Self-Control" will get me every single time. And then for SZA, I think it's a really underappreciated track on SOS but "Open Arms" with Travis Scott. I'm newly in love; it's a love song. "Blind" makes me go insane. Those lyrics: It's so embarrassing. All the things I feel living inside of me. I can't see, I'm blind. Are you kidding me?
What's your comfort rewatch?
I constantly rewatch three shows: Mad Men, BoJack Horseman, and The Larry Sanders Show. Those are my falling asleep shows. I know them back and forth. And then for movie, Vicky Cristina Barcelona.
What is something you'll never, ever watch no matter, even if someone paid you to?
This is such a gay guy answer, but uh, probably all the Star Wars. If someone made me watch all the Star Wars movies together … I've tried bits and pieces, but it's just not gonna fly for me.
I also couldn't get through Dune, but I think I need to see it in a theater. I watched it on my computer, and I think it's like a visual thing, but I don't find dust to be so beautiful. I needed more than dust, but I do wanna try to rewatch it.
People tell you their good juicy secret gossip on your Instagram Secrets series. What's the best piece of gossip you've ever heard?
I wouldn't be able to say it if it's like the best piece of gossip, right? Because then it would be super secret. I have stuff about Frank Ocean. Gossip about our heroes is both so intoxicating, but also you don't want to hear it 'cause you don't wanna ruin the image you've created in your head, you know?
Favorite game to play?
It's more of a pre-party game that I made up. Basically, you give your friends a line that they have to say five times naturally in conversation throughout the night. And it has to be super-embarrassing. I made Benny Drama's line for the night, "This town is filled with liars." He had to say it five times throughout the night and not tell people it was a joke. It is so fun. And you just pick the most humiliating thing based on what it would be for that person.
Name a book you couldn't put down?
The Marvel Universe by Bruce Wagner. Anything by Bruce Wagner. And the Bible.
What's the best and worst advice you've ever received?
My high school theater teacher saw me very deeply and he would always say, "Jordan, use your powers for good, not evil." I think he saw in me that I am capable of using my powers for evil. And I think still to this day when I am feeling insecure, I can tend to bully. The way that I create a character is by seeing patterns or like mannerisms or insecurities in others. So I can use it to, you know, make great art, but I could also use it to hurt people that maybe I love. Using my powers for good not evil is the best advice from Michael Tester on Long Island.
What's the one vacation destination that you'd recommend for someone who needs to get out of a creative funk?
Napoli. I went this summer and was so gagged. The energy, the life, the food. Go alone. I cried every day thinking about love.
You have some amazing neon art in your apartment. Do you have a favorite piece of art you own? 
I am in the midst of selling or giving away every single thing in my apartment. It's all gone. It's happening right now. I had this clear plastic light box that had all these shapes and different shades of neon colors that the light would hit it in different ways. It was a cube; I think I wanted to keep that, but I don't know where it is. Maybe it's gone?
What would your last meal be?
Chengdu Taste in San Gabriel Valley. My order for years hasn't changed. Flavor shrimp, eggplant, tomato and egg soup, crispy pepper chicken, fried rice, toothpick lamb, mung-bean noodles.
What's the worst thing to do at a dinner party?
One time a friend's husband was on his phone the whole dinner party, and I snuck a look at what he was doing, and he was binge-watching Damages.
This interview has been edited and condensed for clarity.