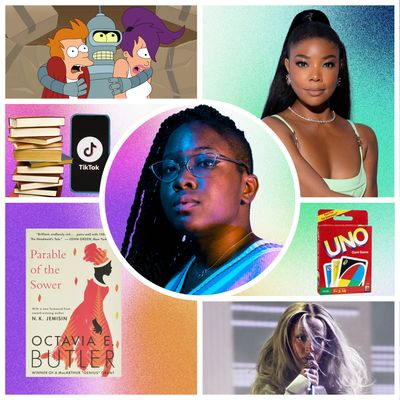 Photo-Illustration: by The Cut; Photos: Mariah Roman, Getty Images, Everett Collection, Amazon
To Kierra Branker, 27-year-old photographer based in Orlando, the objects placed in her images feel alive. "It could be a domino set and you have that memory from when you're first a kid and you're seeing all the aunties and uncles slamming dominoes together while music's playing and people are hitting spoons on bottles," she says. Branker's photographs often evoke the spirituality of heirlooms and spaces and the intergenerational meaning they take on in our lives. In her project "Get It and Come Back," she presents the moments and artifacts that chronicle her family history as it has developed between Orlando and Trinidad. The meaningfulness of these objects is not fixed to one generation.
"Get It and Come Back" was awarded a grant during this season of the Creator Labs Photo Fund, part of a joint effort between Google and Aperture to provide financial support for photographers at a pivotal moment in their careers. For this round of awards, announced today, they were able to grant $6,000 to each of the 30 rising photographers selected for the prize. Many of these projects become platforms for self-reflection with the photographers using the camera to understand — and place themselves in — the world around them. Among the winners are photographers Natalie Keyssar, Oji Haynes, Ryan Frigillana, Luis Corzo, Wesaam Al-Badry, Jeremy Grier, Ryan Patrick Krueger, Ira Lupu, Arlene Mejorado, Tam Stockton, Clara Shuku Mokri, and Ramona Jingru Wang. The varying perspectives at hand do not take for granted past narratives and use photographs to assign new meaning to the past, present, and future.
Branker's images plant you right there in the scene with the subject. When asked about the artifacts in her photos that connect her to her sense of home, she talks about a fake bouquet of flowers that could easily have been ignored. But she remembers an image of her grandmother holding that bouquet, imbuing her photograph with a feeling of familial history. Branker carefully arranges her scenes with artifacts of significance to her, like the bouquet, and sometimes includes people who sit for her lens, during which she elevates them to a position of power. "As a Black femme photographer," the Parsons-educated artist says, "it's really important that I'm holding the camera. As you know, it has not been up to us to have the privilege to hold on to it."
How do you choose the people you photograph? 
Finding people I want to photograph comes down to my family and whether or not they're feeling open or receptive to it. A lot of the people I photograph embody this kind of worldliness about them that I really enjoy: those who have seen things, and you don't even have to know what their home looks like, but you know it's filled with stuff and character about them — and there's an ease that comes with that. When finding them, I consider it like a collaboration because the photograph is never just my interpretation of them.
When I'm looking at my sitters, I'm always considering those small things that make them feel a little bit more powerful. For example, if it's a book that they've read down to the end, I'll have it in line of sight for them to see. Since I'm photographing a lot of people either in their places of comfort or their homes, I try to make them as comfortable as possible so they are able to see connections toward themselves and also just feel that they could do what they would do and move as if I wasn't there.
Where do you get your best culture recommendations?
I hate to say it: TikTok. I'm always down to watch people do unboxing or just talk about their day or a book that they're reading. I'm very much into #BookTok and the #PhotoTok that's happening there, too.
Which celebrities — dead or alive — would you invite to a dinner party? 
Probably Gabrielle Union — I feel like she would have a lot to say. She's also a Scorpio too, so I enjoy that. Doja Cat too. Definitely Beyoncé and then definitely Megan Thee Stallion because she seems like she would have a great time. Cicely Tyson — in case it gets too much, she would be like, "All right, y'all, let's talk about something else."
What's the last meal you cooked for dinner? 
I literally made four recipes yesterday: taquitos, stuffed burgers, a chocolate cake, bacon-wrapped jalapeño poppers. I was photographing it. I'm not really a big cook.
What is your pre-shoot ritual when you work on your personal projects?Meditating. I'll try to write a couple of words and go through my image archives, looking for elements that express how I want the shoot to go or the feeling I want to elicit when taking the photo. My archive is filled with images that really inspire me, both in my personal collection as well as other works. Last, I look through my camera equipment, making sure I have everything I need.
I can get really nervous before shooting. For example, last year I was shooting at the Labor Day carnival in Brooklyn, and it was, like, my first time kind of being in that kind of space, especially because of the pandemic. I felt my heart moving and had to take a beat, move with it, and dive in.
What's your comfort rewatch?
Futurama. I love that show. I've seen it more than enough. I like that it's based in the future and that the comedy feels a little on the nose but also has layers to it. You'll see the first joke and then you'll have a rewatch and realize they were talking about something different. The show also has moments where it's really accurate with the science and math that they joke about, and that level of care put into the writing makes it even better.
What's something you'll never, ever want to watch no matter what?
I watch a lot of crazy television, a lot of reality TV — it's a guilty pleasure. I'm not on the Tubi wave yet, and my friends have been talking about it, but I can only go so far with my trash television. I feel like that's Pandora's box, and I don't wanna open that right now.
What's your favorite game to play?
Probably Uno even though I'm not that good at it. I mean, I could be pretty good. I get really competitive because I love the energy of Uno, and the way people make their own rules becomes a whole thing. I feel like you could really understand a person if you play Uno with them or how they react if you hit the reverse card.
Name a book you couldn't put down.
Parable of the Sower, by Octavia Butler. Unfortunately, I read a lot of my books on my phone, but in this case, I found a copy of it and I read all the way through. I found many parallels toward everything happening, as Miss Butler always does, because she has a good understanding of the past and history.
The main character is really hyperempathetic and just really likes to understand how people are moving throughout the space. It made for such an interesting plot with a character who is seeing apocalyptic things happening around her, processing all of this pain that's not really experienced by herself but by the people around her and how that helped to make her a better leader and a survivor.
What's your favorite piece of art that you own?
I have too many, I'm realizing now. This one I bought in Orlando, my hometown, at this African gift store, Three Masks Inc. It's two little Black cherubs just, like, floating next to some flowers. I can't read the artist's name because it's in cursive and it's really small, but I was happy to find it at the gift shop. The owner had a lot of prints.
What's the worst thing you could do at a dinner party?
Bringing wine to a party and taking it back with you after.
Where do you feel most connected and comfortable with yourself?
My grandmother's house in Trinidad, being able to see where my mom grew up and had her childhood home. It feels so distant to how I'm living now. In Trinidad, it's in the back of the woods — it's quiet and it's lush and while Florida is very lush too, the side I live on is very suburban and has pretty pavements.
Inside my grandmother's home, she would decorate very '70s. I still remember the uncomfortable mid-century-modern chairs that she had that were literally just wood, super-yellow Styrofoam on the inside, and floral on the front, then there was a picture of white Jesus on the side. Those little moments make me really think about my family — my grandmother especially.
How do you think Florida and Trinidad influence your work?
Definitely tropical. Always tropical. I'm always thinking about the forest, thinking about our relationship to nature. I think about how we're building spaces for ourselves, connecting identity to them, be it either in Florida or Trinidad, and how the world around us responds to it. It feels like home is never really far and home is also what you make it, and you have the opportunity to kind of, like, create something new but still familiar in a way that can connect to all these different places.
Which photographers and artists inspire you?
Black femme photographers and image-makers are understanding of the greater narrative of our connection to nature and our response to trying to get back to this moment where things were not affected by colonization and capitalism. I feel like Carrie Mae Weems and how she responds with her body with these scenes of architecture and the forest is really profound.
April Bey's work and how she's incorporating AI to take it even a step further into understanding, like, our future, past selves.
I really love Renee Cox's work and how she speaks on gender. I love her Pieta series. She has this one image I've been obsessed with: She's wearing this supertight corset and you see the camera kind of looking from the waist up and only see her back, not even her head, and the patent-leather corset is really tight. I always go back to that image, especially when thinking about gender and thinking about how, as femmes, we are to be shown and presented but not to be understood.
What is your most prized possession?
My rocks. I've been building my rock collection since 2020. I know a couple of the names, but it's lost on me now. But it's really beautiful. One particular rock that I enjoy could fit in your palm, and it really feels heavy. I always like to hold on to that whenever I feel I need to be grounded in any way.
What's the best advice you've ever received?
"Do it scared." I can be very scared to do things at certain times, but I had a friend tell me that even if you're scared to do it, still do it and those scary feelings will go somewhere else. But at least you can say that you did it.
This interview has been edited and condensed for clarity.