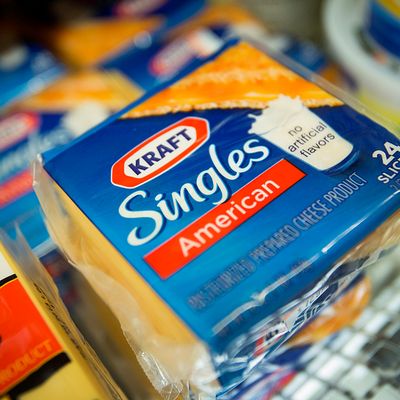 Photo: Scott Eells/Bloomberg via Getty Images
One of the most quintessentially American foods — Kraft Singles cheese slices — has landed on the "Do not eat" list. On Tuesday, Kraft Heinz said it is recalling 83,000 cases of its infamous individually wrapped processed cheese slices because they could cause gagging or choking.
In a statement posted on its website, Illinois-based Kraft Heinz said that due to a "temporary issue" with one of its wrapping machines, a strip of plastic film could be left clinging to cheese slices after they've been unwrapped, which the company predicts "could be unpleasant" for consumers "and potentially cause a gagging or choking hazard." Apparently, at least six people have suffered that fate and reported it to Kraft, which decided to take action. There haven't been any serious injuries reported.
Though the company says it identified and fixed the problem machine, it's still recalling the following products: 16-ounce Kraft Singles American Pasteurized Prepared Cheese Product with a "Best when used by" date of January 10, 2024, and January 27, 2024; three-pound multipacks of Kraft Singles American Pasteurized Prepared Cheese Product with a UPC code of 0-2100060491-3 and a "Best when used by" of January 9, 2024, and January 16, 2024. People who bought the cheese should return it where they bought it for a refund or exchange or call Kraft Heinz to get their money back. Cheese-food lovers: Be safe out there.