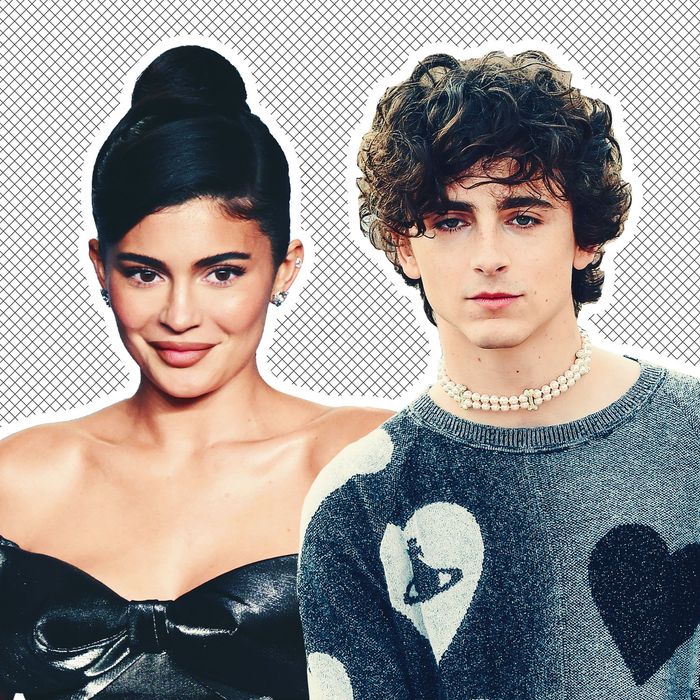 Photo-Illustration: The Cut; Photos: Getty Images
I don't know how to say this gently, so I'll just spit it out: It seems that Timothée Chalamet and Kylie Jenner are actually dating. Not only that, but after months spent considerately guarding their romance from the public eye, they are now engaging in PDA. Following a flurry of rumors, the discreet appearance of Kylie's car in Timothée's driveway (wink wink), and a family BBQ, footage of Kymothée making out at a Renaissance show in L.A. has emerged. A subsequent series of high-profile outings seems to confirm what the tabloids have been saying all this time, which raises the question: Is everyone okay?
News of this ungodly union started as a rumor in April, courtesy of DeuxMoi, where chaotic celebrity gossip goes to thrive. DeuxMoi posted an anonymous tip that claimed "multiple sources have told me that Timmy C has a new girl … Kylie Jenner. ⚰️⚰️."
"⚰️⚰️" is correct. A mere five months ago, I thought these two existed in entirely separate Hollywood galaxies, orbiting around their respective suns (Kris Jenner and Tilda Swinton) but never intersecting. And yet DeuxMoi posted follow-ups, with one contributor saying the two have been dating since at least Paris Fashion Week and another claiming they're going to Coachella together. According to "Page Six," Kylie and Timmy were also both present at a large group dinner with (sorry) Kendall Jenner and Bad Bunny, in addition to Zack Bia and Russell Westbrook.
Amid the chatter, a video of Chalamet and Jenner interacting at Paris Fashion Week resurfaced, which at the very least served as evidence that they had met:
But a runway-adjacent encounter does not a relationship make, and there was ample room for skepticism until Kylie's car was spotted pulling up to Timothée's house in Beverly Hills a mere week after the DeuxMoi disclosure. Still, they did not appear at the first weekend of Coachella together, though a "source" informed Entertainment Tonight that Kylie and Timmy were "keeping things casual," "enjoying hanging out," and "seeing where it goes." Kylie reportedly found the fling "new and exciting." Apparently, she decided against debuting as a couple at Coachella because she wanted to "chill and have fun with her friends."
At some point, though, things seem to have gotten more serious. In May, after another car sighting in Timothée's garage, "Page Six" managed to capture some very blurry footage of Kylie and Kendall joining Timothée and his sister, Pauline Chalamet, at a backyard barbecue. The tabloid also claimed these two have been hanging out "upwards of six days a week," getting coffee and working out together.
And then, just when we thought we had survived Venus retrograde intact, we were collectively smacked in the face with undeniably real video footage of Kylie and Timmy, not just interacting but dancing, hugging, and kissing in the audience of a star-studded Renaissance concert in L.A. Behold at your own risk:
Less than a week later, they were at it again, this time sitting next to each other at a New York Fashion Week dinner hosted by Haider Ackermann and Augustinus Bader:
That was shortly followed by another audience-situated display of intimacy: Timmy and Kylie oohing and ahhing (and smooching) at the U.S. Open Men's Finals. Vaguely coordinated outfits, matching sunglasses, and a Honey Deuce in hand? That's amore, apparently.
So here we are: Kylie and Timmy Tim are grabbing butt at SoFi Stadium and kissing in Queens. Is this what Timmy meant when he said societal collapse is in the air? Is that why he was smoking inside Beyoncé's concert venue? Whatever the explanation, I suspect that, much like Cats, this jarring combination of famouses is a harbinger of something terrible.
I'm not alone in this feeling. Timmy's biggest fan, the internet, has reacted to the video with appropriate anguish:
Societal collapse indeed.
This post has been updated.