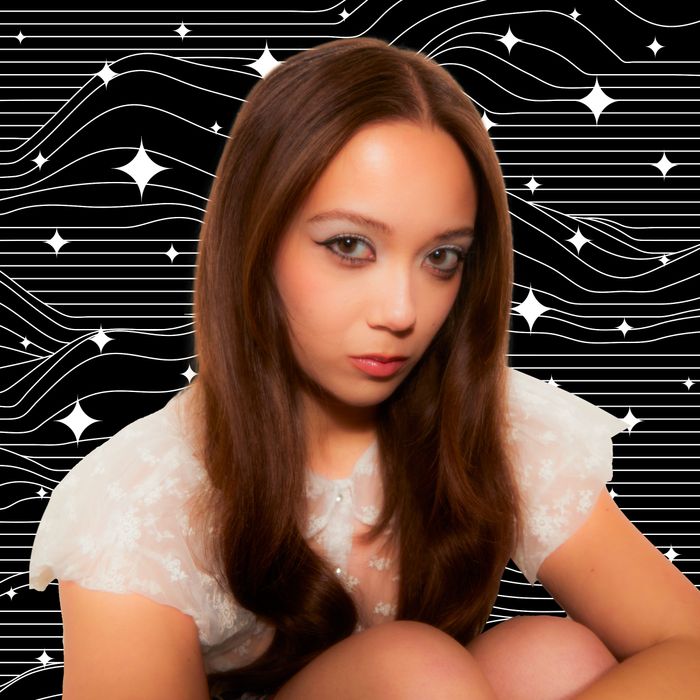 Photo-Illustration: by The Cut; Photo: Gemma Warren
In April 2023, New York Magazine celebrated "It" girls: who anointed them, what it was like to be them, and where they are now. Follow along as we continue that celebration by interviewing musicians across genres who we think have "It."
Anyone who spots Laufey dancing with her friends on a night out in Los Angeles may not realize that the young woman who smells like sandalwood, leather, and cardamom is also a rising star, whose song "From the Start" has been doing numbers on TikTok. They may also not know that the cool girl with the magnetic gaze at the Taylor Swift concert sold out her own upcoming Bewitched tour in mere minutes.
It's been a whirlwind few years for Laufey Lín Jónsdóttir, the Icelandic Chinese singer who goes by her first name (pronounced "Lay-vay"). After graduating from the prestigious Berklee College of Music in 2021, the 24-year-old released her album Everything I Know About Love and has been on the fast track to stardom ever since. "From the Start" was featured on Netflix's XO, Kitty and earned a spot on actor Lola Tung's inspo playlist for her character Belly in The Summer I Turned Pretty. With a mix of traditional musical styles and contemporary lyricism, she's one of the most successful Gen-Z jazz musicians right now. Still, she remains in a state of disbelief. "I started releasing music during the pandemic when we couldn't tour, so I was spending a lot of time on Instagram. That was my stage. When you start playing, you're never really sure if that's going to translate into people coming out to concerts and whatnot," she says. But it did, drawing fans from around the world to her shows. "You can tell it's like a community."
Wearing a white tank top and sitting before a bookshelf, Laufey's Cartier Panthère watch catches the light as she gesticulates. She emanates a coolness through the computer screen; this is someone who is in the know about everything from Scandinavian brands to L.A.'s vintage-denim dealers and wine bars of note. But she also wears her heart on her sleeve, giving me a coy tidbit about her personal life. "As a songwriter, if it hurts me …" She pauses. "I need to collect those stories or else I can't do my job."
What is an "It" girl?
To me, it's a woman that's made a statement for herself. An "It" girl is someone who has influence.
Who are some musicians you would classify as an "It" girl?
I always think of past musicians. I think Nina Simone is such an "It" girl. Julie London was as well. Of course you have Françoise Hardy. I think Carole King was such an "It" girl as well. Girls nowadays, everyone does a little bit of everything. So there's so many where I'm like, Oh, yeah, they're a musician, but they also do other things. But those are some past girls that have been cool.
Do you consider yourself an "It" girl?
I don't know if I'd go so far as to consider myself an "It" girl. I mean, of course I'd want to be!
Who are some musicians/artists you looked up to or have inspired your style?
Ella Fitzgerald, Billie Holiday — old jazz singers. Julie London, Peggy Lee. I think they really formed who I am as a musician. Astrud Gilberto as well, she's a bossa nova singer. And Taylor Swift!
Did you go see Taylor on the Eras tour?
I went, yeah. It was incredible.
Did you make bracelets to trade?
No, I didn't make any. But I ran into some fans who gave me some, which was so cute, and so the ones I have are from my fans that I met at the concert, which felt really, really special. I was sad I didn't make anything to give them in return. I was so busy all day. But if I were going again, trust I would.
What was it like for you to meet fans at a concert where you're also a fan?
Wild, because I run into fans obviously on my own concerts and out and about, but, like, when I go into the Taylor concert, like I just went as a pure fan. I just love Taylor Swift. So the fact that I ran into fans there was really cool. It was a testament also to this music that I make, which is kind of more vintage-sounding. The fact that it's reached an audience that also listens to Taylor Swift, it feels like I've really done what I set out to do, which is introduce it to a brand-new set of listeners.
Where do you like to go out?
I spend a lot of time in London. My twin sister lives there, I work there a lot, so I like going out in East London. I think that's really fun. There are a lot of cute bars in East L.A. I like going with my friends and going to dance. I feel like that's my code word for going out. Every weekend I call my friends like, "I just want to go dancing."
Where do you like to shop?
I like the RealReal. I shop a lot at the flea markets, like Los Feliz Flea. I literally go every week, I always find something really cute. I think the flea markets in L.A. are the best shopping; otherwise, I shop a lot when I'm in Europe. I find like when I'm in Iceland and London, that's probably where I buy most of my clothes. I love Scandinavian brands from growing up in Iceland. There's an Icelandic designer called Hildur Yeoman that I work with a lot and her clothes are so cool. It's what all the girls in Iceland wear. I'm really into Acne recently. I'm having an Acne resurgence, and getting some good denim from there.
What kind of stuff are you looking for when you're on the RealReal? Do you have go-to search terms?
I love vintage designer bags that are at a good price. It's like a little game. Currently, I really want to find a vintage Dior saddlebag. But it has to be a really tasteful one. I'm always looking for vintage Chanel flats or a good vintage horse-bit Gucci loafer. My twin sister found a pair on eBay for so little and I was like, "Are you kidding me?" But also, wonderful. We're the same shoe size. I was like, "Surely this goes in the communal closet." It must. Her closet is great. Having an identical twin sister with the same clothing and shoe sizes is a wealth.
I also look for little cardigans, and vintage jeans, like a really good pair of 501s. There's one denim vendor at Melrose Flea. I have brought him so much business. Every time someone's in town, I've marched with them there and he gives a great deal because I literally show up every week. I think all my jeans are from that one guy.
You should get a finder's fee.
I know. No, I do it for the greater good of denim in L.A. I want everyone to look good.
What are some "It"-girl essentials that every "It" girl must have?
A good bag — and it can't be too shiny. You know what I mean? I feel like every "It" girl I know and really devour has a really well-thought-out collection of vintage bags and shoes. It's just all the little things. I just know every "It" girl has like five different lip colors in their bag. No way it isn't that way. Definitely a banged-up book that they've read like one chapter of and has just stayed in the bag for like a year. I think a good perfume as well.
Do you have a signature scent? 
I mean, it literally is the signature set, but I do wear Santal 33. People sniff me out of the club for that. I've had people come up to me and they're like, "You smell like West Hollywood." And I'm like, "Leave me alone." I wear Santal at night, but Fleur D'Oranger is really nice as well.
Your album Bewitched is coming out soon. Can you tell me just a little bit about how your sound has evolved since Everything I Know About Love?
The music that resonated the most to my pleasure was the music that was basically the jazziest or recorded with a symphony orchestra. For Bewitched, I really leaned into my musical roots of classical and jazz music. The songwriting is more mature. I'm growing up and so is my music. There's some darker themes, some more mature lyrics. My last album was a little bit more cheeky and innocent, and this one is a little bit more serious. But all the instruments are recorded live. I didn't want any modern influence. I wanted no MIDI, no synth — just live instruments. I tried to play as much as possible on it, so I'm playing piano, cello, and guitar on most of the tracks. I really just wanted to be very, very deeply involved in making my dream project.
Do you have a tried-and-true songwriting process?
I write the best when I'm sitting on my couch. I got a Steinway grand piano this year, and it's made such a big difference for my songwriting. I've written a lot more on piano this year. But I'll always start with a concept — I always start with a title or an idea — and then I sit down, either with a guitar or a piano, and write out from that. I always know where the song is going to go. It's always led by the title or the concept and, and the chords and melody come at once.
Have you had a moment where you felt like you made it?
Your idea of making it morphs into something different every couple of days. My song "From the Start" recently has been on the global charts and in the top 50 on the U.S. charts for a couple of weeks now, and it's on Today's Top Hits on Spotify. I was looking through the playlist and I was like, "Wait a minute, I know every single song here." That was kind of a moment. I played on Jimmy Kimmel last year. Playing in Asia and Australia — these places that are so far away — and the fans are in front of me singing my songs. So I don't know, there's something every day.