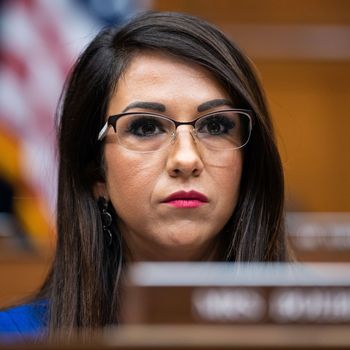 Photo: Tom Williams/CQ-Roll Call, Inc via Getty Images
U.S. Representative and die-hard MAGA girlie Lauren Boebert is apparently among the growing number who can't act right in a crowd. As the Washington Post reports, the congresswoman and her Democrat date were both booted from a Denver production of the Beetlejuice musical earlier this month, with venue officials accusing the duo of obnoxious behaviors including vaping, singing, unsanctioned phone use, groping, and generally "causing a disturbance." I imagine it takes a lot for one to be kicked out of Beetlejuice — which the Denver Post calls "circuslike," "unapologetically gross and overtly sexual"— so in a way, Boebert's ejection is impressive.
According to an incident report shared with the the Denver Post, officials at Denver Arts & Venues claimed that during the show's intermission, two unidentified patrons received multiple warnings about their behavior, which had earned three complaints from fellow theatergoers. (One of those audience members, who was pregnant, claims that Boebert called her a "sad and miserable person" for flagging down an usher about the congresswoman's vaping.) When, roughly five minutes into the second act, security officials were told that Boebert and her companion were once again being loud and recording the show — in violation of theater policy — an usher "told them that they need to leave the theater and if they do not, they will be trespassing," per the report. After Boebert and her friend refused to comply, the usher says he informed them the theater would be getting police, at which point Boebert & Co. apparently replied, "Go get them." The usher did.
Security proceeded to escort Boebert and her friend from their seats, but the two did not go gently, reportedly spewing statements like "Do you know who I am?" and "I will be contacting the mayor." (Though soundless, surveillance footage seems to support this.) Police officers remained in the lobby until the two left the venue, according to the Post, and Boebert also appeared to flip off an usher on her way out.
Drew Sexton, Boebert's campaign manager in her bid for a third term in the House, confirmed the representative's involvement in a statement to NBC News. "In her personal time, Congresswoman Lauren Boebert is indeed a supporter of the performing arts (gasp!) and, to the dismay of a select few, enthusiastically enjoyed a weekend performance of Beetlejuice," wrote Sexton. He denied that Boebert had been vaping but noted that she "appreciates" the theater's "strict enforcement" of its no-photos policy and "only wishes the Biden Administration could uphold our border laws as thoroughly and vigorously."
Allegedly disobeying said policy, refusing to leave, and sprinkling some xenophobia over the exit are all interesting ways to show appreciation for a theater's house rules, but I digress: Boebert took to X to tip her hat to her Beetlejuice behavior, pleading guilty to "laughing and singing too loud" while encouraging her followers to attend the "AMAZING" show and let her know "how it ends."
Before she was able to discover Beetlejuice's fate, however, Boebert was hit with a slew of surveillance clips that made her blasé dismissal even less believable. Although she initially tried to blame the haze around her person on the show's fog machines, one clip clearly shows her sucking down a vape drag and then blowing a stream of vapor into the air. Another shows her and her guest, whom reports have identified as bar owner Quinn Gallagher, getting unacceptably touchy with each other during the show. He appeared to fondle her breast, while she grabbed his crotch.
Faced with incontrovertible evidence of her behavior, Boebert changed her tune and released an apology statement to several news outlets. "While none of my actions or words as a private citizen that night were intended to be malicious," she wrote, "the reality is they did and I regret that." She owned up to falling "short of my values" but maintained that, when her staff first spoke with her about the incident, she "genuinely did not recall vaping that evening."
In a statement to TMZ on Monday, Boebert further defended her mutual grope session with Gallagher as a bit of "me time," which, who am I to kink shame anyone for getting off on Beetlejuice? Regardless, it sounds like the romantic evening may have been one of the duo's last: Boebert called Gallagher a "wonderful man," but confirmed that the two parted ways after she learned about his politics. (Apparently, he owns an LGBTQ+-friendly bar that has hosted drag nights, an attitude seemingly at odds with her generally bigoted stance on drag and a whole host of queer issues.) "All future date nights have been canceled," Boebert said. "And I learned to check party affiliations before you go on a date."
Not wanting to be left out of the horny musical mix, I guess, Boebert's ex-husband of 20 years, Jayson Boebert, sent a lengthy statement to the Daily Beast, imploring "the people of Colorado's 3rd District and across the nation" to show Lauren "grace and mercy" over her behavior. He went so far as to suggest it may have been spurred by his apparent infidelity and their recent divorce. "I was unfaithful to Lauren in so many ways," Jayson revealed in his letter, which he also posted as a personal Facebook status for good measure. "Watching the attacks against Lauren, I feel the people should know the truth of our broken marriage and burden she has carried for too long … Much of this is on me because the problem starts at the root. I am the root." Chivalrous!
For her part, Boebert told the outlet she was "appreciative to hear of Jayson's sincere comments," adding that prayers for their family "are welcomed by all." But perhaps, if Boebert is still jonesing for some Beetlejuice, this classy patron of the fine arts might consider renting the 1988 movie and watching the ending from her couch, where she can vape, sing, and — to quote her MAGA girlboss enemy Marjorie Greene Taylor — "little bitch" the night away in peace.
This article has been updated.